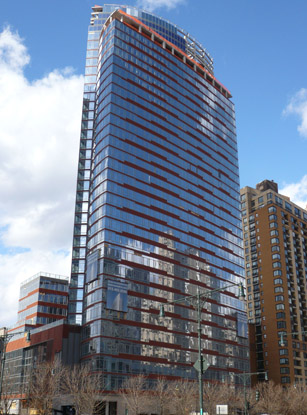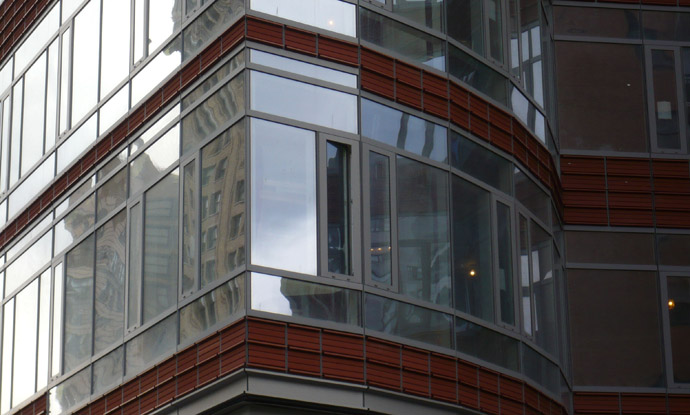 The Visionaire
Location:
New York, NY, United States
Architect/Specifier:
Pelli Clark Pelli
Featured Products:
Located in Battery Park, New York, the Visionaire is the first LEED Platinum condominium on the east coast and the greenest residential condominium in the United States. Designed by Pelli Clark Pelli Architects, the 423,000 square foot building is part of over 2 million square feet of sustainable development in this New York neighborhood.

The 35-story Visionaire complex has 247 homes and offers more than 40% in energy savings to its residents. Efficient HVAC systems, a water treatment system that recycles water in the building, programmable thermostats, and integrated solar panels are only part of what makes this building green. The Visionaire was also built to harvest and store 10,000 gallons of rainwater that is used to irrigate a rooftop garden.

To clad the facade of the Visionaire, Pelli Clark Pelli Architects installed TERRART®-Large terra cotta panels by NBK, a division of Hunter Douglas Contract. Terra cotta facades fit the sustainable criteria of the architects due to rainscreen and sunscreen qualities that keep the building envelope dry, prevent cracking and color fading, and conserve energy, which ultimately aided in LEED certification. TERRART® terra cotta is a natural material made from 30% recycled content, contributing further to LEED credits.

In addition to achieving Platinum LEED certification and all 10 of the LEED energy optimization credits available, The Visionaire has been awarded the American Institute of Architect's 2009 Building Type Honor citation, the CNBC 2008 Property Award, and the Urban Land Institute 2010 Award for Excellence.
Division Name: Hunter Douglas Ceilings & Sun Control
Address: 8 Charter Gate Clayfield Close, Moulton Park Northampton NN3 6QF United Kingdom
Phone Number: +44 (0)1604 648 229
Fax: +44 1604 212863
Contact Us: Contact Us
Division Name: Hunter Douglas Facades
Address: Cattermole House Market Place Codnor, Derbyshire DE5 9QA United Kingdom
Phone Number: +44 (0)1604 648229
Fax: 0044 - 1214231430
Contact Us: Contact Us
Division Name: Hunter Douglas Window Covering
Address: Heathcote Industrial Estate 12 Heathcote Way Warwick United Kingdom
Phone Number: +44(0)1926 310850
Fax:
Contact Us: Contact Us
Thank you for your information. We will be in touch with you shortly.
There was an issue saving your request, please try again.