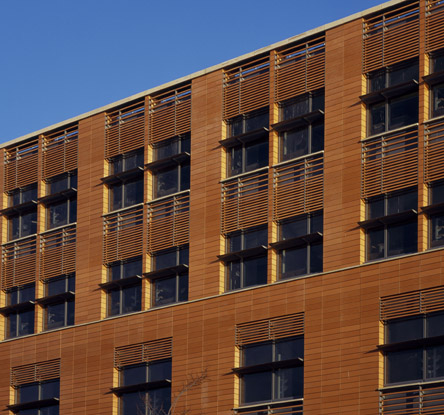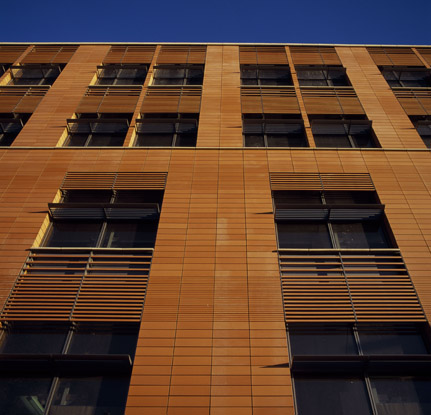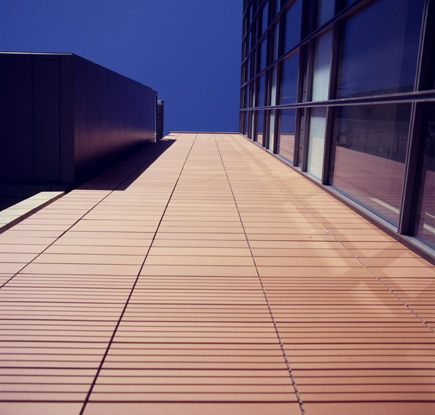 Univ. of Wash. Genomics Life Sci.
Location:
Seattle, WA, United States
Architect/Specifier:
Anshen + Allen, Los Angeles, CA
Featured Products:
The design phase of the University of Washington's Bioengineering and Genome Sciences Buildings had already begun when university administrators received a $70 million grant from the Bill and Melinda Gates Foundation to aid in genomic research. This transformed the original blueprint for architects and administrators, who could expand their plans for the state-of-the-art facility.

The final product is the 296,000 square foot William H. Foege complex: a two-building facility connected by a four-story pedestrian bridge that includes seating and eating areas to encourage interaction between the buildings.
To clad the project, architects chose to work with terracotta panels by NBK, a Hunter Douglas Company. "Brick-colored terracotta tile panels will relate the exterior to other UW campus buildings,"said Paul Zajfen, design partner at architecture firm Anshen + Allen Los Angeles, adding that while it provided continuity, terracotta also gave a look that was "more modern."

In addition to aesthetics, the architects chose NBK terracotta panels because they are extremely durable and create a pressure-equalized rainscreen that prevents water from penetrating the building envelope -- an essential feature in the rain-soaked Pacific Northwest.
Division Name: Hunter Douglas Ceilings & Sun Control
Address: 8 Charter Gate Clayfield Close, Moulton Park Northampton NN3 6QF United Kingdom
Phone Number: +44 (0)1604 648 229
Fax: +44 1604 212863
Contact Us: Contact Us
Division Name: Hunter Douglas Facades
Address: Cattermole House Market Place Codnor, Derbyshire DE5 9QA United Kingdom
Phone Number: +44 (0)1604 648229
Fax: 0044 - 1214231430
Contact Us: Contact Us
Division Name: Hunter Douglas Window Covering
Address: Heathcote Industrial Estate 12 Heathcote Way Warwick United Kingdom
Phone Number: +44(0)1926 310850
Fax:
Contact Us: Contact Us
Thank you for your information. We will be in touch with you shortly.
There was an issue saving your request, please try again.