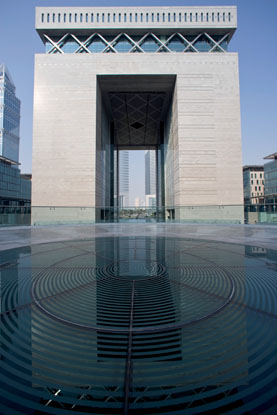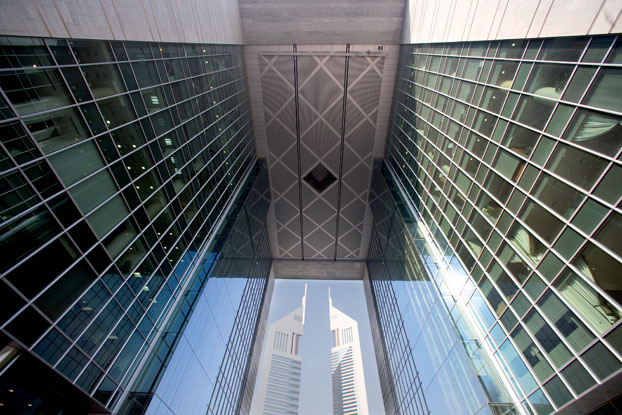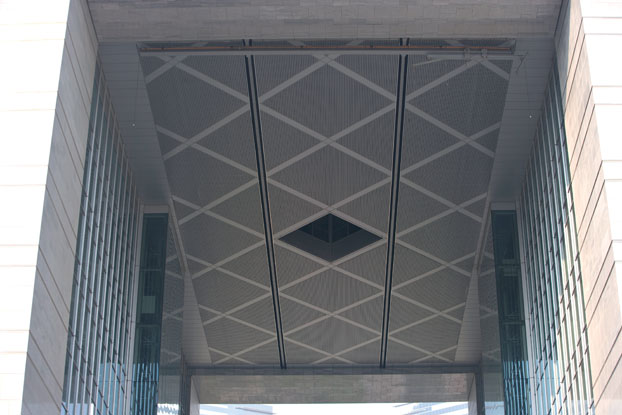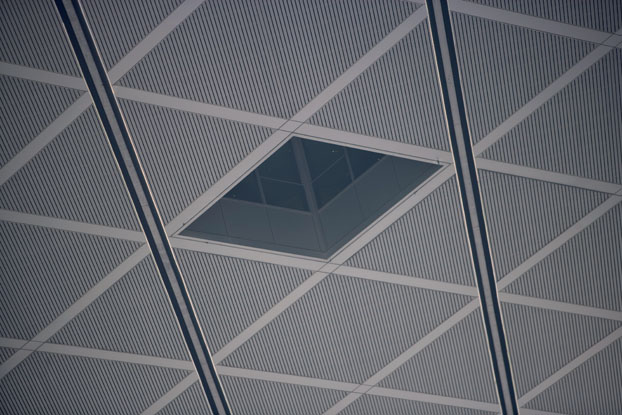 DIFC Gate Building
Location:
Dubai, United Arab Emirates
Architect/Specifier:
Gensler
In 2005, RMJM was commissioned to design the six Gate Precinct buildings to provide a transparent and elegant backdrop to the existing Gensler/Hyder designed Gate Building. The design of the precinct buildings, with special consideration to their height and proportions, relate harmoniously to the Gate Building. They are exactly half the Gate Building's height and the distance between the Gate and the precinct buildings is exactly the same as the height of the Gate itself.

The development is interconnected by a full height glass air conditioning link and decorative shaded colonnade which creates a human scale for the development. There is easy movement from building to building within a controlled environment, with a fluid link to the vibrant cafes, restaurants and terraces around the natural landscaped plaza. Externally the predominant material is high tech full height glass that clads the majority of the building.

This is contrasted with warm colored granite and fabric shades at lower levels. Internally the use of marble, sandstone, granite and rich dark woods create a modern yet sophisticated working environment befitting the importance of the area and its tenants.

The sun control systems supplied by Hunter Douglas improves the efficiency of natural light use of the building. Hunter Douglas architectural products Aerofoils 500AF and Sun Louvre 84R and 90Z provides a comfortable and light indoor environment for the occupants.
Division Name: Hunter Douglas Ceilings & Sun Control
Address: 8 Charter Gate Clayfield Close, Moulton Park Northampton NN3 6QF United Kingdom
Phone Number: +44 (0)1604 648 229
Fax: +44 1604 212863
Contact Us: Contact Us
Division Name: Hunter Douglas Facades
Address: Cattermole House Market Place Codnor, Derbyshire DE5 9QA United Kingdom
Phone Number: +44 (0)1604 648229
Fax: 0044 - 1214231430
Contact Us: Contact Us
Division Name: Hunter Douglas Window Covering
Address: Heathcote Industrial Estate 12 Heathcote Way Warwick United Kingdom
Phone Number: +44(0)1926 310850
Fax:
Contact Us: Contact Us
Thank you for your information. We will be in touch with you shortly.
There was an issue saving your request, please try again.