Name der Abteilung: Hunter Douglas Switzerland
Herzlichen Dank für Ihre Angaben. Wir werden uns in Kürze bei Ihnen melden.
Es gab ein Problem bei der Speicherung Ihrer Anfrage. Bitte versuchen Sie es erneut.
Please accept the Privacy Agreement.
1. Name, E-Mail-Adresse, Firma, Telefonnummer, Anschrift und mindestens eine Produktauswahl wird benötigt.
TECHSTYLE-INSELN
Das Know-how und Fachwissen von Hunter Douglas Architectural im Bereich der Entwicklung und Fertigung modernster Textildeckensysteme hat die Entwicklung eines spannenden neuen Deckenkonzepts ermöglicht. Techstyle®-Inseln bieten dem Designer ein grosses Deckenpaneel mit einer ebenmässigen flachen Oberfläche, das mit herausragenden akustischen Eigenschaften überzeugt, langlebig und überaus praktikabel ist.
Allgemeine Informationen
Warum Techstyle-Inseln?

Überzeugend in Form und Funktion stellen Techstyle®-Inseln ein völlig neues Konzept für die Gestaltung von Decken dar. Techstyle® bietet mit beeindruckenden Paneelgrössen bis zu 1.200 mm x 2.400 mm zahlreiche Gestaltungsmöglichkeiten. Techstyle®-Inseln werden vollständig vormontiert geliefert. Es sind lediglich vier Löcher für die Aufhängung zu bohren.
Eigenschaften


Herausragende Akustikleistung
Einfache Handhabung durch geringes Gewicht (3,3 kg/m²)
Techstyle®-Inseln werden vollständig vormontiert geliefert
Beeindruckende Paneelgrössen bis zu 1 200 mm x 2 400 mm
bis zu 99 % feuchtigkeitsbeständig
Anwendung

Techstyle®-Inseln eignen sich für die meisten Gebäudebereiche, unter anderem Firmengebäude, Einzelhandel, Freizeiteinrichtungen, öffentliche Gebäude, Hotels und Gaststätten, Gesundheitswesen, Bildungseinrichtungen und Wohngebäude.

Bitte kontaktieren Sie uns, um Ihre Wünsche mit uns zu besprechen.
Design & Inspiration
Die in weiss verfügbaren Techstyle®-Inseln bieten mit beeindruckenden Paneelgrössen bis zu 1.200 mm x 2.400 mm zahlreiche Gestaltungsmöglichkeiten.


Techstyle®-Inseln sind derzeit standardmäßig nur in weiß verfügbar.


Materialeigenschaften

Techstyle®-Inseln werden aus einem leichten akustischen Material gefertigt, das eine Wabenstruktur integriert. Die hochwertige Oberfläche besteht aus einem glasfaserverstärkten Polyestermaterial mit Mineralbeschichtung. Der umgebende Rahmen besteht aus einem 75 mm hohen Aluminiumextrusionsprofil. Techstyle®-Inseln werden vollständig vormontiert in den Abmessungen 1200 x1200 mm, 1200 x 1800 mm, 1200 x 2100 mm und unserem Grossformat 1200 x 2400 mm geliefert. Sondergrössen sind auf Anfrage ebenfalls verfügbar.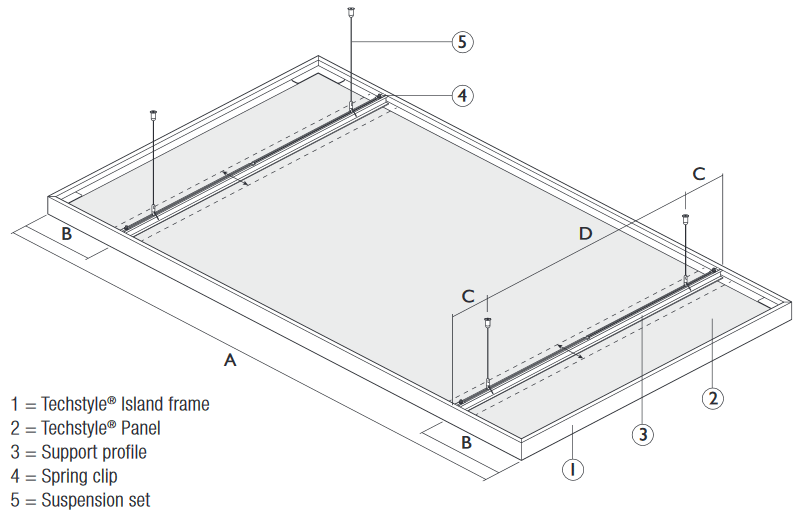 Weitere Produktinformationen
Detailliertere Angaben finden Sie im
Download-Bereich
weiter unten. Hier finden Sie Informationen zu den Themen: Maximale Spannweiten, Abmessungen und Gewichte und Materialverbrauch pro m2.
Acoustic information

Der akustische Wert, der in der Regel herangezogen wird, um die Akustikleistung von Decken anzugeben, kann für Inselkonfigurationen nicht verwendet werden. Eine Erläuterung zu der Akustik von Inseln finden Sie in dem folgenden Dokument:

Akustische Grundlagen von Techstyle®-Inseln (pdf)






Weitere Informationen zur Akustik

Weitere akustische Informationen finden Sie im
Download-Bereich
weiter unten.
Gesundheit und Wohlbefinden
Das Decken-Portfolio von Hunter Douglas Architectural leistet einen Beitrag zur nachhaltigen Bauweise: hochästhetische Lösungen, die Energie sparen und Ihren Komfort optimieren. Die wohl wichtigste Funktion eines jeden Gebäudes ist es, die Gesundheit und das Wohlbefinden seiner Bewohner zu fördern. Unsere Beschattungslösungen lassen gesundes Tageslicht herein, verhindern jedoch Blendeffekte und Temperaturspitzen. Unsere Akustik-Decken sind ein Kernelement bei der Schaffung einer komfortablen Geräuschumgebung.
Nachhaltige Materialien
Umweltgerechte Materialien sind der Schlüssel zu einer nachhaltigen Bauweise. Unser Grundsatz ist es, von Beginn an nur Materialien mit umweltfreundlichen Eigenschaften zu verwenden. Viele unserer Produkte bestehen aus Aluminium, das in unseren hauseigenen Schmelzöfen hergestellt wurde. Wir haben unsere Prozesse so weit optimiert, dass wir bis zu 99 % recycelte Inhaltsstoffe verwenden und genau die passende Legierung für unsere Produkte herstellen können. Unser Holz ist FSC-zertifiziert, und bei unserer Produktentwicklung befolgen wir das "Cradle to Cradle"-Prinzip ("von der Wiege zur Wiege").
Energieeinsparungen
Um die globale Erwärmung wirksam zu bekämpfen, muss der Energieverbrauch im Gebäudebereich nachhaltig gesenkt werden. Die meisten modernen Bürogebäude verbrauchen mehr Energie für die Kühlung bzw. Klimatisierung als für das Heizen. Eine höchst erfolgreiche Strategie zur Vermeidung übermäßig hoher Temperaturen in Alt- und Neubauten: Sonnenenergie, die durch transparente Fassadenkomponenten eines Gebäudes in dessen Innenbereich gelangt, wird effizient weitergeleitet. Unsere überlegenen Beschattungslösungen ermöglichen deutliche Energieeinsparungen und fördern gleichzeitig Gesundheit und Wohlbefinden.
Soziale Verantwortung
"Keen on Green" ist unsere unternehmensweite Initiative zur Verringerung des Energie- und Wasserverbrauches sowie zur Verbesserung unserer allgemeinen Kohlendioxyd-Bilanz. Wir befolgen die ISO-14001-Grundsätze, um unsere unsere "Keen on Green"-Zielsetzungen aktiv umzusetzen. Hunter Douglas und seine Beschäftigten leisten einen aktiven Beitrag zur Unterstützung der Gemeinden, in denen wir leben und arbeiten – doch wir engagieren uns auch auf globaler Ebene. Ein Unternehmen besteht aus Menschen. Wir sind stolz auf unser weltweites Netzwerk an erfahrenen, intelligenten, passionierten und kreativen Mitarbeitern, die Hunter Douglas bewusst als ihren Arbeitgeber ausgewählt haben.