Hunter Douglas Architectural launches new rounded panel HeartFelt® line
26. Oktober 2020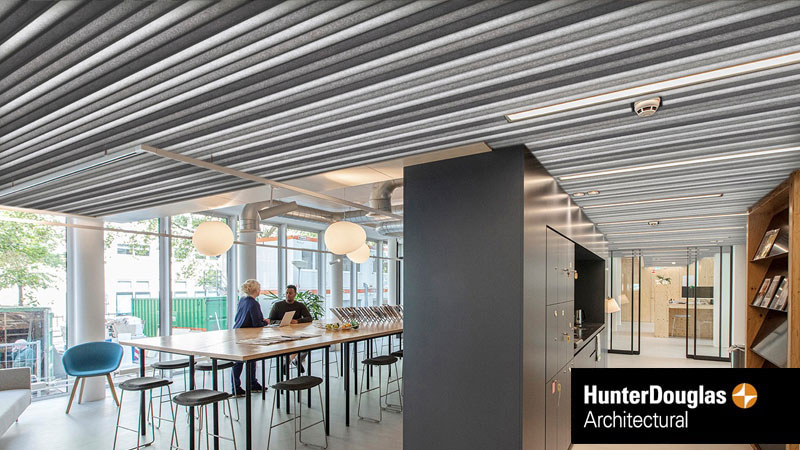 Hunter Douglas Architectural launches new rounded panel HeartFelt® line
Hunter Douglas Architectural's award-winning HeartFelt® modular felt system for ceilings and walls is now available in a rounded panel – adding yet another option for innovative designers and architects. The range, which has won two prestigious, international Red Dot awards for innovation – one when it was launched in 2017 and another in 2020 for the newly introduced baffle panels – is already lauded for its versatility in a wide range of settings.
Now, the new line, available in five shades of grey, comprises a rounded panel 40HR64 – 40mm panel width and 64mm panel height – and will enable even greater design freedom. Like all the lightweight HeartFelt® panels and baffles, the rounded panels are made from non-woven thermoformed PES fibres, are FR tested to B-S1, d0 and boast excellent acoustic properties, with ceiling absorption values (αw) achieving between 0.45 and 0.70.
Pieter van Rees, Business Development Manager HeartFelt® & Linear Metal Ceilings at Hunter Douglas Architectural, said industry demand was fuelling the evolution and expansion of the HeartFelt® range. "The popularity of HeartFelt® in the past three years among architects, specifiers and interior designers has demonstrated just how versatile this material is and how easily it can be applied in a wide variety of settings," he said.
"Since we launched the range, we've added wall panels and baffles and now we're proud to announce the arrival of rounded panels, bringing even more vitality to this dynamic and exciting ceiling and wall panel. This rounded panel will add more softness to our Linear HeartFelt® ceiling and wall applications. "Hunter Douglas Architectural is well known for innovation, and we're working on further developments in the HeartFelt® range, which we'll look forward to unveiling."
Hunter Douglas Architectural prides itself on its green credentials and HeartFelt® is C2C Bronze certified and is 100% recyclable or easily reusable.