Hunter Douglas goes to Top of the Shop with ceiling for bingo HQ
26. Februar 2020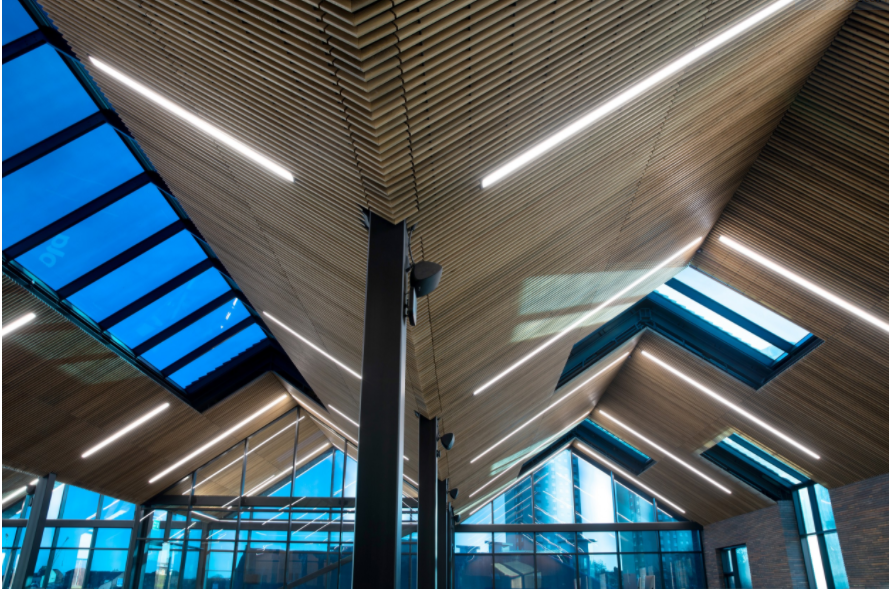 Hunter Douglas Architectural scored a full house when it supplied a solid wood grill for the new £7m offices of a leading online bingo company.
Tombola Ltd, located at Wylam Wharf, on the banks of the River Wear in Sunderland, was originally housed in a former bonded warehouse that dates back to the 1700s and ambitious expansion plans meant it wanted to add a 2485m2 building.
Designed by Ryder Architecture, the new building reflects the design of the original warehouses that surround the site and comprises a three-storey, fully glazed frontage. It features open plan offices on the first and second floors around a three-storey high atrium, which allows natural light to flood in.
Hunter Douglas Architectural was specified to supply more than 850m2 of solid wood grill ceiling in American white oak for the underside of the roof. An internal roof lining was also added to provide warmth to the interior space. The grill slats were 20mm wide and 44mm deep, with a gap of 45mm between them and the timber was impregnated to achieve a Class '0' fire rating.
David Harris, General Manager of Hunter Douglas Architectural, said the complex design meant the grill panels followed the triple roof pitch and the roof windows, the installation team had to work around many services within the roof space. Lines of uninterrupted lighting were also incorporated.
"The solid wood grill ceiling looks sleek and elegant, complementing the modern look of the building, yet having a nod to local historical buildings nearby," he said. "This was an exacting and complicated design, following the pitch roof, but it was completed expertly. It's a great showcase for our solid wood grills and what can be achieved aesthetically with them."
Hunter Douglas Architectural's solid wood grill ceilings are the ideal choice for architects and designers who want to create a unique design, taking advantage of the fact that they can choose their own grill dimensions. Light fixtures, vents or speakers can also be fixed easily into the ceiling.
All grills are made to measure off site, which minimises the amount of cutting required at the fitting stage, thereby reducing installation costs. The suspension system comprises rails and clips, which are easily fixed to the carriers. Paul Milner, project architect at Ryder Architecture, said the white oak specification complements the joinery installed throughout the building, providing a sense of harmony and natural warmth to the minimal material palette.
"The suspended Hunter Douglas wood grill ceiling system has both an important aesthetic and functional role within Tombola House," he said.
"The linearity of the white oak slats, which are suspended to follow and emphasise the striking trio of internal roof pitches, provides a dynamic, visual rhythm to the uplifting internal environment. The calculated void width between the timber slats allows the suspended radiant heating / cooling panels behind the Hunter Douglas ceiling to provide the necessary indoor thermal comfort to the top floor – this required a complex, yet successful co-ordination and installation process between the two ceiling systems."