Hunter Douglas ceiling enhances student hub in listed building.
25. März 2020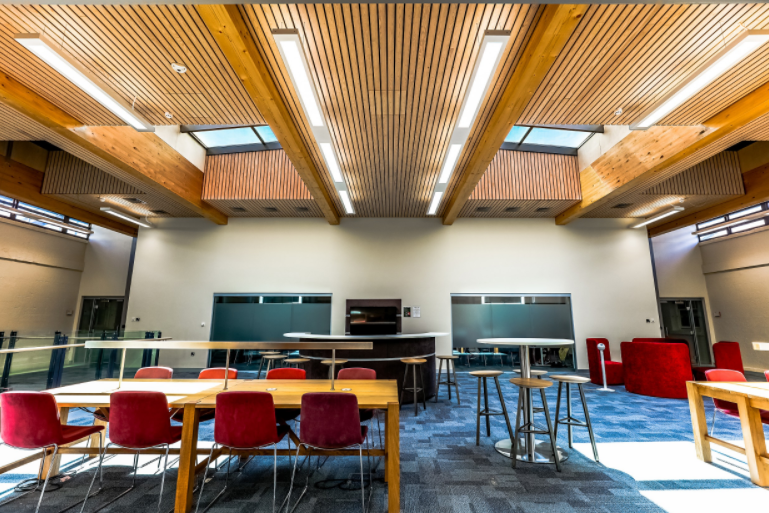 Hunter Douglas ceiling enhances student hub in listed building.
Hunter Douglas Architectural, the leading global architectural products company, has helped to enhance a grade II listed building that was rejuvenated into a stylish student hub for a London university.
The Dreadnought Building, which is located in the Greenwich Maritime UNESCO World Heritage site, was first refurbished in the 1990s, when it was brought back to life for Greenwich University to provide learning, teaching and social space.
It has undergone another transformation, this time as the university's student hub, which brings together the Students' Union and Student & Academic Services, plus space for some academic and professional services departments. As a modern and flexible facility, it also has gym facilities, coffee shop, bar and teaching facilities.
Dannatt, Johnson Architects, which was commissioned to carry both the original refurbishment and this most recent
work, specified Hunter Douglas Architectural's solid wood linear panels for the ceiling and for part of a wall in washeddown pine, to match the glulam beams that formed the structure of the building.
Kevin Taylor, of Hunter Douglas Architectural, said for the 900m2 ceiling, the 70mm-wide timber slats were installed to
the ceiling with a 15mm gap, while for the 70m2 walls, 92mm width slats were used, with a 13mm gap.
He said: "We had many discussions with the architects about how the system works for ceilings and walls and looked at several special module widths of timber, plus the need for metal infill where contact with public is likely. It's a superb space in a prestigious site and the ceiling and wall really showcase how good solid wood linear panels look. As well as superb visual appearance, the panels also have excellent acoustic properties in such a large, open space."
David Johnson, of Dannatt, Johnson Architects, said: "We selected the Hunter Douglas product as it allowed us to achieve a precise finish and accurate setting out while using a natural product. The system allowed speed of insulation and avoided the need for any exposed fixing. The client is very happy with the appearance of what is a very elegant ceiling design."
The Dreadnought Building was originally constructed between 1764 and 1768 by Greenwich Hospital as its infirmary for pensioners.
It was bombed in the Second World War bomb, the first time a direct hit destroyed operating theatres and chapels and a second hit in 1941 destroyed most of the roof.
The building was taken over by the NHS in 1948 and closed in 1985, thereafter falling into disrepair. It was taken over by the University of Greenwich in 1998, when it was transformed into a library.