Hunter Douglas Architectural fulfils brief for top 100 UK law firm.
25. März 2020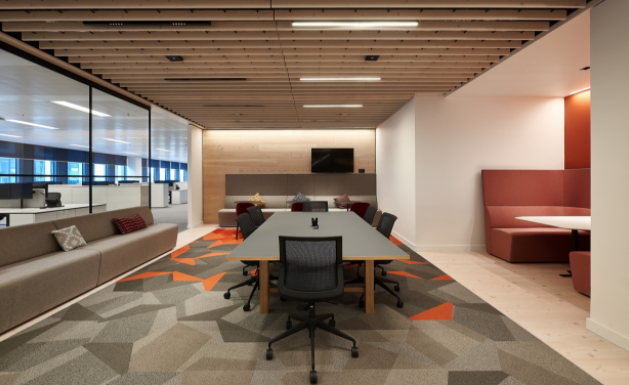 Hunter Douglas Architectural fulfils brief for top 100 UK law firm.
The headquarters of Cardiff-based Hugh James, a top 100 UK law firm, is an impressive corporate space within a newly developed gateway to the city.
Occupying 100,000 sq ft of Two Central Square, a 148,000 sq ft office building designed by Foster + Partners, Hugh James's move was the biggest pre-let office deal in Wales.
As well as a dedicated client floor with 12 meeting rooms, a 120-capacity function room and outside terrace, the office floors have been designed for open-plan working, but with designated quiet areas. And each of the six floors that the firm occupies features an eye-catching ceiling that was manufactured by Hunter Douglas Architectural.
Interior design practice Harmsen Tilney Shane specified the leading architectural products company following the success of a project at Bristol Airport, which also features its wood ceilings in the security search and baggage reclaim areas.
For this scheme, the specification was for 800m2 of engineered solid wood (ESW) grill ceiling, to be installed in areas across all six floors of the law firm's offices, which houses 700 staff. The slats are real spruce veneer with white wash lacquer, each of which is 80mm deep and 20mm wide. They were manufactured with a 150mm gap and installed on a fully demountable system. The panels are connected with a metal dowel, which is itself connected to the carrier for guaranteed rigidity. Metal clips ensure that each panel can be installed quickly and removed easily if services have to be accessed.
David Harris, General Manager of Hunter Douglas Architectural, said using solid wood panels means the ceilings are 100% CO2 neutral, recyclable, and environmentally friendly. Modern production practices also mean up to 1000m2 of veneer can be produced from just 1m3 of wood, making it a sustainable option for designers.
And because all the firm's ceilings are made to measure, little or no cutting is required on site, which reduces significantly installation time and cost.
All of these factors played a role towards the building achieving a BREEAM excellent rating.
"The Hugh James offices at Two Central Square are perfectly fitting for what is an ambitious development to transform a strategic area of Cardiff city centre," he said. "The finish of the offices is first class and the Hunter Douglas Architectural grill ceilings provide a modern and cutting-edge look in a quality corporate environment.
"It was a complex project because of the sheer number of bespoke size grill panels that we had to manufacture. The
contractor also had to install the ceiling in heavily serviced areas of the building, so it was tricky to install the panels where there were few suspension points available."
Matthew Tossell, partner at Hugh James and Two Central Square project manager, said "We're absolutely delighted with the finished result of Two Central Square. We wanted to create a best in class working environment and Two Central Square has certainly achieved that. It's the detail and craftsmanship of the interior fit out that makes this office really special and the ceilings are inclusive to that."