Hunter Douglas Architectural manufactures ceiling for prestigious Royal College of Pathologists HQ.
25. Juni 2019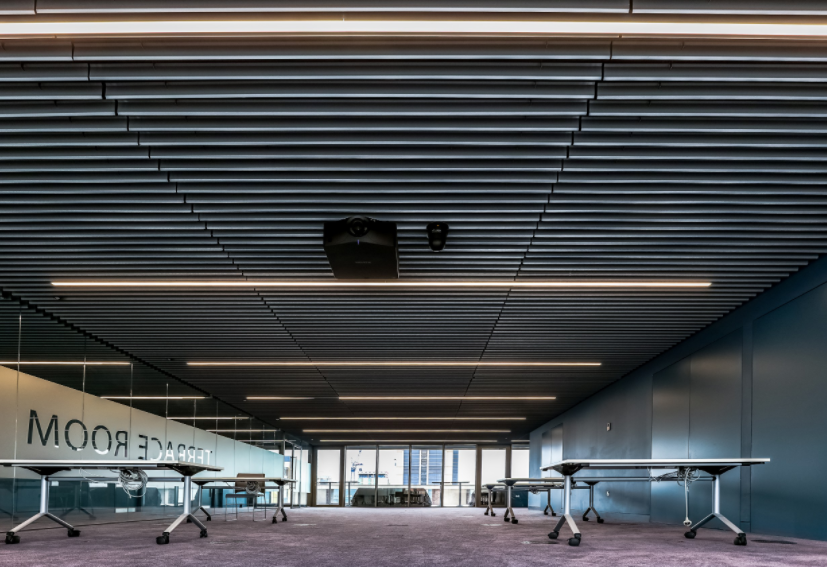 Hunter Douglas Architectural manufactures ceiling for prestigious Royal College of Pathologists HQ.
The new £15 million headquarters for the Royal College of Pathologists features one of Hunter Douglas Architectural's dramatic Luxalon® ceilings, adding a sense of drama to the both the exterior and interior of this spectacular new space. The College's purpose-built, environmentally friendly facility in Alie Street, London, is an eight-storey 4500m2 building that has been designed by award-winning architects Bennetts Associates. A superb facility for its global members, it marks the final step in the College's move from a Grade I listed building in St James to contemporary purpose-built premises.
The headquarters, which has been shortlisted for the 2019 RIBA London award, is a flexible and environmentally efficient building that will enable the College to represent its growing membership, advance its research and provide public education services and programming.
International architectural products company Hunter Douglas Architectural was specified to manufacture its Luxalon® V100 screen ceilings in RAL 7080 for the office floor and exterior canopy, to create a seamless visual screen from the inside to the exterior.
The V series is an increasingly popular choice for architects and interior designers who seek to maximise the original volume of the room, while visually reducing ceiling height. The ceiling screens are engineered to define the ceiling plane and consist of vertically hung, 'floating' panels.
For this specific project, Hunter Douglas Architectural manufactured 250m2 of panels in different lengths, each of which was designed to ensure easy access to lighting, air conditioning and sprinkler systems.
The vertically installed panels came in 100 module and are 101mm high. Designed for both exterior and interior use, the fixing clips on the external panels are fitted on the carriers between the panels, while the internal V system clips directlyinto the carrier, providing a secure locking system.
The installation contractor, Delmond Construction Ltd, worked with Hunter Douglas Architectural to ensure the angledlayout was completed, as specified.
Juliette Halliday, national sales manager of Hunter Douglas Architectural, said: "The V100/200 screen ceilings range has always been a popular choice but over the past few months we have seen renewed interest in it for many commercial projects. Its versatility means that there are multiple options for architects and designers to create striking patterns and visual lines that add interest and drama to any room or space.
"There are more than 40 design options within the metal linear ceilings range, which enable designers to create unique interiors that are tailor-made for a specific scheme."
Rob Bearyman, associate director for Bennetts Associates, said: "We chose this product as we wanted a lightweight aesthetic that contrasted with the heavy in situ concrete of the lower levels. The system allowed us to continue the soffit treatment from inside to out. This helped accentuate the pavilion's lightness and for it to read as a floating element over the two terraces."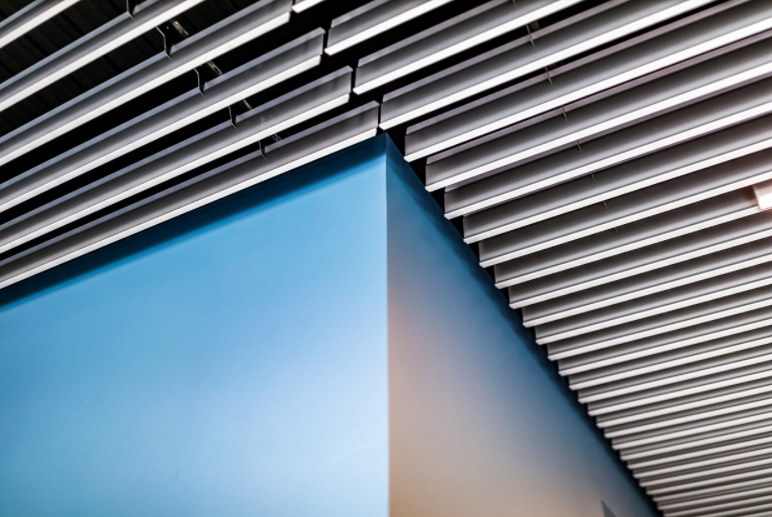 The new £15 million headquarters for the Royal College of Pathologists features one of Hunter Douglas Architectural's dramatic Luxalon® ceilings, adding a sense of drama to the both the exterior and interior of this spectacular new space. The College's purpose-built, environmentally friendly facility in Alie Street, London, is an eight-storey 4500m2 building that has been designed by award-winning architects Bennetts Associates. A superb facility for its global members, it marks the final step in the College's move from a Grade I listed building in St James to contemporary purpose-built premises. The headquarters, which has been shortlisted for the 2019 RIBA London award, is a flexible and environmentally efficient building that will enable the College to represent its growing membership, advance its research and provide public education services and programming. International architectural products company Hunter Douglas Architectural was specified to manufacture its Luxalon® V100 screen ceilings in RAL 7080 for the office floor and exterior canopy, to create a seamless visual screen from the inside to the exterior. The V series is an increasingly popular choice for architects and interior designers who seek to maximise the original volume of the room, while visually reducing ceiling height. The ceiling screens are engineered to define the ceiling plane and consist of vertically hung, 'floating' panels. For this specific project, Hunter Douglas Architectural manufactured 250m2 of panels in different lengths, each of which was designed to ensure easy access to lighting, air conditioning and sprinkler systems. The vertically installed panels came in 100 module and are 101mm high. Designed for both exterior and interior use, the fixing clips on the external panels are fitted on the carriers between the panels, while the internal V system clips directly into the carrier, providing a secure locking system. The installation contractor, Delmond Construction Ltd, worked with Hunter Douglas Architectural to ensure the angled layout was completed, as specified. Juliette Halliday, national sales manager of Hunter Douglas Architectural, said: "The V100/200 screen ceilings range has always been a popular choice but over the past few months we have seen renewed interest in it for many commercial projects. Its versatility means that there are multiple options for architects and designers to create striking patterns and visual lines that add interest and drama to any room or space. "There are more than 40 design options within the metal linear ceilings range, which enable designers to create unique interiors that are tailor-made for a specific scheme." Rob Bearyman, associate director for Bennetts Associates, said: "We chose this product as we wanted a lightweight aesthetic that contrasted with the heavy in situ concrete of the lower levels. The system allowed us to continue the soffit treatment from inside to out. This helped accentuate the pavilion's lightness and for it to read as a floating element over the two terraces."