Quadram Institute chooses Hunter Douglas HeartFelt® ceiling.
27. Mai 2020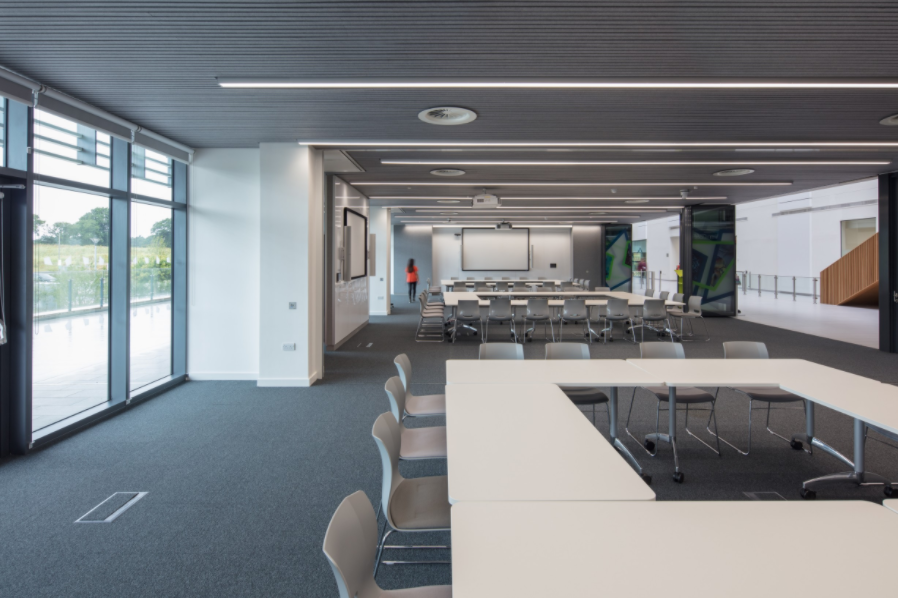 Quadram Institute chooses Hunter Douglas HeartFelt® ceiling.
Hunter Douglas Architectural supplied one of its newest ceiling systems for a state-of-the-art biomedical research andendoscopy centre in Norwich.
The Quadram Institute (QI), which brought together research teams from Quadram Institute Bioscience, the University of East Anglia, the Norfolk and Norwich University Hospital (NNUH), plus the Regional Endoscopy Centre and Clinical Research Facility, is a leader in gut health and food studies.
The 13,500m2 facility, designed by architecture practice NBBJ, is located on the Norwich Research Park and the 300 research scientists are involved in a range of clinical research in the gut microbiome, healthy ageing, food innovation and food safety. It also treats about 40,000 outpatients a year in its new endoscopy clinic. The four-storey building was designed to be sustainable, flexible and future proofed, with visually connected spaces, open lab space and open plan offices.
Hunter Douglas Architectural, the global architectural products provider, was specified to supply 350m2 of its awardwinning Heartfelt® felt ceiling system in the lecture theatre and seminar rooms.
Juliette Halliday, national sales manager at Hunter Douglas Architectural, said the acoustic performance and aestheticqualities of Heartfelt® was ideal for the areas in which it was installed.
It supplied panels 55mm depth (40B x 55H mm) in mid-grey, with some sections installed in a barrel vault design. "Heartfelt® is an increasingly popular choice with architects and designers who want a more environmentally friendly ceiling product that has aesthetic appeal," she said. "The range is incredibly versatile, cost effective and recyclable. We were pleased to supply HeartFelt® for the QI and are pleased with the end result."
Nora Claudio Familiar, senior associate at NBBJ, said: "The main reason for selecting HeartFelt was the acoustic properties that it offered us, together with the sleek aesthetic feel. The linear language worked extremely well with our overall building concept, playing a particular reference to the main terracotta elevation, which striking pattern creates a unique identity for the building. In addition, the open nature of the ceiling helped with the ventilation requirements without compromising the acoustic attributes."
Heartfelt®, which won the prestigious Red Dot award for product design in 2017, complies with regulations for use in non-polluting buildings, is resistant to dirt and dust, meets the indoor European standard EN 15251, and EN 13501 Class B, S1, d0 fire certification.
The panels are manufactured using thermoformed polyester fibres, which are 100% recyclable – earning the system C2C Bronze certificate from the Cradle to Cradle Products Innovation Institute. The panels are available in up to 6m lengths and are fixed via a special carrier system. They are available in a range of panel size, joint width and mounting height.
The panels are available in five earth tones and five shades of grey.