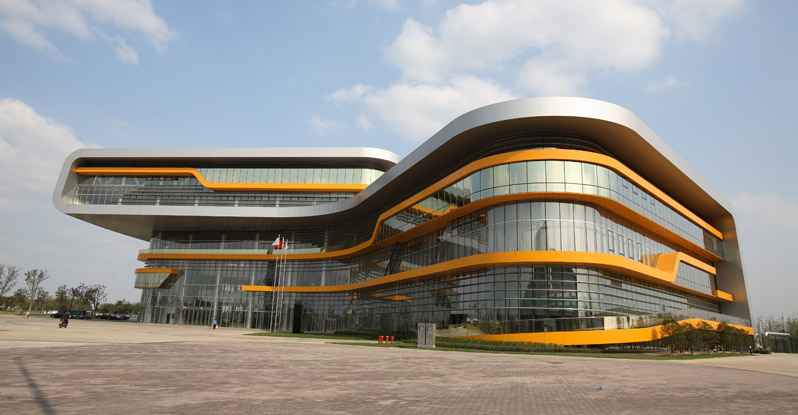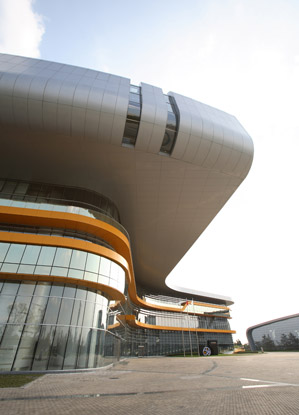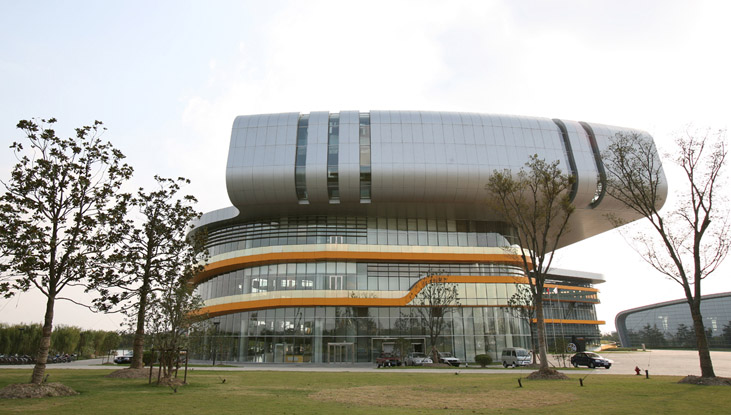 Shanghai Automobile Museum
Location:
Shanghai, China
Architect/Specifier:
IFB Dr. Braschel AG
According to Germany's IFB Dr. Braschel AG Architects, "Buildings are not fixed objects. They are alive." The firm's design of Shanghai's Automobile Museum demonstrates this idea perfectly, with "massive flowing curves" that "symbolize the fast moving track of automobiles."

At a height of about 32 meters and covering an area of 11,700 square meters, the museum comfortably houses a series of halls that display classic cars, show the history of the automobile, and host interactive exhibits. The museum fits perfectly with its surroundings, sitting adjacent to the Shanghai International F1 Circuit, China's first racing complex for Formula 1 cars.

Appropriately, the architects selected sleek, lightweight QuadroClad façade panels from Hunter Douglas for the building's exterior. Constructed from strong, lightweight honeycomb composite, these customizable, oversize panels create less load than traditional panels. Brushed silver fits the contours atop the building, while dynamic yellow punctuates the windowed walls ...like the stripes on the racecars speeding across the track nearby.
Name der Abteilung: Hunter Douglas Switzerland
Herzlichen Dank für Ihre Angaben. Wir werden uns in Kürze bei Ihnen melden.
Es gab ein Problem bei der Speicherung Ihrer Anfrage. Bitte versuchen Sie es erneut.
Please accept the Privacy Agreement.
1. Name, E-Mail-Adresse, Firma, Telefonnummer, Anschrift und mindestens eine Produktauswahl wird benötigt.