Name der Abteilung: Hunter Douglas Architektur-Systeme
Internet: www.hd-as.de
Adresse: Erich-Ollenhauer-Str. 7 Düsseldorf D-40595 Deutschland
Telefonnummer: (+49) 0800 - 88 000 03
Fax: (+49) 0211 - 97 086 20
Kontakt: Kontakt
Name der Abteilung: Herr Marco Moryson
Objektberater Nord- und Ostdeutchland
Internet: www.hd-as.de
Adresse: Deutschland
Telefonnummer: 0172 - 81 51 802
Fax: 0211 - 970 86 20
Kontakt: Kontakt
Name der Abteilung: Herr Jörg Wöllner Objektberater Süddeutschland
Internet: www.hd-as.de
Adresse: Deutschland
Telefonnummer: 0172-2905229.
Fax: +49 (0)211 9708620
Kontakt: Kontakt
Herzlichen Dank für Ihre Angaben. Wir werden uns in Kürze bei Ihnen melden.
Es gab ein Problem bei der Speicherung Ihrer Anfrage. Bitte versuchen Sie es erneut.
Please accept the Privacy Agreement.
1. Name, E-Mail-Adresse, Firma, Telefonnummer, Anschrift und mindestens eine Produktauswahl wird benötigt.
HeartFelt® Multipanel
Perfekte Schallabsorption in Kombination mit einem einzigartigen Erscheinungsbild: HeartFelt® Multipanel ist eine stilvolle, modulare Decke, die den Blick nach oben lenkt. Filz besitzt von Natur aus hervorragende akustische Eigenschaften. Dadurch eignet sich HeartFelt® Multipanel für eine Vielzahl von Räumen, in denen eine gute Schallabsorption gewünscht wird.
Allgemeine Informationen
Warum HeartFelt® Multipanel?

Die Deckenpaneelen von HeartFelt® Multipanel stehen für eine angenehme Optik in Kombination mit der perfekten, natürlichen Schallabsorption von Filz. HeartFelt® Multipanel bietet umfassende Gestaltungsfreiheit. Spielen Sie mit einer abenteuerlichen Kombination unterschiedlicher Breiten und schaffen Sie so ein nachhaltiges, modulares Deckensystem, das sich sehen lassen kann.
Eigenschaften
Hervorragende Akustikleistung
Fünf verschiedene Grautöne für eine angenehme Atmosphäre
Erhältlich in den Paneelgrößen 30x60, 80x35, 130x35 und 180x35mm
100 % recycelbar oder leicht wiederverwendbar > Pflegeleicht: schmutz- und staubabweisend
Cradle to Cradle Certified™ Bronze (Cradle to Cradle Certified™ ist ein vom Cradle to Cradle Products Innovation Institute lizenziertes Gütezeichen).
Anwendung

HeartFelt® Multipanel eignet sich für vielfältige Einsatzbereiche wie in Unternehmen, Ladengeschäften, Freizeiteinrichtungen, öffentlichen Räumen, Gastgewerben, Gesundheitswesen und Bildung.

Kontaktieren Sie uns, wenn Sie spezielle Anforderungen haben.
Design & Inspiration
Das HeartFelt®-Deckensystem wurde von Filz als faszinierendem Material für Kleidung, Möbel und Modeartikel inspiriert. Es bietet Architekten, Innenarchitekten und technischen Beratern erneut eine hochwertige Designauswahl aus unserem Produktportfolio. Die Decke kann sich wieder sehen lassen: Es werden immer häufiger verschiedene Formen, Materialien oder Farben eingesetzt, sodass die Decke interessanter wird. Mit HeartFelt® Multipanel geht dieser Wunsch in Erfüllung




Farben

HeartFelt® Multipanel ist in fünf Grautönen erhältlich. Der genaue Farbton der Paneele wird durch das Verhältnis von weißen und schwarzen Fasern im Grundmaterial bestimmt.


Five shades of grey (all linear panels)

WHITE 7593
LIGHT GREY 7596
MIDDLE GREY 7597
DARK GREY 7598
BLACK 7594
Bitte kontaktieren Sie uns, wenn Sie eine andere als die vorstehend genannten Farben benötigen. Weitere Farben befinden sich in der Entwicklung.

* Es kann leichte Abweichungen von den tatsächlichen Farben geben.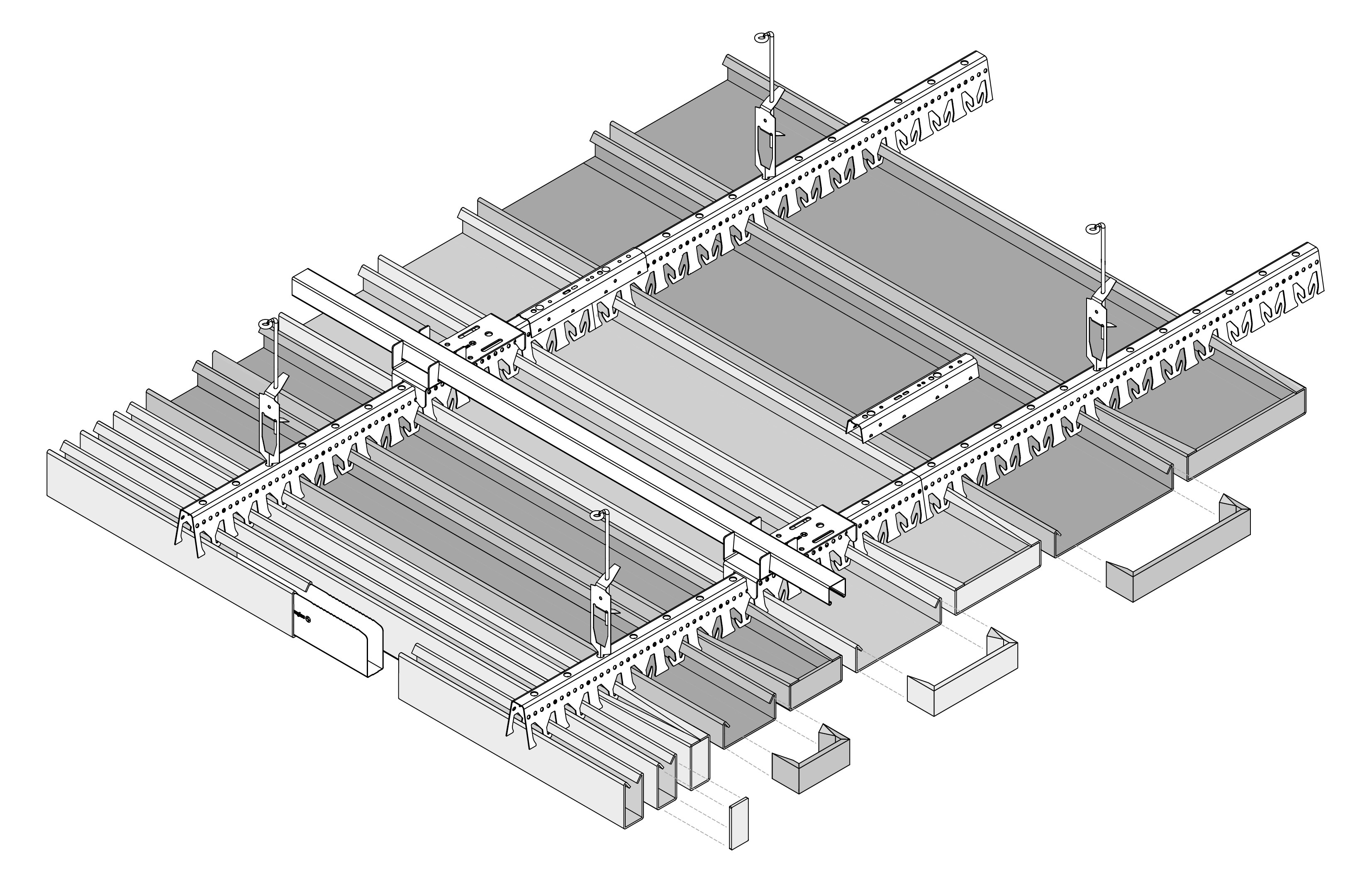 Materialeigenschaften

HeartFelt® Multipanel besteht aus wärmegeformten PES-Vliesfasern mit offenen Fugen zwischen den Paneelen. Die Paneele sind in folgenden Größen erhältlich: 30x60, 80x35, 130x35 und 180x35mm, mit einer maximalen Länge von 4000–6000 mm. Folgende Module stehen zur Auswahl: 50–200 mm, je nach Paneelgröße.



Weitere Produktinformationen

Unter Downloads finden Sie weitere Informationen zu u. a. Folgendem: Maximale Spannweiten, Abmessungen und Gewichte sowie Materialanforderungen pro m².

Akustische Informationen

Der akustische Komfort in Büroräumen, Schulen oder öffentlichen Gebäuden ist wichtig für unser Wohlbefinden, da eine schlechte Akustik sich negativ auf Gesundheit, Kommunikation, Sicherheit, Produktivität und Lernleistung auswirken kann. Die hochwertigen Akustikdeckenprodukte von Hunter Douglas bieten die beste Lösung für hervorragende Akustikleistung, Komfort und Ästhetik. Die Absorptionswerte (αw) von HeartFelt® Multipanel liegen bei etwa 0,70.




Erfahren Sie mehr über Akustik

Weitere Informationen finden Sie unten unter Downloads