QC500 QuadroClad®-Wabendesign
Name der Abteilung: Hunter Douglas Architektur-Systeme Zweigniederlassung der Hunter Douglas GmbH
Internet: www.hd-as.de
Adresse: Erich-Ollenhauer-Str. 7 Düsseldorf D-40595 Deutschland
Telefonnummer: (+49) 0800 - 88 000 03
Fax: (+49) 0211 - 97 086 20
Kontakt: Kontakt
Name der Abteilung: Herr Marco Moryson
Objektberater Deckensysteme Deutschland
Adresse: PLZ 00 – 67 und 98 - 99 Deutschland
Telefonnummer: 0172 – 81 51 802
Fax: 0211 – 970 86 20
Kontakt: Kontakt
Name der Abteilung: Herr H.G. Kaminski Objektberater Decke Süddeutschland/Österreich
Adresse: PLZ 70000 - 98999 Deutschland
Telefonnummer: 0152-09035824
Fax: 0211-9708620
Name der Abteilung: NBK Keramik GmbH & Co
Internet: www.nbkterracotta.com
Adresse: Reeser Str. 235 Emmerich D-46446 Deutschland
Telefonnummer: (+49) 02822 – 81 110
Fax:
Name der Abteilung: FLEXALUM Sonnenschutzsysteme, Zweigniederlassung der Hunter Douglas GmbH
Internet: www.flexalum.de
Adresse: Erich-Ollenhauer-Str. 7 Düsseldorf D-40595 Deutschland
Telefonnummer: (+49) 0211 – 739 19 - 0
Fax: (+49) 0211 - 739 19 - 80
Kontakt: Kontakt
Name der Abteilung: Herr A. Herfurth
Objektberater Fassadensysteme
Adresse: Deutschland
Telefonnummer: 0170 - 32 06 578
Fax:
Kontakt: Kontakt
Name der Abteilung: Herr Jörg Wöllner Objektberater N-W Deutschland Sonnenschutz
Adresse: Deutschland
Telefonnummer: 0172 - 29 05 229
Fax:
Kontakt: Kontakt
Name der Abteilung: Herr Marcus Hahn Vertriebsleiter Sonnenschutzsysteme
Adresse: Deutschland
Telefonnummer: 0160 – 90 11 31 24
Fax:
Kontakt: Kontakt
Herzlichen Dank für Ihre Angaben. Wir werden uns in Kürze bei Ihnen melden.
Es gab ein Problem bei der Speicherung Ihrer Anfrage. Bitte versuchen Sie es erneut.
Please accept the Privacy Agreement.
1. Name, E-Mail-Adresse, Firma, Telefonnummer, Anschrift und mindestens eine Produktauswahl wird benötigt.
QC500® | QUADROCLAD-WABENDESIGN
Das QuadroClad®-Fassadenkonzept bietet ein einzigartiges, offenfugiges Außenverschalungssystem mit regenabschirmender Technologie. Die leichten Verschalungen werden mit einem Aluminium-Wabenkern verschmolzen, der eine extreme Paneelstärke und Flachheit garantiert. Sie sind so entwickelt, dass sie eine herausragende Ästhetik mit ausgezeichneter Funktionalität kombinieren. QuadroClad® -Paneele und -komponenten sind für den effizienten Einsatz in den anspruchsvollsten Umgebungen ausgelegt und wurden von einer unabhängigen Stelle auf Korrosionswiderstand, Feuerwiderstand und Windlastverhalten getestet.
Allgemeine Informationen
Warum QC500?

QuadroClad® QC500, unser KOMPLETTSYSTEM: Wie der Name schon sagt, handelt es sich hierbei um unsere umfassendste Fassadenlösung. Es ist eine ideale Außenwandverkleidung für größere Gebäude in Hochbauweise, wie z. B. Wohnhochhäuser und Wolkenkratzer, die extremen Witterungseinflüssen ausgesetzt sind. Das QC500-Sortiment bietet freihängende Paneele mit Hohlraumbelüftung und offenen Fugen, die speziell auf eine reduzierte Windlast ausgelegt sind. Hohe Gebäude erfordern ihrer Natur nach gesonderte technische Spezifikationen und Hunter Douglas Architectural hat ein einzigartiges patentiertes Installationsverfahren (einschließlich Wandhalterungen, Trägerschienen und Befestigungsplatten) entwickelt, das auf die Anforderungen dieser Gebäude eingeht.
Eigenschaften


Die Lösung für Kuppelbauten.
Unkomplizierte Installation dank unseres Unterbaus mit Eckenfixierung.
Begehbar für eine vereinfachte Wartung.
Geeignet für Projekte mit besonderen technischen Anforderungen.
Folgt allen Konturen des Gebäudes.
Anwendung


Fassaden und Außenverkleidungen
Freitragende Dächer
Kuppelbauten
Innenwände, Decken und Balkone
Überdachungen
Renovierung bestehender Gebäude
Material, Ausführungen und Oberflächen


Gebäude definieren sich durch Form und Design. Sie sind oft das Ergebnis der inspirierenden Vision eines Architekten. Unsere Aufgabe bei Hunter Douglas besteht darin, Designern bei der Verwirklichung ihrer Vision behilflich zu sein und ihnen eine Farbpalette sowie Auswahl aus Materialien und Oberflächenausführungen zur Verfügung zu stellen, die ihre Kreativität beflügeln.

Architektonische Optionen für jede Eventualität. QuadroClad®-Fassadenpaneele eignen sich für ein breites Anwendungsspektrum.



Treffen Sie Ihre Auswahl
Optimale Produktanwendung
QC50 Standard
QC100 Easy
QC200 Ultimate
QC300 Complete
QC500 Infinity
Überdachungen
Kuppelbauten
Altbausanierung
Freitragende Dächer
Diagonale Verlegerichtung
Innen


QC500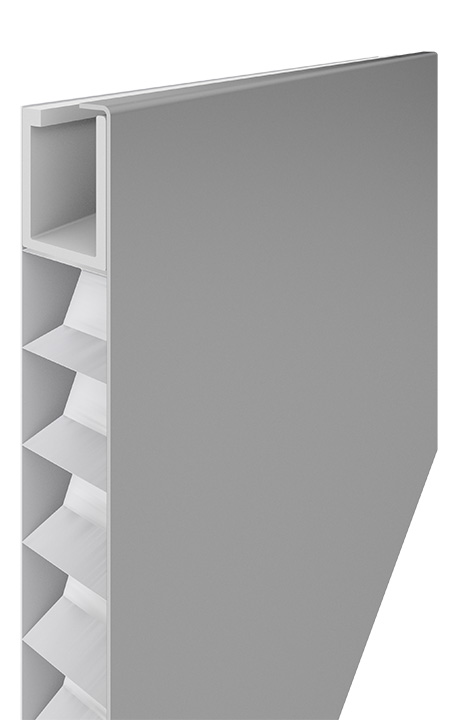 Weitere Produktinformationen

Detailliertere Angaben finden Sie im Download-Bereich weiter unten.


Gesundheit und Wohlbefinden
Das Decken-Portfolio von Hunter Douglas Architectural leistet einen Beitrag zur nachhaltigen Bauweise: hochästhetische Lösungen, die Energie sparen und Ihren Komfort optimieren. Die wohl wichtigste Funktion eines jeden Gebäudes ist es, die Gesundheit und das Wohlbefinden seiner Bewohner zu fördern. Unsere Beschattungslösungen lassen gesundes Tageslicht herein, verhindern jedoch Blendeffekte und Temperaturspitzen. Unsere Akustik-Decken sind ein Kernelement bei der Schaffung einer komfortablen Geräuschumgebung.
Nachhaltige Materialien
Umweltgerechte Materialien sind der Schlüssel zu einer nachhaltigen Bauweise. Unser Grundsatz ist es, von Beginn an nur Materialien mit umweltfreundlichen Eigenschaften zu verwenden. Viele unserer Produkte bestehen aus Aluminium, das in unseren hauseigenen Schmelzöfen hergestellt wurde. Wir haben unsere Prozesse so weit optimiert, dass wir bis zu 99 % recycelte Inhaltsstoffe verwenden und genau die passende Legierung für unsere Produkte herstellen können. Unser Holz ist FSC-zertifiziert, und bei unserer Produktentwicklung befolgen wir das "Cradle to Cradle"-Prinzip ("von der Wiege zur Wiege").
Energieeinsparungen
Um die globale Erwärmung wirksam zu bekämpfen, muss der Energieverbrauch im Gebäudebereich nachhaltig gesenkt werden. Die meisten modernen Bürogebäude verbrauchen mehr Energie für die Kühlung bzw. Klimatisierung als für das Heizen. Eine höchst erfolgreiche Strategie zur Vermeidung übermäßig hoher Temperaturen in Alt- und Neubauten: Sonnenenergie, die durch transparente Fassadenkomponenten eines Gebäudes in dessen Innenbereich gelangt, wird effizient weitergeleitet. Unsere überlegenen Beschattungslösungen ermöglichen deutliche Energieeinsparungen und fördern gleichzeitig Gesundheit und Wohlbefinden.
Soziale Verantwortung
"Keen on Green" ist unsere unternehmensweite Initiative zur Verringerung des Energie- und Wasserverbrauches sowie zur Verbesserung unserer allgemeinen Kohlendioxyd-Bilanz. Wir befolgen die ISO-14001-Grundsätze, um unsere unsere "Keen on Green"-Zielsetzungen aktiv umzusetzen. Hunter Douglas und seine Beschäftigten leisten einen aktiven Beitrag zur Unterstützung der Gemeinden, in denen wir leben und arbeiten – doch wir engagieren uns auch auf globaler Ebene. Ein Unternehmen besteht aus Menschen. Wir sind stolz auf unser weltweites Netzwerk an erfahrenen, intelligenten, passionierten und kreativen Mitarbeitern, die Hunter Douglas bewusst als ihren Arbeitgeber ausgewählt haben.