Hunter Douglas Architectural wood ceiling enhances natural surroundings of Aylesbury Vale Crematorium.
August 25, 2019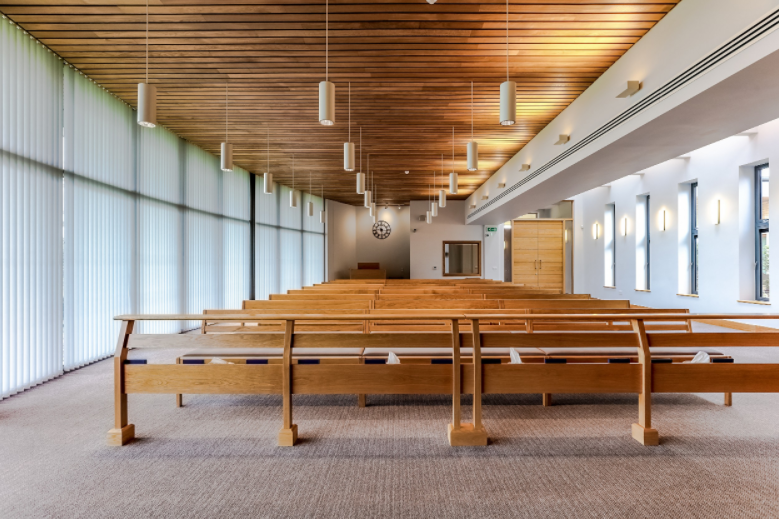 Hunter Douglas Architectural wood ceiling enhances natural surroundings of Aylesbury Vale Crematorium.
A solid wood Hunter Douglas Architectural ceiling and external canopy was the natural choice for a modern, purposebuilt crematorium, which nestles in a tranquil waterside setting.
Aylesbury Vale Crematorium, in Aylesbury, Buckinghamshire, comprises a 90-seater chapel, which is furnished in oak and has standing room for up to 200 mourners. Designed by architecture practice Stride Treglown, the circular crematorium takes its design cues from its rural surroundings, being set on the edge of Watermead Lake and bordered by the River Thame. The natural materials finish also enables it to blend seamlessly into its setting.
As a leader in its field in solid wood interior and external ceilings, Hunter Douglas was specified to supply 85m2 solid wood linear open system in European oak for the chapel. It also supplied 530m2 of solid wood European pine for the exterior soffits. Both were fire treated to achieve a class '0' rating and were finished with a transparent lacquer. David Harris, General Manager of Hunter Douglas Architectural, said wood is the ideal material to use in such a setting. "The natural materials create a warm and tranquil atmosphere, and adding a durable wood ceiling and canopy also enhances its environmentally friendly credentials because the timber comes from a sustainable source," he added. All the panels it supplied were 92mm wide by 15mm deep and were fitted with a 19mm gap, which was visually closed by a black non-woven acoustic tissue.
The exterior installation was a challenge for the contractor because the ceiling was curved in plan as well as being installed at a 15˚ incline, to meet the design intent.
Martin Davey, contract surveyor at Diespeker Interiors, which installed the ceilings, said: "We know Hunter Douglas products, having worked with the company before, and this project went well. Having to achieve two radiuses made it a little more demanding but we took delivery of pre-rolled channels, which meant we were able to complete the installation without problems."
Heather Dyson, manager of Aylesbury Vale Crematorium, said the canopy and ceiling harmonise the building's modern style and the use of muted tones throughout the interior and exterior.
"The ceiling within the chapel complements the light airy and modern atmosphere within the chapel, allowing natural light through the sky lights. It has soft down lighting over the pews, which gives a more welcoming intimate atmosphere. It also complements the external canopy surrounding the building," she added.
Thanks to Hunter Douglas Architectural's expertise and capabilities, any design is possible with its solid wood ceilings because the panel and gap size are fully customisable. The design of the suspension system means that the ceiling is quick and easy to install, with minimal waste.
The specially developed suspension system comprises carriers with pre-fixed clips, which retain the wooden panels. The panels have a tongue and groove connection across their short edges, to create a seamless joint detail. Light fixtures, vents or speakers can be easily fixed into the ceiling.