Hunter Douglas HeartFelt range specified for award-winning university project
May 11, 2022
An award-winning refurbishment at Birkbeck, University of London, has breathed new life into an almost 100-year-old building – and Hunter Douglas Architectural helped to bring it into the 21st century.
Cambridge House, a former 1920s car showroom on Euston Road, was transformed into a spectacular seven-storey teaching and learning facility for the university, with a 180-seat lecture theatre, teaching rooms and more informal co-learning spaces, plus a café and learning hub in the basement and on the ground floor.
The building sits in a sensitive heritage area, close to the grade I-listed Holy Trinity Church, which was designed by Sir John Soane, and the results are striking, with an angular copper-coloured roof extension that cantilevers over the street.
It went on to win the Learner category of the New London Awards 2021 and was shortlisted for an AJ Retrofit Award 2022 in the Schools and Further Education category.
Architect Gibberd Partnership specified Hunter Douglas, the global architectural products company, to supply 568m2 of its HeartFelt range for a number of ceilings in the teaching rooms and in the reception.
HeartFelt® is a modular linear felt ceiling system with unique design qualities. Made from Cradle to Cradle bronze-certified felt, this sustainable option is a natural and soft material with a warm appearance and excellent acoustic properties.
Available in five grey tones and five earth tones, the architect specified 7597 middle grey for Cambridge House. It was supplied as 40 x 55mm height panels with 70mm module and box-shaped panel.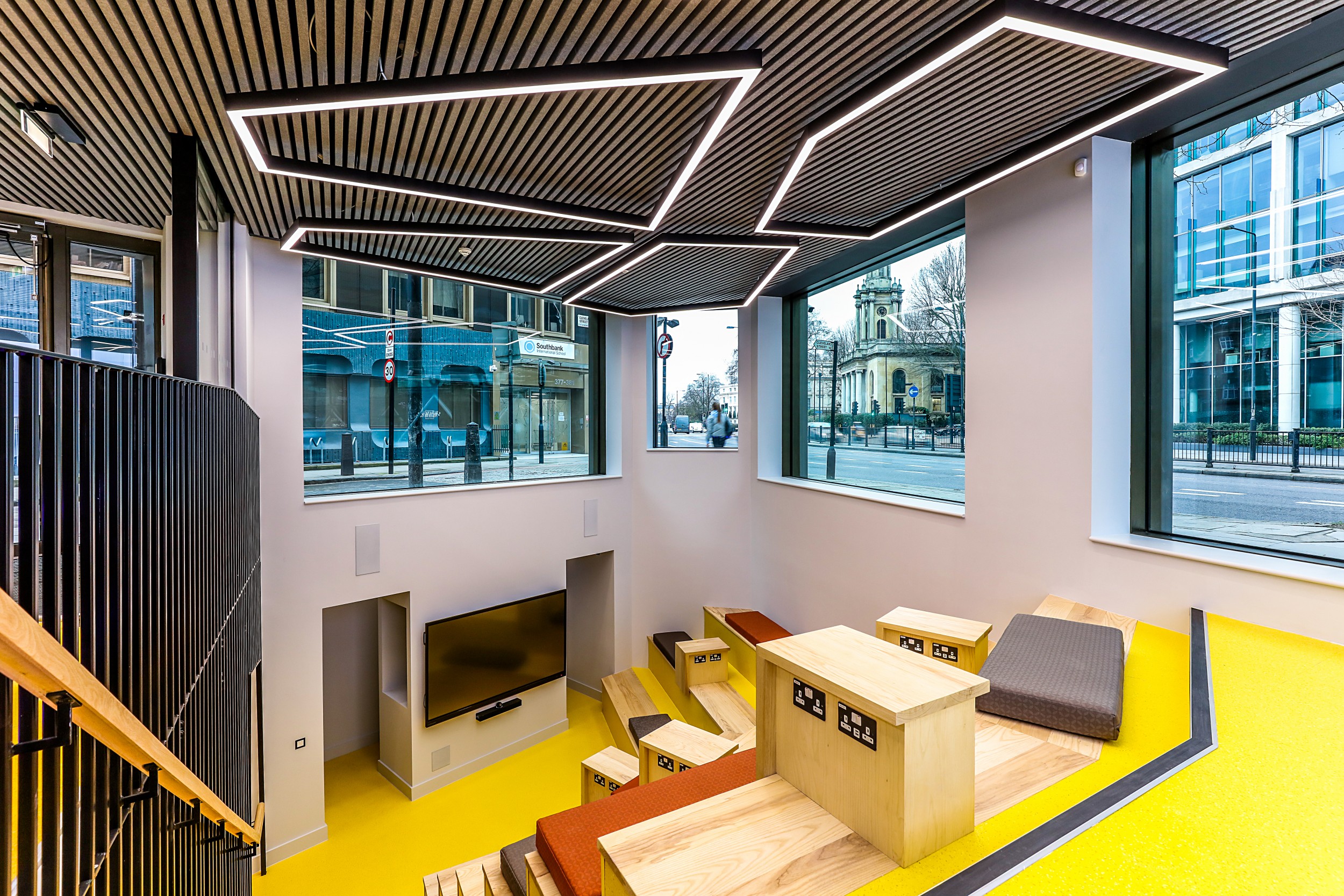 Juliette Halliday, national sales manager for Hunter Douglas Architectural, said: "There were a number of complexities with this project because there were a lot of interfaces with the upstands on the bulkheads.
"Because we are well versed in dealing with even the most complicated ceiling designs, we were able to provide bespoke advice and guidance on how to tackle them without any compromises in aesthetic or quality.
"The beauty of HeartFelt is that it is not just lightweight, it is also hardwearing and attractive and looks great anywhere. It also has exceptional acoustic absorption qualities, which make it a great choice for interior designers and architects."
The panels were installed by Lorus Projects Limited.
HeartFelt is a sustainable choice, being 100% recyclable or easily reusable, and is also easy to maintain because it is dirt and dust resistant.
The linear felt ceiling panels are available in round and box-shaped panels, and can easily be clipped to the specially designed carriers. Hunter Douglas has also introduced HeartFelt® Origami, based on ancient origami techniques, which results in a rigid, highly creative ceiling with particularly attractive finish.
For more details about the HeartFelt range, visit: www.hunterdouglasarchitectural.eu/en-GB/ceilings/textile/heartfelt
Photos courtesy of ARJ.