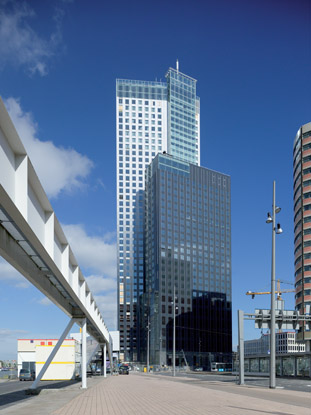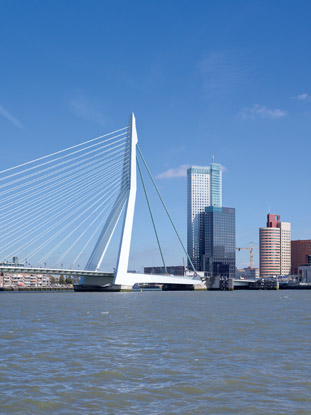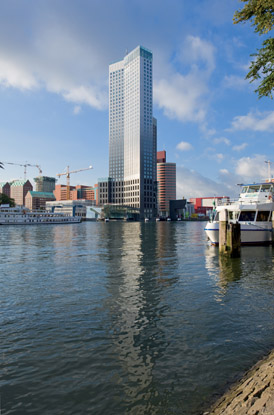 Maastoren
Location:
Rotterdam, Nederland
Architect/Specifier:
Dam & Partners
Designed by Dam & Partners Architecten, Maastoren, a 165 meter tall skyscraper on the River Maas, is currently the tallest office building in the Netherlands.

The base of the building is comprised of anthracite-colored natural stone with two story tall windows connecting the lobby's interior with the outdoors. The ground and first floors have an open and transparent quality. One of the most important features of the design is the relationship with the public space where all major communal functions are situated. The high central lobby offers a view of all destinations inside the building. In the middle, around the core, a ramp soars to the parking garage above.

Like a chameleon, the Hunter Douglas' QuadroClad® aluminum façade system changes color from anthracite at the base to silvery white at the top. Depending on the weather, the building changes color, to reflect its surroundings. The 'sky lobby's' glass facade extends above the roof of the building, giving the impression that the tower blends into the sky. The board room on the 45th floor offers a panoramic view of city, port and the surroundings of Rotterdam. At night, the highest point of the elevator structure is illuminated while during the day it reflects the clouds.
Division Name: Hunter Douglas Europe Headquarters
Address: Piekstraat 2 3071 EL Rotterdam European Union
Phone Number: +31 10 486 9911
Contact Us: Contact Us
Thank you for your information. We will be in touch with you shortly.
There was an issue saving your request, please try again.
Please accept the Privacy Agreement.
Name, email, company, phone, location and at least one product selection are required.