Hunter Douglas Architectural HeartFelt® Baffles wins Red Dot Award
07 May 2020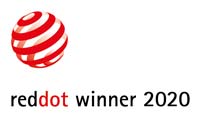 Hunter Douglas Architectural has won a prestigious international design prize for its innovative HeartFelt® Baffles ceiling system.
The Red Dot award in the Product Design category comes just two years after the-then newly released HeartFelt® modular felt ceiling was also recognised in the Red Dot Best of the Best awards.
Michiel Langeveld, Manager Research & Development at Hunter Douglas Architectural, said the award was a reflection of the product's pioneering design and flexibility.
"We're very pleased that a HeartFelt® product continues to delight the judges of the Red Dot Awards," he said. "The award is confirmation for both the design and designer that there is a consensus between shape, function and material use and it will no doubt help to support us as we continue with new developments."
Introducing the Heartfelt® baffle ceiling enables interior designers and architects to use the felt system in even more settings. Baffles mitigate noise pollution and reverberate sound in most building sectors, and are used to improve the acoustics in concert halls, theatres, conference rooms and other spaces where good sound quality is important.
The HeartFelt baffle is lauded by designers and architects for its simplicity, the freedom it affords with shape and size, and for its ability to be able to be assembled and disassembled without the use of glue.
Like the ceilings and walls, lightweight HeartFelt® baffles are made from non-woven thermoformed PES fibres and are FR tested to B-S1, d0. Each baffle panel measures 40-80mm in width and are available in 100-500mm height, with a maximum length of 2000 mm. Because the fibres are 100% recyclable, they have C2C Bronze certificate from the Cradle to Cradle Products Innovation Institute
HeartFelt®'s excellent acoustic properties also remain unchanged with the introduction of the new panel dimensions and module measurements, with ceiling absorption values (αw) achieving between 0.45 and 0.70.
Already, HeartFelt® baffle ceilings have been delivered and installed in four projects across the world: the Amsterdam Denton Advocaten, Netherlands; the King Faisal Specialist Hospital and Research Center, in Jeddah, Saudi Arabia; Brussels LDC Forum, Belgium; and the Paris Bureaux CAP, France.
The product is also to be installed at the Acoulite offices, Dubai, in the United Arab Emirates, and at the Amstelveen Vitality Centre KPMG, in the Netherlands.