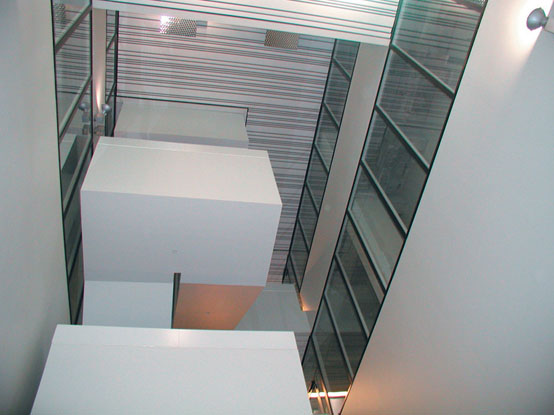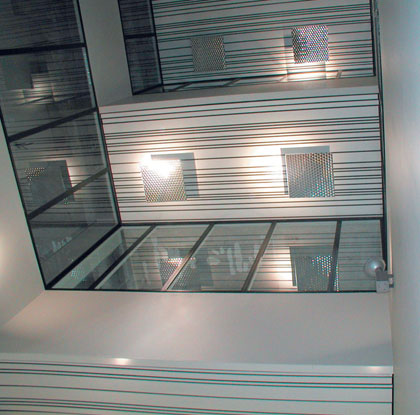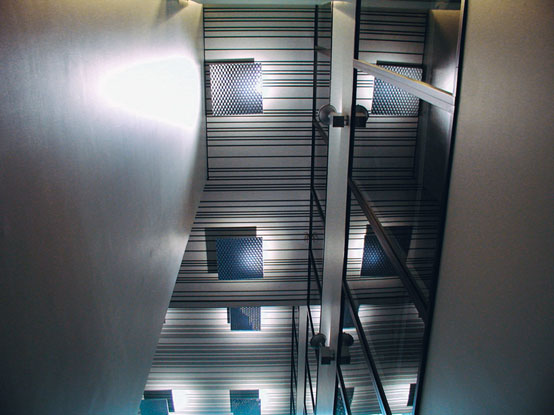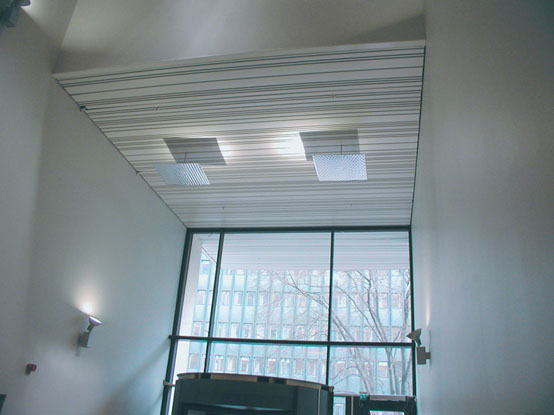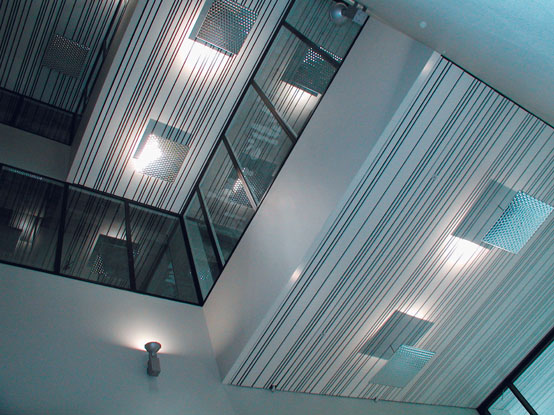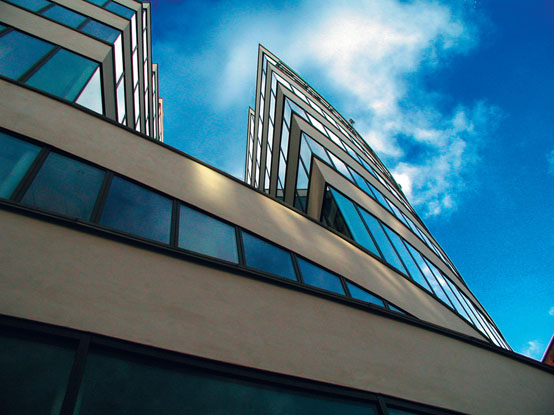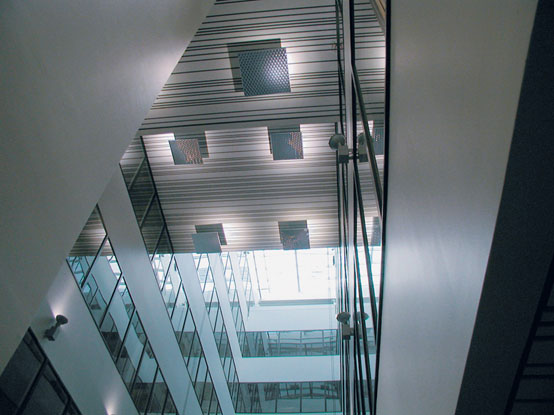 Fatbursjon
Location:
Stockholm, Sweden
Architect/Specifier:
Gert Wingardh
An icon of Swedish functionalism, the 1930s konsum building on Södermalm in Stockholm was designed by the Cooperative Unions (KF) architectural office to do little more than serve its purpose: enclosing meat and sausage processing. Yet its clean lines and ribbon windows succinctly captured the collectivist identity of Swedish industry, imbuing it with unusual stature.

KF revamped and modernized the building in the 1970s to unfortunate effect. Not until 1998 did its landlord, Atrium Fastigheter AB, finally investigate new uses and restoration methods for the socialist archetype.

Working with leading local architect Gert Wingårdh, the owner approved an adaptation that would bring back the landmark's dignity. The design slices the 114-meter-wide original mass into office floors of 12 meters or 18 meters across. It then adds two new wings and an oversized atrium. The overall scheme returns to the building's functionalist conception, this time to serve the information economy.

The linearity of Wingårdh's insertions, extending the ribbon windows and echoing their banding throughout the interiors detailing, can even be seen overhead in the rhythmic, silver striations of Luxalon linear metal ceilings by Hunter Douglas. Commendably, the architect also re-established the konsum building's prominence by remaining true to its original lines and legacy.

Yet to Atrium Fastigheter's delight, the result also appeals to a trendier segment of the office market, an effect of renewed enthusiasm for both period modernism and Wingårdh's alluring details. A transparent, glowing wing on the high-visibility corner of Södermalmsallén and Västgötagatan streets captures the public eye after dusk.

The awning over the main entry, with its stylish green lettering, carries the striping of the Luxalon finishes outdoors. Inside, the large atrium enriches tenant spaces, and new elevator enclosures offer intense color accents between opaque glass, a surprise amid the overall black-and-white composition. In common zones, the randomly striped metallic ceilings project an urbane, even sexy, image above old asphalt-tile floors.

Another intervention less likely to have scandalized Cooperative Union purists is a series of wood-clad boxes that seem to have landed on the roof. "We call them 'think tanks,' and there are three at the top of every staircase," says Cecilia Strom, a project architect with Wingårdh Arkitektkontor AB. "Each faces a different direction, north-south or east-west, and they have different kinds of wood claddings to reflect the light of morning or evening."

To the delight of the owner and the Cooperative's legacy, Wingårdh's resulting layout - atrium, think-tanks, and all - also speaks to efficiency. Partly this comes from reusing an elegant old factory block, but it also results from Wingårdh's measured interventions, which blend inspired spaces with modern finishes.
Division Name: Hunter Douglas Ceilings & Sun Control
Address: 8 Charter Gate Clayfield Close, Moulton Park Northampton NN3 6QF United Kingdom
Phone Number: +44 (0)1604 648 229
Fax: +44 1604 212863
Contact Us: Contact Us
Division Name: Hunter Douglas Facades
Address: Cattermole House Market Place Codnor, Derbyshire DE5 9QA United Kingdom
Phone Number: +44 (0)1604 648229
Fax: 0044 - 1214231430
Contact Us: Contact Us
Division Name: Hunter Douglas Window Covering
Address: Heathcote Industrial Estate 12 Heathcote Way Warwick United Kingdom
Phone Number: +44(0)1926 310850
Fax:
Contact Us: Contact Us
Division Name: NBK United Kingdom
Web: nbkterracotta.com/
Address: Cattermole Buildings Codnor Derbyshire DE5 9QA United Kingdom
Phone Number: +44 (0) 1773 512 363
Fax:
Contact Us: Contact Us
Thank you for your information. We will be in touch with you shortly.
There was an issue saving your request, please try again.
Please accept the Privacy Agreement.
Name, email, company, phone, location and at least one product selection are required.