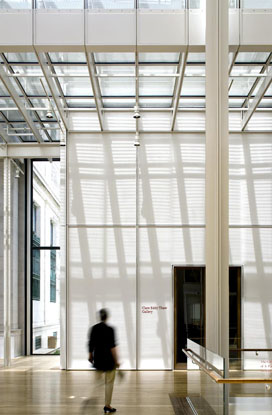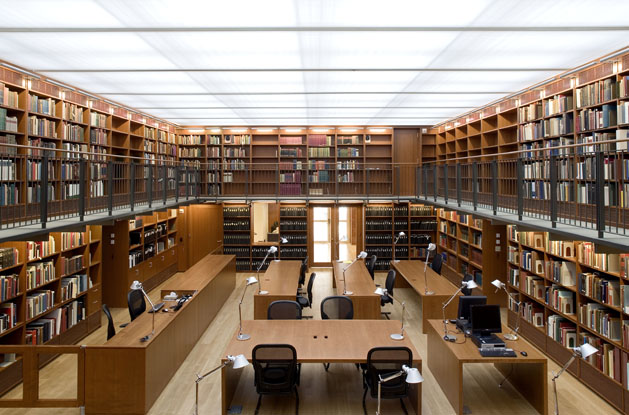 Morgan Library & Museum
Location:
New York, NY, United States
Architect/Specifier:
Renzo Piano Building Workshop
The recent redesign of the Pierpoint Morgan Library and Museum linked a historic section with a new steel-and-glass structure designed by acclaimed Italian architect Renzo Piano. Piano centered the addition on an open space designed to evoke a piazza. This elegant courtyard serves as a welcoming area where visitors can gather before entering the museum.

In the wall facing the piazza -- and throughout other areas of the building -- Piano's extensive use of glass presented a significant challenge for light control. During the day, sunlight poses a threat to art and archival materials at risk of fading and thermal damage. And at night, the well-lit interiors can create complaints of light pollution from nearby New Yorkers.

To address this challenge, shading experts at Hunter Douglas Contract Window Coverings engineered a custom solution of exterior roller shades and skylight tension shades that control the light entering and leaving the space. They also maintained the clean, monolithic look of Piano's design, by using and exacting operating mechanisms and dimensionally stable glass-fiber fabrics to eliminate stretching.

An advanced control system responds to both sensors and manual switches, letting the shades to adjust to external conditions or to respond to the needs of users inside. The system goes beyond creating a beautiful aesthetic, delivering essential functionality that's friendly not only to visitors and building occupants, but also to the environment.
Division Name: Hunter Douglas Architectural United Kingdom
Address: Suite 2 - Newton House - Northampton Science Park Kings Park Road - Moulton Park Industrial Estate Northampton NN3 6LG United Kingdom
Phone Number: +44 (0)1604 648229
Fax: +44 1604 212863
Contact Us: Contact Us
Division Name: Guthrie Douglas Window Covering
Address: Heathcote Industrial Estate 12 Heathcote Way Warwick United Kingdom
Phone Number: +44(0)1926 310850
Contact Us: Contact Us
Division Name: NBK United Kingdom
Web: nbkterracotta.com/
Address: Cattermole Buildings Codnor Derbyshire DE5 9QA United Kingdom
Phone Number: +44 (0) 1773 512 363
Contact Us: Contact Us
Thank you for your information. We will be in touch with you shortly.
There was an issue saving your request, please try again.
Please accept the Privacy Agreement.
Name, email, company, phone, location and at least one product selection are required.