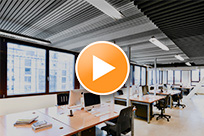 The invention of HeartFelt®
The first linear modular felt ceiling system ever, available in five shades of grey to create a warm and soft ambience with a perfect match between design and acoustics. Have a look at how we managed to turn an idea into a unique ceiling. We think you will be inspired.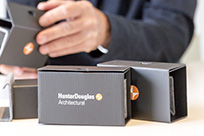 Discover the benefits of HeartFelt® for yourself
HeartFelt® is a groundbreaking innovation from Hunter Douglas. Inspired by design, it is the first modular felt ceiling system in the world. We would be delighted to introduce you to our latest product. Ask for a free sample to feel and experience HeartFelt® for yourself.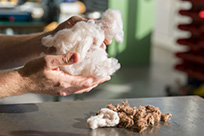 Ceilings as a sustainability standard
The linear felt ceiling panels that comprise HeartFelt® are made of non-woven, thermoformed PES fibres. No finishing coating is applied to the panels. As a result, HeartFelt® has Cradle to Cradle (C2C) certification and the panels are 100% recyclable.