Nome divisione: Hunter Douglas Italy
Web: www.hunterdouglas.it
Indirizzo: via Paracelso, 26 Palazzo Cassiopea 3 Agrate Brianza (MB) I-20864 Italy
Numero di telefono: +39 039-8901520
Fax: +39 039-8901640
Contattaci: Contattaci
Nome divisione: Miper S.a.g.l.
Web: nbkterracotta.com/
Indirizzo: Via Alla Campagna 4 Lugano (CH) 6900 Italy
Numero di telefono: +39 03154 78116
Fax:
Contattaci: Contattaci
Grazie per le informazioni fornite. Ti contatteremo a breve.
Si è verificato un problema nel salvare la richiesta, ti preghiamo di riprovare.
Please accept the Privacy Agreement.
I seguenti dati sono obbligatori: nome, e.mail, società, telefono, località e la selezione di almeno un prodotto
HEARTFELT® | SISTEMI DI CONTROSOFFITTI MODULARI IN FELTRO
Hunter Douglas Architectural ha realizzato il soffitto che doveva essere creato: HeartFelt®. Un sistema di controsoffitti modulare in feltro, dalle incredibili proprietà acustiche e dall'aspetto unico. Un design che appaga tanto gli occhi quanto le orecchie e che mira alla sostenibilità.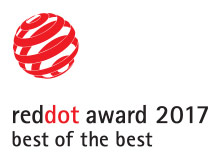 Informazioni generali
Perché HeartFelt®?

HeartFelt® è un prodotto innovativo e brevettato che trasforma ogni soffitto in un piacere per gli occhi e per le orecchie. I pannelli per controsoffitto lineari in feltro HeartFelt® sono disponibili rotondi e a parallelepipedo e possono essere facilmente agganciati ai supporti appositamente studiati.
Le tonalità di grigio sono disponibili non solo per i pannelli a parallelepipedo alti 55, 80 e 105 mm, ma anche per i pannelli rotondi alti 64 mm.
Caratteristiche

• Eccellenti prestazioni acustiche
• Cinque diverse tonalità di grigio e cinque toni della terra per un ambiente caldo
• Disponibili in altezze da 55, 65, 80 e 105 mm
• Facile installazione e basso rischio di danni
• Riciclabile al 100% o facilmente riutilizzabile
• Cradle to Cradle Certified™ Bronze (Cradle to Cradle Certified™ is a certification mark licensed by the Cradle to Cradle Products Innovation Institute).
• Facile da manutenere: resistente a sporco e polvere
Sette tonalità di grigio

HeartFelt® è adatto per tutti gli edifici nei diversi settori, come quello aziendale, dei trasporti (aeroporti, stazioni di metropolitana, autobus e ferroviarie), il settore commerciale, le strutture ricreative, gli spazi pubblici e le strutture ricettive, sanitarie, scolastiche e residenziali.

Contattateci per avere maggiori informazioni in base alle vostre esigenze.
Design e ispirazione
Ispirata dal feltro, interessante materiale per abbigliamento, mobili e accessori moda, con il sistema di controsoffitti HeartFelt® la Hunter Douglas offre ad architetti, installatori e proprietari d'immobili un sistema avanzato che dia loro la possibilità di creare il giusto ambiente e gestire con precisione l'acustica di ogni spazio.






Toni di grigio e terra


I pannelli in feltro sono disponibili in cinque toni di grigio e in cinque toni terra. L'esatta tonalità dei pannelli è determinata dal bilanciamento delle fibre bianche e nere nel materiale di base.




Cinque tonalità di grigio

WHITE 7593
LIGHT GREY 7596
MIDDLE GREY 7597
DARK GREY 7598
BLACK 7594

Toni della Terra (40HL55)

CREME 7575
LIGHT BROWN 7576
MEDIUM BROWN 7577
DARK BROWN 7578
UMBER 7579
Se desiderate un colore diverso da quelli sopraelencati, contattateci.

* Potrebbero esserci lievi differenze di colore rispetto ai campioni reali.

Caratteristiche del materiale

HeartFelt® è un sistema di controsoffitti lineari realizzato in fibre di PES non tessute e termoformate con raccordi aperti tra i pannelli. I pannelli a parallelepipedo sono disponibili in 55, 80 e 105 mm di altezza. I pannelli rotondi sono disponibili in 64 mm di altezza. Tutti i pannelli HeartFelt® hanno una lunghezza massima di 6.000 mm.



Capoguaina

Se richiesto, i pannelli Heartfelt® possono essere chiusi con un capoguaina.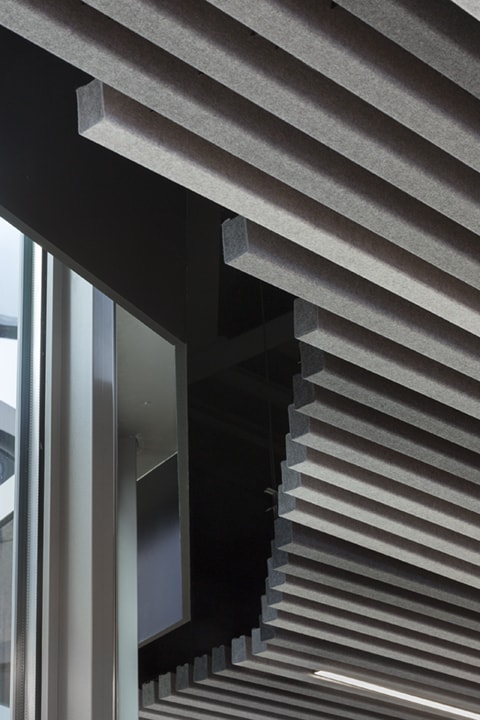 Maggiori dettagli sul prodotto

Per informazioni più dettagliate, consultare il materiale scaricabile nella sottostante sezione di download. Qui trovate informazioni su: campate massime, pesi e dimensioni, requisiti dei materiali al m2.


Informazioni sull'acustica

Il comfort acustico in un ufficio, una scuola o un edificio pubblico contribuisce al nostro benessere: uno scarso comfort acustico può infatti influenzare la salute, la comunicazione, la sicurezza, la produttività e l'apprendimento. I controsoffitti acustici Hunter Douglas ad alta efficienza sono la scelta ideale per garantire eccezionali prestazioni acustiche, comfort e un pregevole risultato anche dal punto di vista estetico. Con i soffitti HeartFelt®, possono essere raggiunti valori di assorbimento (αw) tra 0,45 (modulo 100) e 0,70 (modulo 50).



Maggiori informazioni sull'acustica

Maggiori informazioni sull'acustica sono disponibili all'interno della sezione download sottostante.


Salute e benessere
La gamma di proposte per controsoffitti Hunter Douglas Architectural contribuisce alla sostenibilità degli edifici attraverso soluzioni attente all'estetica che migliorano il comfort e consentono di risparmiare energia. Promuovere la salute e il benessere dei suoi occupanti è senza dubbio la funzione principale di un edificio. Le nostre soluzioni di oscuramento promuovono l'uso di una luce naturale sana, senza i fastidi del riverbero e del disagio termico. I nostri controsoffitti acustici sono un elemento chiave nel raggiungimento del comfort acustico.
Materiali sicuri
I materiali ecologicamente sicuri sono alla base di un'edilizia sostenibile. La nostra strategia è scegliere prima di tutto materiali dalle ottime proprietà ambientali. Molti dei nostri prodotti sono realizzati con l'alluminio prodotto nelle nostre fonderie. Abbiamo ottimizzato i nostri processi per utilizzare fino al 99% di materiali riciclati per produrre la lega adatta ai nostri prodotti. Il nostro legno è certificato FSC e facciamo nostro il principio Cradle to Cradle nello sviluppo dei nostri prodotti.
Risparmio energetico
Ridurre l'utilizzo di energia del parco edilizio complessivo è fondamentale per prevenire il surriscaldamento globale. Molti dei moderni edifici adibiti a uffici utilizzano più energia per il raffrescamento che per il riscaldamento. La gestione efficiente dell'energia solare che attraversa le sezioni trasparenti delle facciate costituisce un'ottima strategia nella prevenzione del surriscaldamento negli edifici vecchi e nuovi. Le nostre soluzioni di oscuramento ad alte prestazioni consentono un sostanziale risparmio di energia, promuovendo al contempo la salute e il benessere.
Responsabilità sociale aziendale
Keen on Green è un'importante iniziativa abbracciata dall'intera azienda e finalizzata alla riduzione del consumo energetico e idrico e della nostra impronta di carbonio complessiva. Ci rifacciamo al quadro della norma ISO 14001 per gestire attivamente i nostri obiettivi Keen on Green. Hunter Douglas e i suoi dipendenti supportano attivamente le comunità in cui vivono e lavorano, così come quelle su scala globale. Le aziende sono fatte di persone. Siamo orgogliosi della nostra rete mondiale di persone competenti, brillanti, appassionate e creative che hanno scelto consapevolmente di lavorare per Hunter Douglas.