Nombre de la división: Hunter Douglas España, S.A.
Web: www.hunterdouglas.es
Dirección: La Granja 15 Pol.Ind. Alcobendas (Madrid) 28108 España
Número de teléfono: +34 91 661 7314
Fax:
Contacto: Contacto
Nombre de la división: Hunter Douglas España NBK
Web: nbkterracotta.com/
Dirección: Pilotegi 12, F16 San Sebastian, 20018 España
Número de teléfono: +34 620744396
Fax:
Contacto: Contacto
Muchas gracias por su información. Nos pondremos en contacto con usted con la mayor brevedad.
Se produjo un error al guardar su solicitud. Inténtelo de nuevo.
Please accept the Privacy Agreement.
Name, email, company, phone, location and at least one product selection are required.
TECHO LINEAL 84R
Conocido por sus líneas fluidas, su versatilidad y su facilidad de instalación, el sistema de techo lineal abierto 84R crea una estética lineal redondeada. Está disponible en diferentes colores y acabados, con patrones de perforación para mejorar el rendimiento acústico.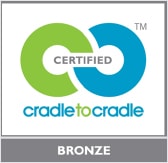 Información general
¿Por qué elegir 84R?

Los paneles finos y redondeados con juntas abiertas de 16 mm de ancho realzan el aspecto lineal del techo y proporcionan un efecto direccional a la sala. Para obtener un aspecto más liso, las juntas se pueden cerrar con un perfil intermedio que queda a ras de la superficie del panel.
Características


Paneles de bordes redondeados con juntas de 16 mm de ancho que realzan el aspecto lineal.
Los paneles combinados con perfiles intermedios enrasados permiten obtener un techo liso y visualmente cerrado.
Los paneles se pueden suministrar en cualquier longitud hasta un máximo de 6000 mm (de serie).
Sistema de juntas abiertas para cualquier aplicación que requiera hasta un 16 % de superficie abierta; se pueden instalar perfiles intermedios enrasados de 16 mm.
Paneles que se pueden desmontar fácilmente, permiten un acceso total a las instalaciones y equipos del plenum.
Los paneles también están disponibles para su uso en aplicaciones exteriores.
Cradle to Cradle Certified™ Bronze (Cradle to Cradle Certified™ is a certification mark licensed by the Cradle to Cradle Products Innovation Institute).
Aplicación

El techo interior metálico de paneles abiertos 84R es adecuado para su uso en todo tipo de edificios y construcciones, incluidos espacios empresariales, de transporte (aeropuertos, estaciones de metro, autobuses y trenes), comerciales, de ocio, públicos, hostelería, sanidad, educación y edificios residenciales.

Póngase en contacto con nosotros para plantearnos sus necesidades.
Diseño e inspiración
Los finos paneles abiertos y redondeados se pueden configurar para resaltar la dirección de los paneles. Las juntas abiertas proporcionan un 16% de área abierta en combinación con los paneles lisos. Si fuera necesario, las juntas se pueden cerrar para obtener un aspecto liso.

La gama de techos interiores metálicos de Hunter Douglas se ofrece en diferentes colores estándar adecuados para la mayoría de las aplicaciones. Para obtener más información acerca de los diferentes tipos de techos, acabados especiales y colores disponibles para proyectos específicos, póngase en contacto con nuestra oficina de ventas.
Características de los materiales

El sistema de techo lineal abierto 84R consiste en paneles con bordes redondeados que se pueden fijar fácilmente en un soporte. Los paneles de 84 mm de ancho cuentan con una junta abierta de 16 mmentre los paneles. El módulo del sistema es de 100 mm. Los paneles se pueden desmontar para acceder fácilmente a la cámara. De forma opcional, las juntas se pueden cerrar con un perfil intermedio enrasado.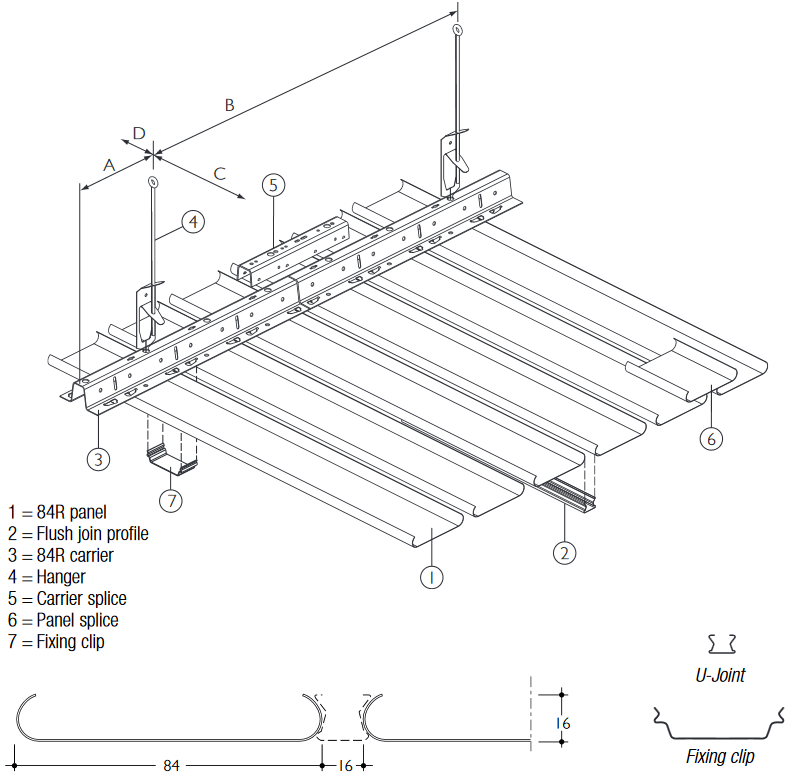 Más detalles del producto
Puede encontrar información más detallada en el apartado de
descargas
que aparece más abajo. Aquí podrá encontrar información sobre: envergaduras máximas, dimensiones, pesos y requisitos de material por m2.


Información acústica
El confort acústico en un espacio de oficinas, escuela o edificio público contribuye a nuestro bienestar, ya que un rendimiento acústico deficiente puede afectar negativamente a la salud, la comunicación, la seguridad, la productividad y el aprendizaje. Los productos para techos de alto rendimiento acústico de Hunter Douglas son la mejor solución en términos de rendimiento acústico, confort y estética. Con el sistema de techo Luxalon 84R con juntas cerradas, se puede obtener un valor de absorción (αw) de 0,75, en función de la configuración del techo y los paneles.


Más información sobre propiedades acústicas
Puede encontrar más información acerca de las propiedades acústicas en el apartado de
descargas
que aparece más abajo.
Salud y bienestar
La gama de productos de techos de Hunter Douglas Architectural contribuye a la sostenibilidad de los edificios mediante soluciones estéticas que mejoran el confort y ahorran energía. Favorecer la salud y el bienestar de sus ocupantes es, posiblemente, la función más importante de un edificio. Nuestras soluciones de sombreado favorecen el uso de la saludable luz natural sin los inconvenientes que plantean los reflejos y la incomodidad térmica. Por otro lado, nuestros techos acústicos son un elemento fundamental para ofrecer un confort acústico.
Materiales respetuosos con el medio ambiente
El uso de materiales respetuosos con el medio ambiente es la clave de un edificio sostenible. El punto de partida de nuestra estrategia es seleccionar materiales que cuenten con unas buenas propiedades medioambientales. Muchos de nuestros productos se fabrican con aluminio producido en nuestros propios hornos de fundición. Hemos optimizado los procesos para el uso de hasta un 99% de contenido reciclado para la producción de la aleación correcta para nuestros productos. Nuestra madera cuenta con la homologación del FSC y aplicamos el principio de «Cradle to Cradle» para el desarrollo de nuestros productos.
Ahorro energético
La reducción del consumo de energía del conjunto de los edificios es fundamental para la prevención del calentamiento global. La mayoría de los edificios de oficinas modernos emplean más energía para la refrigeración que para la calefacción. Una gestión eficaz de la energía solar que atraviesa la parte transparente de una fachada es una estrategia fundamental para prevenir el sobrecalentamiento de los edificios, ya sean éstos nuevos o antiguos. Nuestras soluciones de sombreado de alto rendimiento contribuyen a un ahorro significativo de energía, al mismo tiempo que favorecen la salud y el bienestar.
Responsabilidad social corporativa
«Keen on Green» es una importante iniciativa implantada en toda nuestra empresa para reducir el consumo de energía, el uso de agua y nuestra huella de carbono global. Respetamos el marco normativo ISO 14001 para gestionar activamente nuestros objetivos «Keen on Green». Hunter Douglas y sus empleados respaldan enérgicamente a las comunidades en las que viven y trabajan, así como a aquellas en una escala más global. Una empresa no es nada sin su gente. Nos sentimos orgullosos de nuestra red mundial de personal creativo, apasionado, inteligente y experimentado que ha elegido conscientemente trabajar en Hunter Douglas.