Nom de la division: Hunter Douglas Architectural Belgium
Merci. Nous prendrons rapidement contact avec vous.
Votre demande n'a pas pu être enregistrée, veuillez réessayer.
Please accept the Privacy Agreement.
Name, email, company, phone, location and at least one product selection are required.
LAMES
Les lames Stretch Metal sont un matériel design très souple d'utilisation qui permettent aux architectes de donner un effet visuel saisissant aux plafonds métalliques intérieurs. Le large choix de matières, couleurs et modèles offre à chaque projet un aspect unique.
Informations Générales
Pourquoi les lames ?

Les lames Stretch Metal Luxalon® conviennent parfaitement lorsqu'un niveau élevé d'absorption acoustique est requis ou qu'une transparence visuelle et physique du plafond est exigée. Les systèmes conviennent également parfaitement pour les environnements où un accès régulier au plénum est nécessaire.
Caractéristiques


Installations de lames autoportantes ou sur un profilé de grille G ou Hook-on
Choix de type de mailles illimité pour une polyvalence dans le design de plafond
Dimensions de lames jusqu'à 500 mm de large et 2 800 mm de long
Performances acoustiques excellentes en combinaison avec les matelas acoustiques
Facilité d'accès au plénum et aux installations au-dessus du plafond
Une version résistant aux chocs est disponibles pour les salles de sport
Application

Les lames Stretch Metal conviennent à la plupart des fonctions du bâtiment : entreprise, commerce, loisir, espace public, accueil, soins de santé, éducation et résidentielle.

Contactez-nous pour nous faire savoir vos exigences.
Design et Inspiration
Luxalon® Stretch Metal est un matériau hautement polyvalent qui garantit des effets visuels supplémentaires à un plafond. Il est très facile de personnaliser les plafonds en variant les types de mailles, leur orientation, l'éclairage et les coloris.


La gamme de coloris standard est composée de 225 coloris RAL et de coloris NCS. Nous bénéficions d'un large éventail de couleurs RAL disponibles dans des délais de livraison réduits. Outre ces coloris, le nuancier Stretch Metal propose plusieurs coloris métalliques spéciaux et un coloris chrome. D'autres coloris spéciaux sont disponibles sur demande.



Caractéristiques du matériau
Les lames Luxalon® Stretch Metal sont conçues pour être installées parmi plusieurs systèmes, couloir autoportant, Oméga autoportant, profilé en Z hook-on ou boucle de sécurité hook-on. Les lames Luxalon® Stretch Metal sur des profilés T améliorent le modèle de design modulaire. Les lames et systèmes Stretch Metal peuvent également être adaptés pour répondre aux exigences particulières de projet.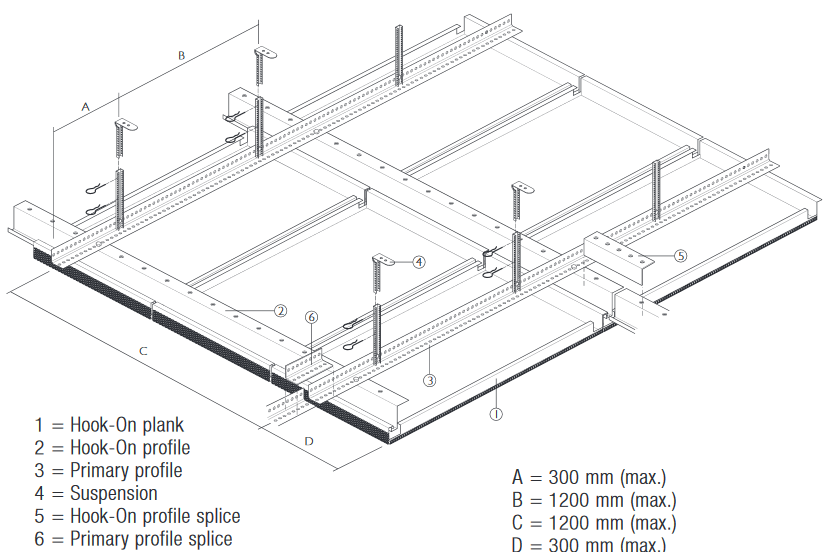 Informations complémentaires sur le produit
Pour de plus amples informations, consultez la partie
Téléchargements
ci-dessous.
Informations acoustiques
L'utilisation de matelas acoustiques sur les cassettes Stretch Metal offre une performance acoustique exceptionnelle. L'épaisseur des matelas peut être choisie en fonction des valeurs acoustiques requises. La valeur d'absorption acoustique peut atteindre αw = 1 avec un matelas acoustique de 85 mm.





Informations supplémentaires concernant l'acoustique
Pour de plus amples informations concernant l'acoustique, consultez la partie
Téléchargements
ci-dessous.
Santé et bien-être
La gamme de plafonds Hunter Douglas Architectural contribue à la construction de bâtiments durables au moyen de solutions esthétiques qui améliorent le confort et permettent d'économiser de l'énergie. La fonction principale du bâtiment est sans doute de préserver la santé et le bien-être de ses occupants. Nos protections solaires permettent de profiter de la lumière naturelle sans tous les désagréments liés à l'éblouissement et à l'inconfort thermique. Nos plafonds acoustiques sont un élément fondamental dans l'amélioration du confort acoustique.
Matériaux solides
Les matériaux écologiques sont la clé du succès si l'on désire avoir un bâtiment durable. Notre stratégie est de commencer par utiliser des matériaux qui ont d'excellentes propriétés environnementales. Bon nombre de nos produits sont fabriqués à partir d'aluminium produit dans nos propres fonderies. Nous avons optimisé nos processus afin d'utiliser jusqu'à 99 % de contenu recyclé, dans le but de produire l'alliage adapté à nos produits. Notre bois est certifié FSC et nous adoptons le principe « Cradle to Cradle » dans la fabrication de nos produits.
Économies d'énergie
Diminuer la consommation énergétique de l'ensemble du bâtiment est un élément capital pour la prévention du réchauffement de la planète. La plupart des bureaux modernes consomment plus d'énergie pour la climatisation que pour le chauffage. Une gestion efficace de l'énergie solaire pénétrant par la partie transparente de la façade est une stratégie clé dans la prévention de la surchauffe des anciens et nouveaux bâtiments. Nos protections solaires très performantes permettent de faire d'importantes économies d'énergie, tout en préservant la santé et le bien-être.
Responsabilité sociale des entreprises
Keen on Green est une initiative majeure lancée à l'échelle de l'entreprise qui réduit la consommation énergétique, l'utilisation de l'eau et notre empreinte carbone globale. Nous adoptons le cadre ISO 14001 afin de gérer activement nos objectifs Keen on Green. Hunter Douglas et ses employés soutiennent activement les communautés dans lesquelles nous vivons et travaillons, ainsi que les communautés à une échelle plus globale. Business is people. Nous sommes fiers de notre réseau mondial de talents créatifs, passionnés, intelligents et expérimentés qui ont délibérément choisi Hunter Douglas comme employeur.
| Nom | Téléchargement |
| --- | --- |
| Brochure Métal Déployé fr-BE | PDF |
| Brochure Spécifications techniques plafonds aperçu | PDF |
| Brochure Stretch Metal C Grid EN | PDF |
| Brochure Stretch Metal Hook On A EN | PDF |
| Brochure Stretch Metal Hook On A T2 EN | PDF |
| Brochure Stretch Metal Hook On BT1 EN | PDF |
| Brochure Stretch Metal Hook On BT2 EN | PDF |
| Brochure Stretch Metal Hook On Safety Loop Exterior EN | PDF |
| Brochure Stretch Metal Hook On Safety Loop Exterior Sports Hall EN | PDF |
| Brochure Stretch Metal Lay In Bandraster EN | PDF |
| Brochure Stretch Metal Lay On Bandraster EN | PDF |
| Brochure Stretch Metal Lay on Corridor EN | PDF |
| Brochure Stretch Metal Sports Hall EN | PDF |
| Commercial Ceilings & Walls Product Guide | PDF |
| Leaflet Brandstabiles Streckmetall | PDF |
| Nom | Téléchargement |
| --- | --- |
| Installation Instructions Stretch Metal C grid Planks | PDF |
| Installation Instructions Stretch Metal Hook on A | PDF |
| Installation Instructions Stretch Metal Hook on B | PDF |
| Installation Instructions Stretch Metal Hook on Safety Loop Interior | PDF |
| Installation Instructions Stretch Metal Sporthall | PDF |
| Instructions d' installation fr-BE | PDF |