QC50 QuadroClad® Honeycomb
Nom de la division: Hunter Douglas Architectural Belgium
Merci. Nous prendrons rapidement contact avec vous.
Votre demande n'a pas pu être enregistrée, veuillez réessayer.
Please accept the Privacy Agreement.
Name, email, company, phone, location and at least one product selection are required.
QC50 | QUADROCLAD® HONEYCOMB
Le système de façade QuadroClad® est un système unique de parement à joint ouvert basé sur les principes de la technologie de façade anti-pluie. Les feuilles légères sont fusionnées avec un cœur d'aluminium en nid d'abeilles qui confère une robustesse et une planéité extrêmes au panneau. Conçus pour présenter une esthétique remarquable et une excellente fonctionnalité, les panneaux et composants QuadroClad® ont été imaginés pour résister aux environnements les plus difficiles, et leur résistance à la corrosion, aux incendies et au vent a été testée de manière indépendante.
Informations générales
Pourquoi QC50 ?

QuadroClad® QC50, notre panneau BASIQUE, est un panneau de qualité pouvant s'adapter à presque toutes les façades de bâtiment. Il peut être utilisé pour des applications internes et externes et s'installe verticalement ou horizontalement. Léger et facile à installer, QC50 est disponible dans une gamme de matériaux naturels. QC50 n'est pas simplement une feuille en nid d'abeilles, il s'agit d'une cassette hautes performances sur mesure produite à partir de deux couches d'aluminium pliées contenant un cœur d'aluminium en nid d'abeilles. Ce processus de fabrication permet à Hunter Douglas de proposer pratiquement n'importe quelle épaisseur de panneau.
Caractéristiques


Épaisseur variable
S'accorde avec une large gamme de matériaux naturels
Convient à des applications extérieures et intérieures (murs, plafonds)
Panneau de haute qualité, conçu pour des applications verticales et horizontales
Facile à fixer et convient au montage sur une sous-structure légère.
Application


Façades et enveloppe externe
Toits autoportants
Bâtiments en forme de dôme
Murs intérieurs, plafonds et balcons
Auvents
Rénovation d'un bâtiment existant
Matériau, finitions et surfaces


Les bâtiments sont définis par leur forme et leur conception. Ils sont souvent le produit de l'inspiration d'un architecte. Chez Hunter Douglas, notre mission est d'aider les concepteurs à réaliser cette vision en mettant à leur disposition une palette de couleurs, des matériaux et des finitions de surfaces qui stimuleront leur créativité.

Conçus pour parer l'architecte à toute éventualité, les panneaux pour façade QuadroClad® peuvent être utilisés dans une large gamme d'applications.



Faites votre choix
Meilleure application
QC50 Basique
QC100 Facile
QC200 Ultime
QC300 Complet
QC500 Infini
Auvents
Bâtiments en forme de dôme
Rénovation
Toits autoportants
Orientation en diagonale
Intérieur


QC50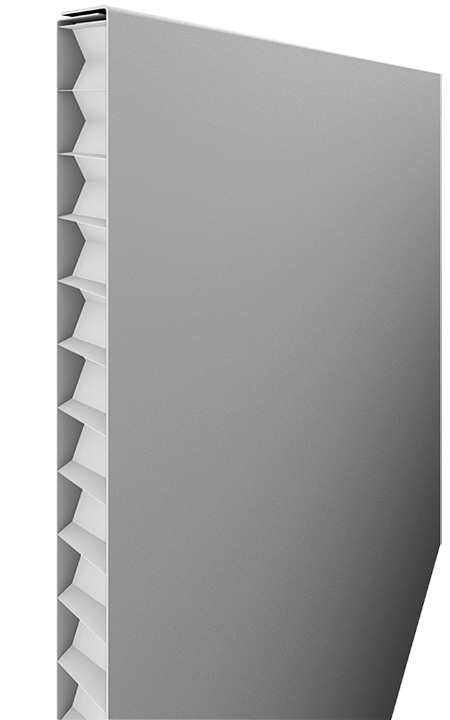 Informations complémentaires sur le produit

Pour de plus amples informations, consultez la partie Téléchargements ci-dessous.


Santé et bien-être
La gamme de plafonds Hunter Douglas Architectural contribue à la construction de bâtiments durables au moyen de solutions esthétiques qui améliorent le confort et permettent d'économiser de l'énergie. La fonction principale du bâtiment est sans doute de préserver la santé et le bien-être de ses occupants. Nos protections solaires permettent de profiter de la lumière naturelle sans tous les désagréments liés à l'éblouissement et à l'inconfort thermique. Nos plafonds acoustiques sont un élément fondamental dans l'amélioration du confort acoustique.
Matériaux solides
Les matériaux écologiques sont la clé du succès si l'on désire avoir un bâtiment durable. Notre stratégie est de commencer par utiliser des matériaux qui ont d'excellentes propriétés environnementales. Bon nombre de nos produits sont fabriqués à partir d'aluminium produit dans nos propres fonderies. Nous avons optimisé nos processus afin d'utiliser jusqu'à 99 % de contenu recyclé, dans le but de produire l'alliage adapté à nos produits. Notre bois est certifié FSC et nous adoptons le principe « Cradle to Cradle » dans la fabrication de nos produits.
Économies d'énergie
Diminuer la consommation énergétique de l'ensemble du bâtiment est un élément capital pour la prévention du réchauffement de la planète. La plupart des bureaux modernes consomment plus d'énergie pour la climatisation que pour le chauffage. Une gestion efficace de l'énergie solaire pénétrant par la partie transparente de la façade est une stratégie clé dans la prévention de la surchauffe des anciens et nouveaux bâtiments. Nos protections solaires très performantes permettent de faire d'importantes économies d'énergie, tout en préservant la santé et le bien-être.
Responsabilité sociale des entreprises
Keen on Green est une initiative majeure lancée à l'échelle de l'entreprise qui réduit la consommation énergétique, l'utilisation de l'eau et notre empreinte carbone globale. Nous adoptons le cadre ISO 14001 afin de gérer activement nos objectifs Keen on Green. Hunter Douglas et ses employés soutiennent activement les communautés dans lesquelles nous vivons et travaillons, ainsi que les communautés à une échelle plus globale. Business is people. Nous sommes fiers de notre réseau mondial de talents créatifs, passionnés, intelligents et expérimentés qui ont délibérément choisi Hunter Douglas comme employeur.