Nom de la division: Hunter Douglas Produits Architecturaux France
Web: www.hunterdouglas.fr
Adresse: 3 Avenue des Marronniers Bonneuil Cedex F-94380 France
Numéro de téléphone: +33 1 43399100
Fax: +33 1 4339 1451
Nous contacter: Nous contacter
Nom de la division: Espace Voiles
Web: www.espacevoiles.com
Adresse: 4 Impasse Marius Berliet ZA La Bilias Deniaud Vigneux De Bretagne 44360 France
Numéro de téléphone: 02 28 01 08 80
Fax: 02 28 01 08 81
Merci. Nous prendrons rapidement contact avec vous.
Votre demande n'a pas pu être enregistrée, veuillez réessayer.
Please accept the Privacy Agreement.
Name, email, company, phone, location and at least one product selection are required.
HeartFelt® Multipanel
Une absorption acoustique parfaite, combinée à un look &une sensation unique : HeartFelt® Multipanel est un plafond modulaire élégant qui attire les regards. Le feutre présente naturellement d'excellentes propriétés acoustiques. Cela permet à HeartFelt® Multipanel de s'adapter à une multitude d'espaces où une bonne absorption acoustique est souhaitée.
Informations Générales
Pourquoi HeartFelt® Multipanel ?

Les panneaux de plafond HeartFelt® Multipanel créent un ambiance chaleureuse combinée à l'absorption acoustique parfaite et naturelle du feutre. HeartFelt® Multipanel offre une grande liberté de conception. Jouez avec une combinaison aventureuse de différentes largeurs et créez ainsi un système de plafond durable et modulaire tendance.
Propriétés


Excellentes performances acoustiques
Cinq nuances de gris différentes pour une ambiance chaleureuse
Disponible en dimensions 30x60, 80x35, 130x35 et 180x35 mm
100 % recyclable ou facilement réutilisable
Facilité d'entretien : anti-saletés et anti-poussières
Cradle to Cradle Certified™ Bronze (Cradle to Cradle Certified™ est une certification décernée par le Cradle to Cradle Products Innovation Institute).
Application

HeartFelt® Multipanel convient à de nombreux secteurs comme les entreprises, les magasins, les infrastructures de loisirs, les espaces publics, l'horeca, les soins de santé et l'enseignement.
Contactez-nous pour nous expliquer vos besoins spécifiques.
Design et Inspiration
Le système de plafond HeartFelt® s'inspire du feutre utilisé comme matériau original pour les vêtements, les meubles et les articles de mode. Il offre aux architectes, décorateurs d'intérieur et conseillers techniques un choix de design de qualité parmi notre gamme de produits. Le plafond redevient tendance : On utilise de plus en plus souvent des formes, matériaux ou couleurs différents, ce qui rend le plafond plus intéressant. HeartFelt® Multipanel répond à ce besoin.





Teintes

HeartFelt® Multipanel est disponible en cinq teintes de gris. La teinte exacte des panneaux est déterminée par la proportion de fibres blanches et noires dans le matériau de base.



Five shades of grey (all linear panels)

WHITE 7593
LIGHT GREY 7596
MIDDLE GREY 7597
DARK GREY 7598
BLACK 7594
Si vous désirez une couleur différente de celles ci-dessus, contactez-nous.

* De légères différences de coloris par rapport aux échantillons réels sont possibles.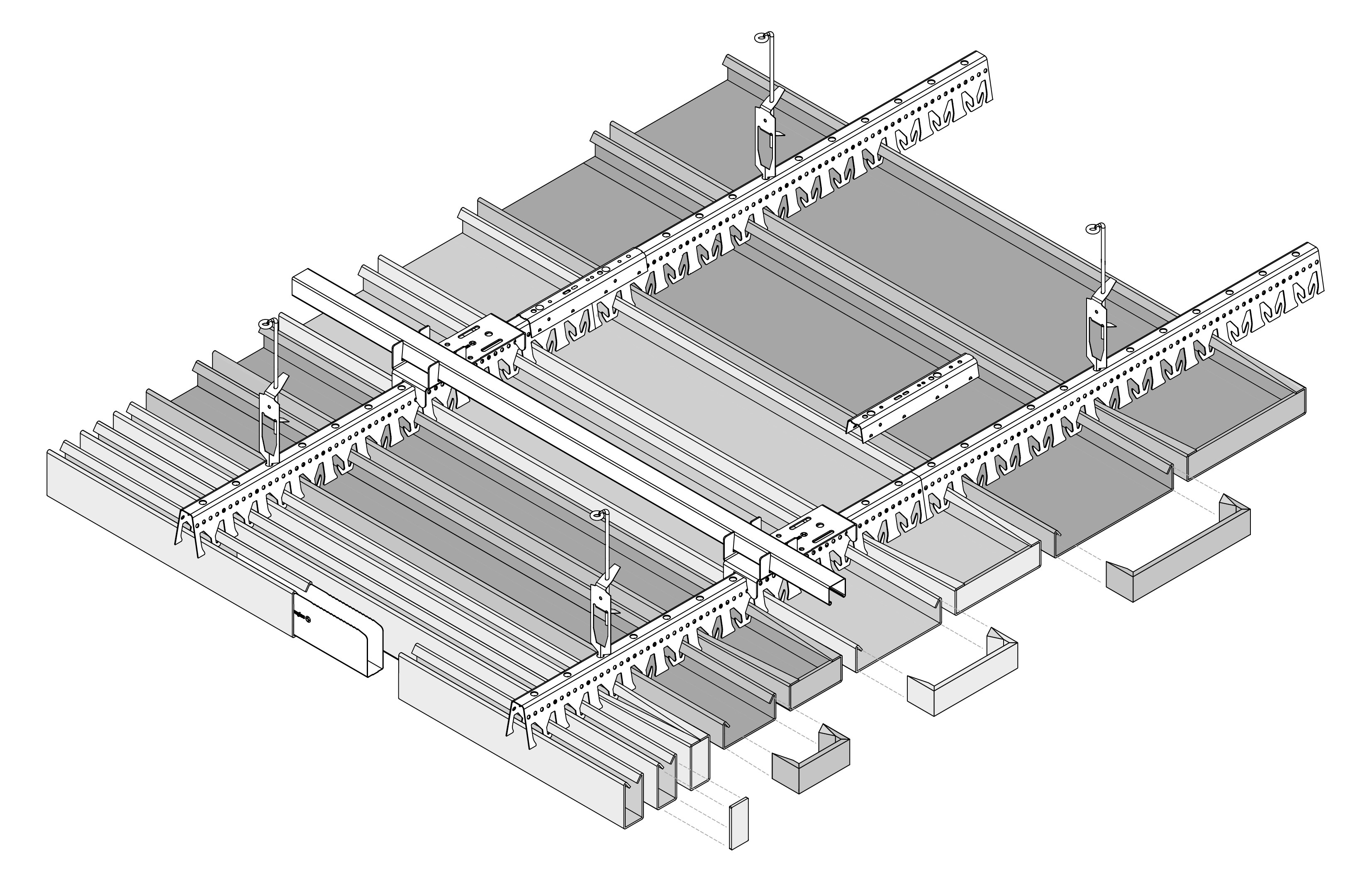 Propriétés du matériau

HeartFelt® Multipanel est composé de fibres PES non tissées, formées thermiquement, avec des joints ouverts entre les panneaux. Les panneaux sont disponibles dans les dimensions suivantes : 30x60, 80x35, 130x35 et 180x35 mm, avec une longueur maximale de 4000-6000 mm. Les modules suivants sont disponibles : 50 – 200 mm selon la taille du panneau.



Plus d'informations sur les produits

Vous trouverez de plus amples informations dans les téléchargements, notamment sur : Portées maximales, dimensions et poids et exigences de matériau par m2.

Acoustic information

Le confort acoustique dans un bureau, une école ou un bâtiment public est important pour notre bien-être, car une mauvaise acoustique peut avoir des conséquences sur la santé, la communication, la sécurité, la productivité et les performances d'apprentissage. Les produits de plafond acoustiques de haute qualité de Hunter Douglas offrent la meilleure solution pour d'excellentes performances acoustiques, un confort exceptionnel et un aspect esthétique. Les valeurs d'absorption (αw) de HeartFelt® Multipanel se situent autour de 0,70.




En savoir plus sur l'acoustique

Vous trouverez des informations plus détaillées ci-dessous sous « téléchargements ».