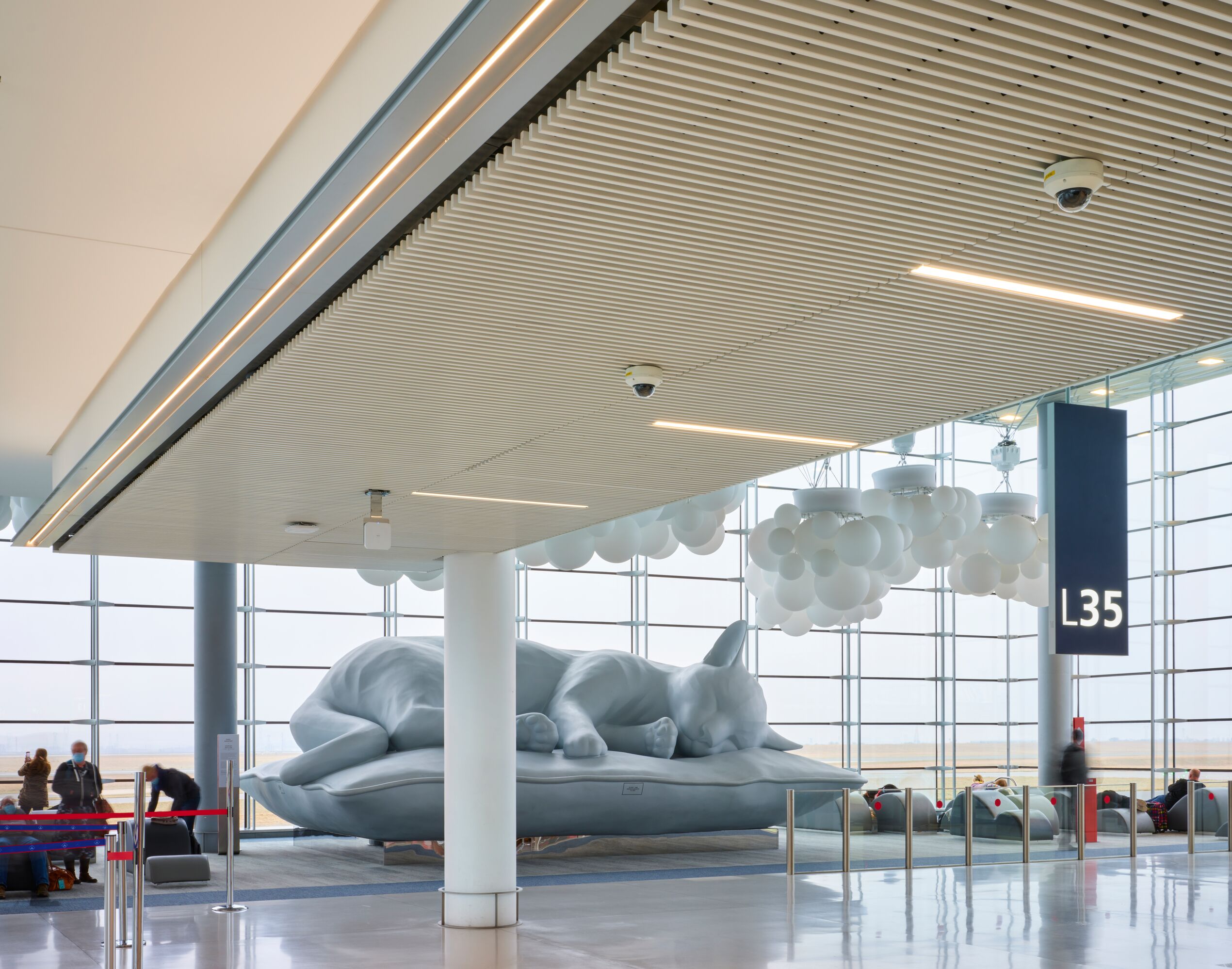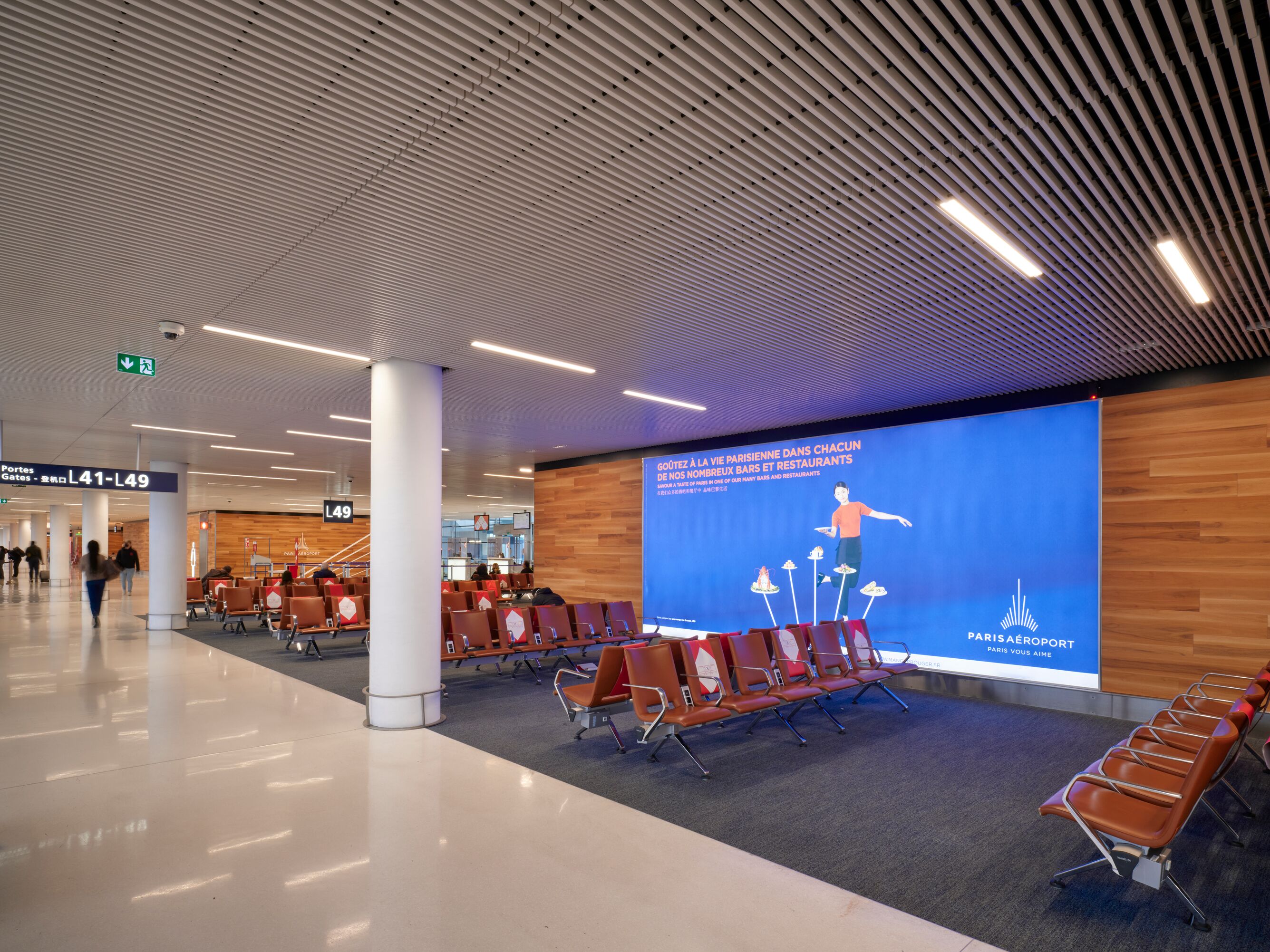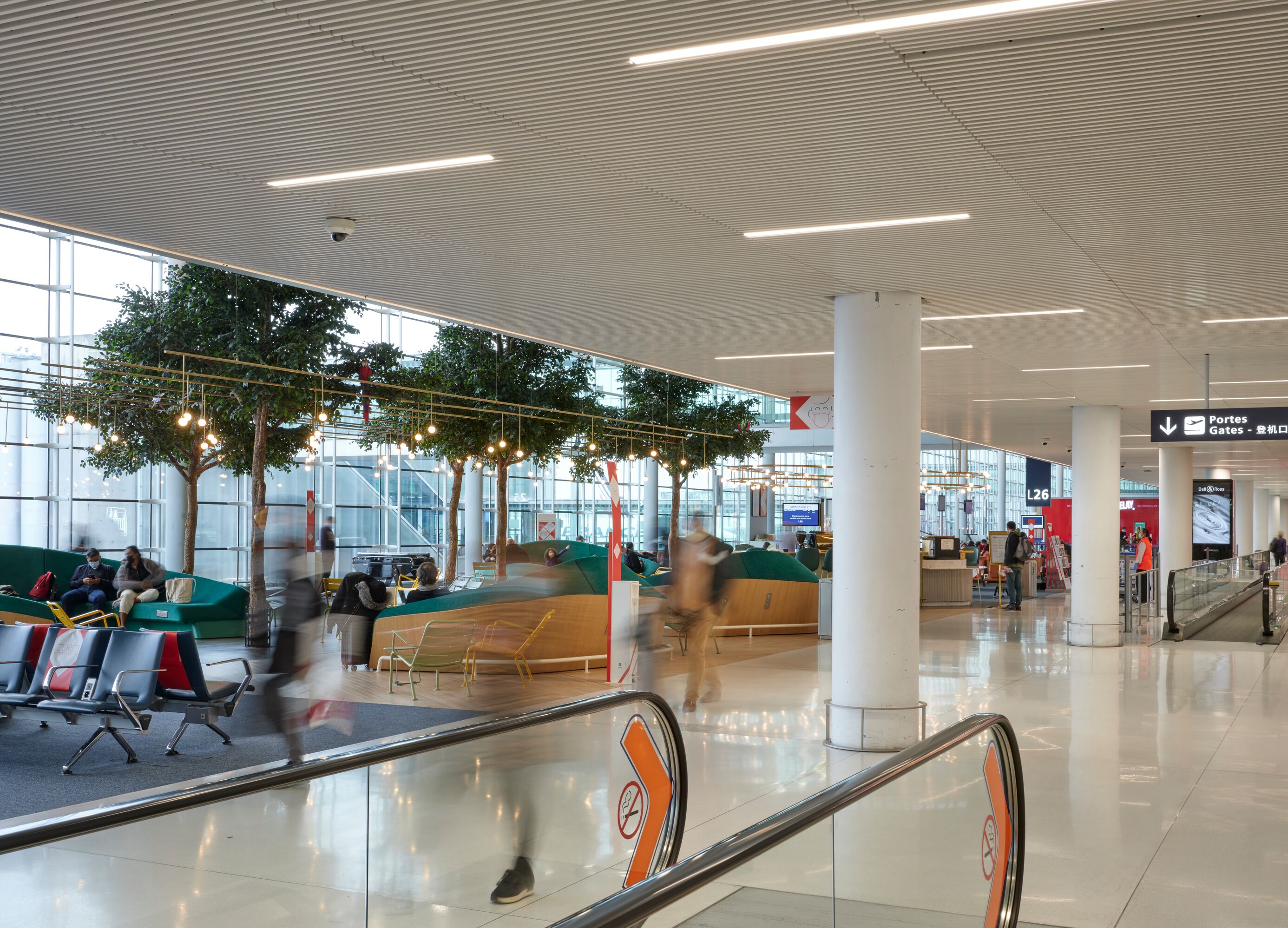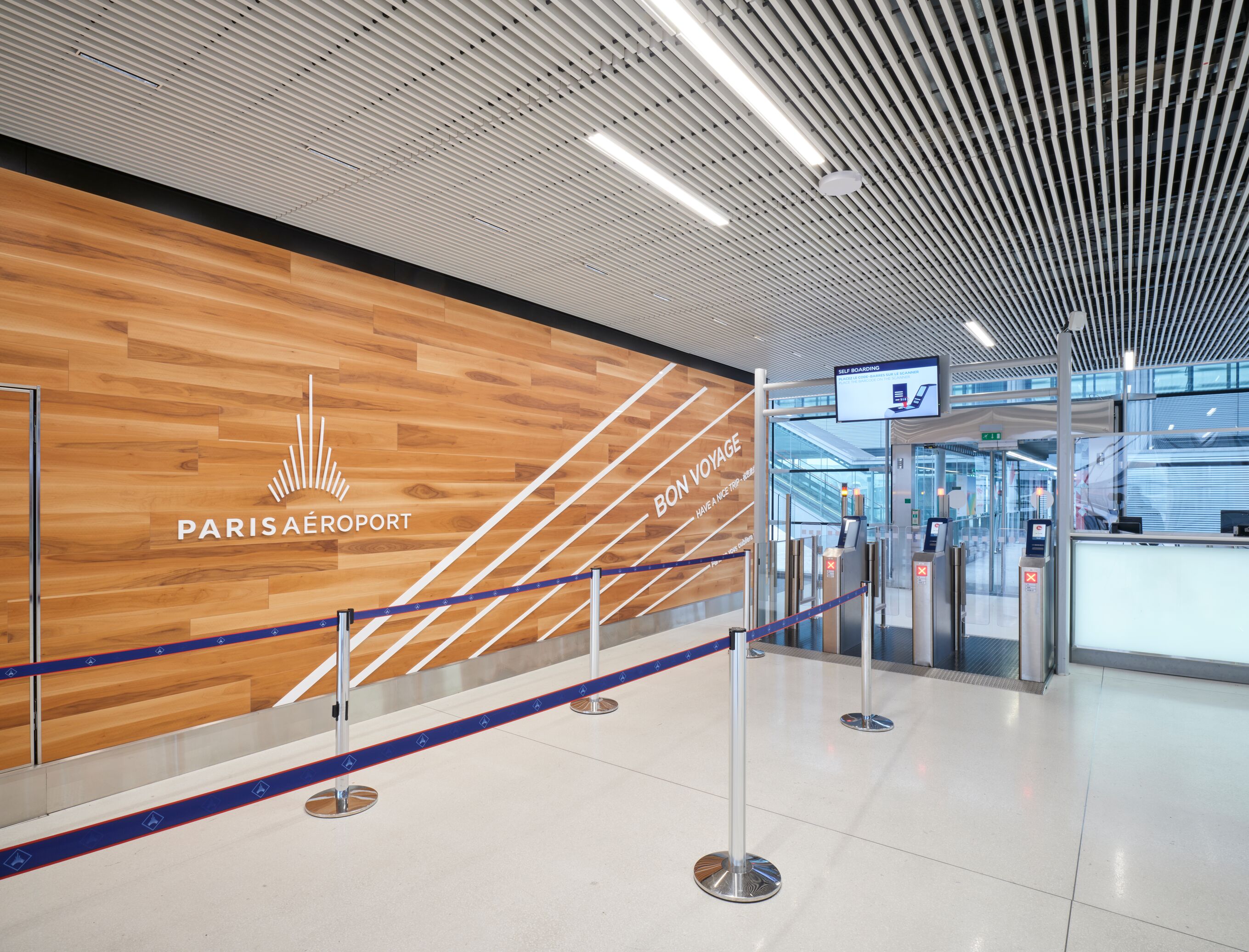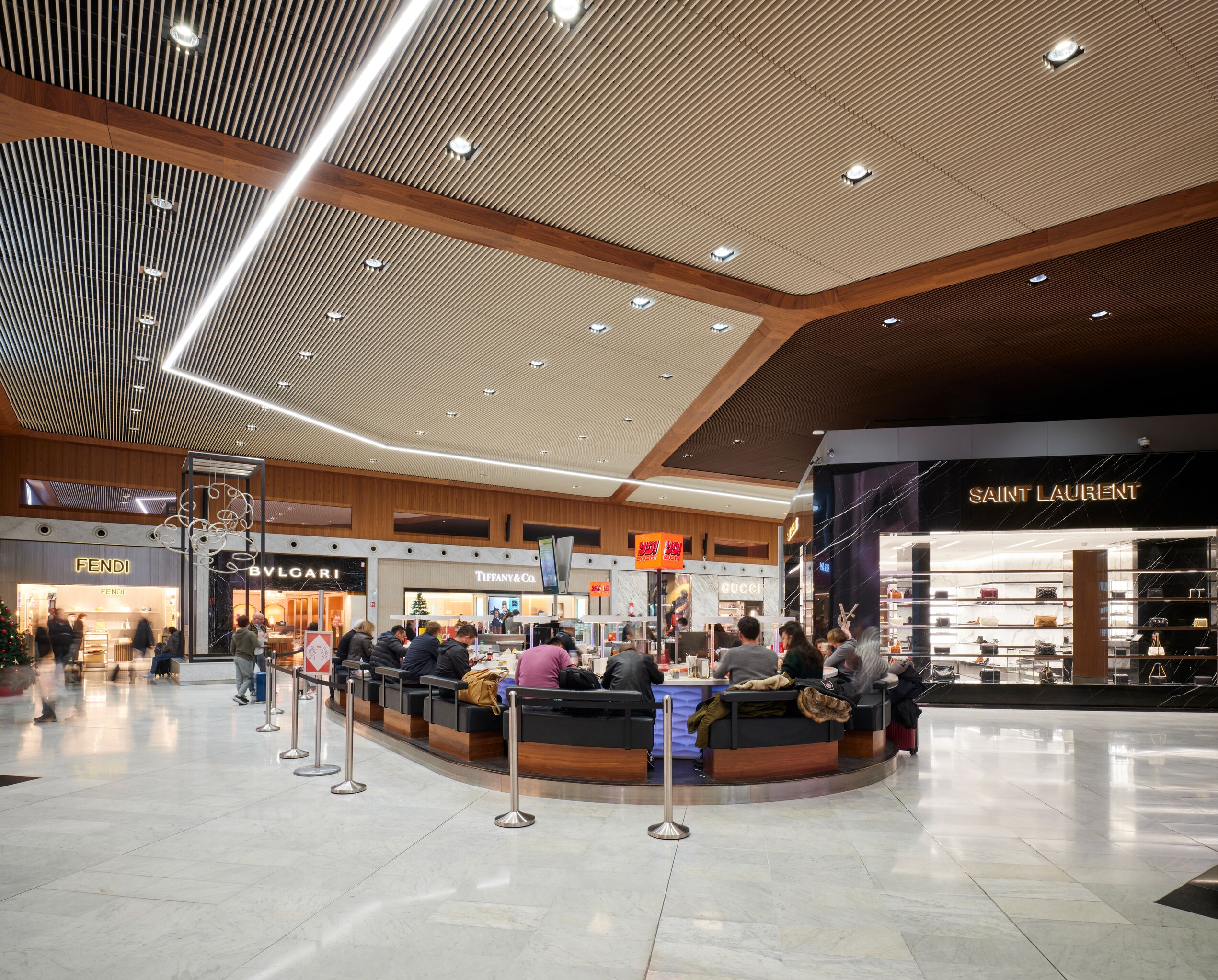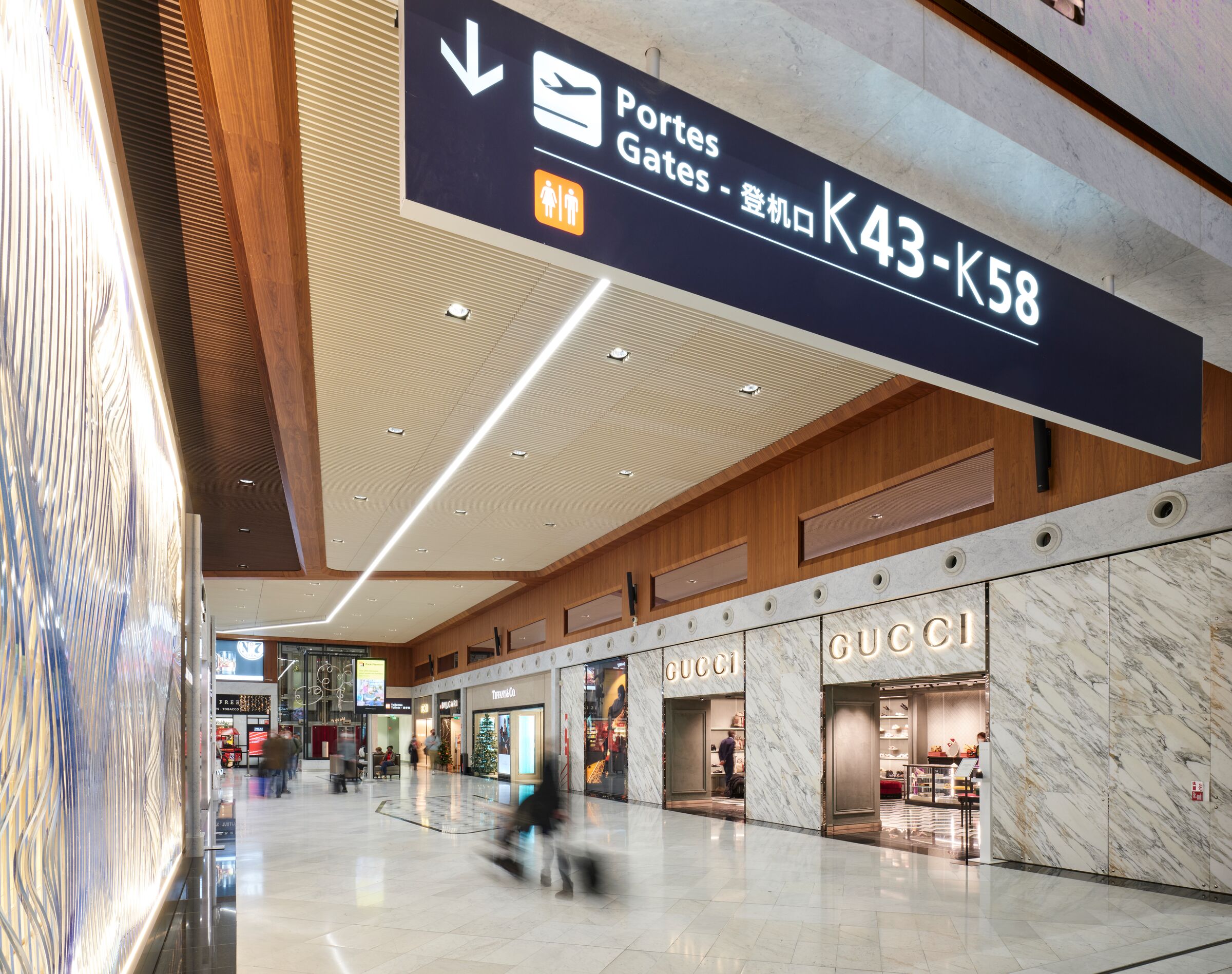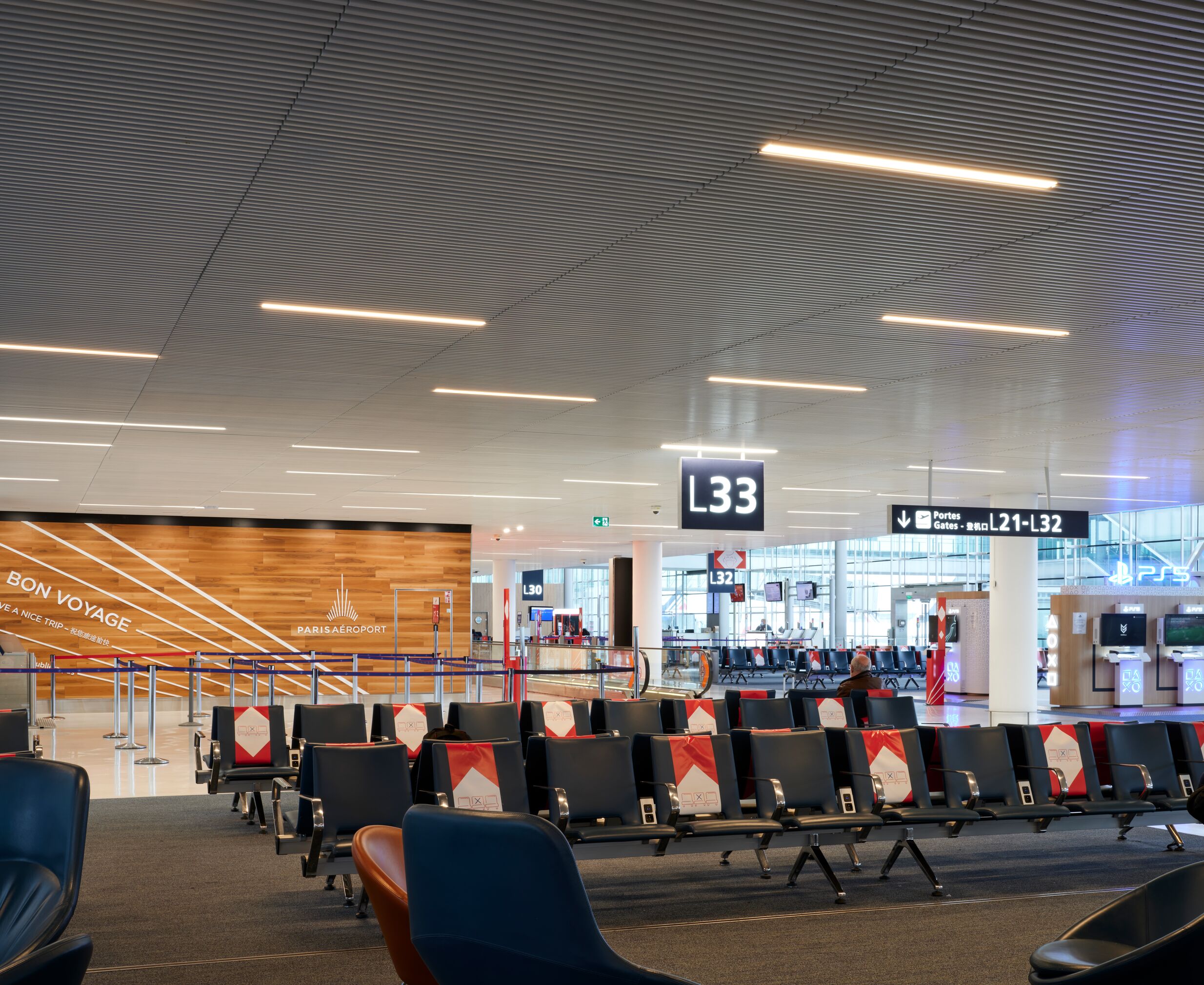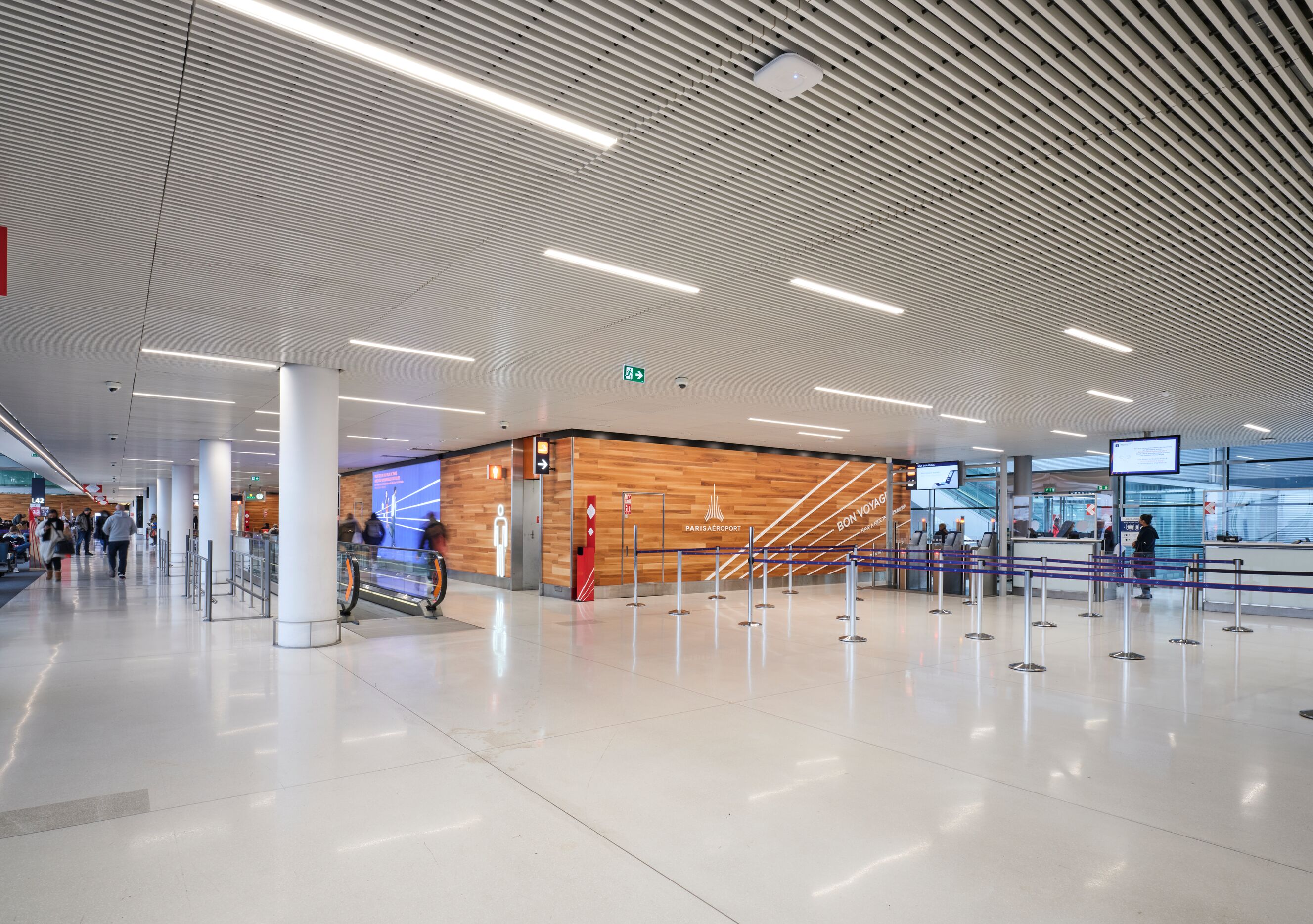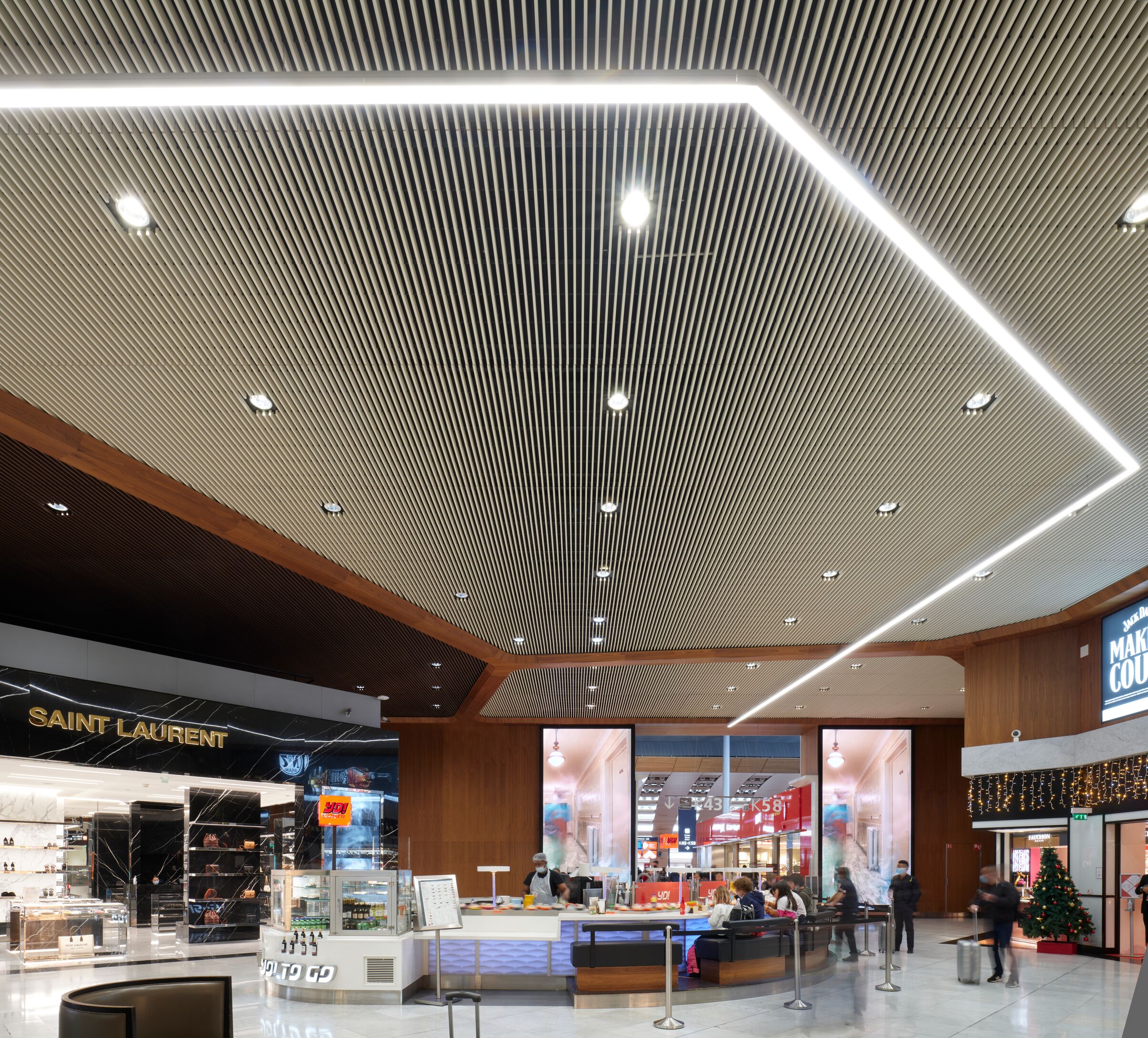 PARIS-CHARLES DE GAULLE AIRPORT
Location:
Paris, France
Architect/Specifier:
ADP Group
L'aéroport Charles De Gaulle, l'un des plus grands aéroports mondiaux en termes de trafic, a vu plusieurs de ses halls métamorphosés. Hunter Douglas Architectural a pu participer à deux de ces projets, en livrant des plafonds ainsi que des revêtements muraux en bois. Chaque solution, par son design et son aspect technique, a permis de répondre aux exigences qui étaient extrêmement élevées.
Des transformations impressionnantes, pour une hospitalité aéroportuaire améliorée
L'aéroport Paris-Charles vient d'être élu meilleur aéroport européen par l'organisme Skytrax, en matière de qualité de l'offre de produits et de services axée sur le client. C'est donc sans surprise que le premier aéroport d'Europe fasse régulièrement l'objet de projets d'amélioration. Karine Droit-Mijoule, Architecte responsable d'agence au sein du Groupe ADP, explique : « Un aéroport est un organisme vivant : ses usages, les attentes de ses usagers et les normes auxquelles il est soumis évoluent sans cesse. Son architecture ne cesse donc d'être interrogée. » Aussi, deux des halls du Terminal 2E ont dernièrement été complètement revisités : les Hall L et K ont en effet fait l'objet de divers travaux d'aménagement, à quelques années d'intervalle.

Lorsque les études pour la réhabilitation du Hall L ont été lancées en 2016, les objectifs étaient clairs : il s'agissait de gagner en satisfaction client, grâce à la qualité de l'offre globale pour les passagers. Karine Droit-Mijoule détaille : « Le but était en fait d'offrir à nos clients un espace plus en adéquation avec des standards nouveaux et avec une vision globale pour la prochaine décennie. » Les modifications qui ont été entreprises, ont donné lieu à une véritable transformation : amélioration de la lisibilité du par¬cours, revitalisation et désencombrement de la zone d'embarquement et amélioration de l'expérience des passagers étaient les priorités.

En 2016, la zone de commerce du Hall K a été l'objet d'une réhabilitation complète : « La volonté était de développer et de renouveler l'offre. De plus, l'image était obsolète : elle n'était pas en rela¬tion avec les concessionnaires luxe que l'on souhaitait attirer », explique Marc Angély, Architecte d'intérieur directeur d'agence chez le Groupe ADP. « Il y a eu un travail de recomposition de l'espace et de l'ambiance pour créer un écrin permettant aux marques de luxe, telles que Cartier, Hermès, Chanel, Dior, Tiffany ou Gucci, de s'exprimer dans le respect de leurs propres concepts. »

Des solutions qui répondent aux exigences esthétiques
Après trois années de travaux de réhabilitation, le Terminal 2E Hall L affiche un tout nouvel aspect : le mobilier, le sol, les murs, les éclairages et le plafond sont bien différents de ceux d'autrefois. Côté plafond, le changement est stupéfiant : d'un acier sombre, on passe à des lames blanches en bois. Conçu et fabriqué par Hunter Douglas, le nouveau plafond est en effet composé de 8 000 m2 de grilles en bois massif, avec un laquage blanc mat sélectionné parmi plusieurs échantillons de blanc proposés par le fabricant. Bien qu'étant ouvert à 50%, le défilement des lames donne l'illusion d'un plafond fermé lorsque le regard se porte au loin. Magnifiquement complété par un sol fait de béton coulé avec agrégat de marbre blanc, il permet à la zone d'embarquement d'être plus visible. Karine Droit-Mijoule commente : « Avant, cette zone était sombre : en plus du plafond acier, tout le sol était en moquette de couleur foncée. À présent, l'association du sol et du plafond crée une ligne directrice claire. »
Côté mur, le bois s'exprime dans toute sa splendeur. 1 000 m 2 de lames en bois de noyer blanc, délimi-tées et nano-perforées, avec vernis incolore, ont été installées en remplacement de murs équipés de miroirs. Pour Karine Droit-Mijoule, les travaux ont porté leurs fruits : « Toute l'ambiance a été refaite : entre l'agencement intérieur et les nouveaux matériaux, on a redonné de l'éclat. »
Le Hall K, rénové quelques années plus tôt, bénéficie de solutions similaires : Hunter Douglas a livré
1 200 m2 de grille de plafond en bois massif à lames. Le fabricant a également fourni 650 m2 de parements muraux en bois de noyer d'Amérique ramageux avec nano-perforations. Pour l'architecte d'intérieur, l'ambiance est incontestablement améliorée, le design réussi : « Auparavant, la zone était peu lumineuse ; le plafond métallique n'était plus aux standards. Pour ce qui est de l'habillage, il y a un vrai sujet de finition et une parfaite réussite à ce niveau-là : un jeu graphique est créé par les panneaux qui ne sont jamais les mêmes, et cette différence donne la vé¬rité à l'ambiance et au matériau. »

Des solutions pratiques, pour répondre aux contraintes techniques
Si l'aspect esthétique était primordial pour le choix des nouveaux éléments, l'aspect pratique était également essentiel. En effet, pour les deux Halls, il était notamment nécessaire de mettre en place un plafond qui allait pouvoir permettre un accès aisé au plénum, pour des besoins de sécurité et de maintenance. Karine Droit-Mijoule commente : « Dans le Hall L par exemple, l'ancien plafond suspendu était composé de grilles en acier et permettait l'accès au plénum. Nous avons privilégié un nouveau plafond avec une ouverture à 50%, tout comme l'ancien ; c'est une nécessité, en particulier pour le désenfumage. »

Pour ces projets, Hunter Douglas a su livrer des solutions adaptées aux contraintes techniques existantes. Compte tenu des délais stricts et de l'exploitation continue du site, le fabricant a notamment dû réutiliser la structure primaire existante avec un format de cadre spécifique, pour supporter le nouveau faux plafond du Hall L.

Côté revêtement mural, les solutions ont été sélectionnées pour leurs excellentes propriétés acous-tiques. Avec les nano-perforations, on atteint une valeur d'absorption acoustique de 0,90 à 0,95. Pour Karine Droit-Mijoule les parements nano-perforés du fabricant per¬mettent indiscutablement d'assurer un confort acous¬tique, elle souligne : « Dans le Hall L, bien que l'on soit passés de la moquette au sol dur, le confort acoustique s'est sensiblement amélioré. » Pour le Hall K, Marc Angély fait le même constat : « Il était nécessaire de garantir un confort acoustique d'un excel¬lent niveau, digne d'un espace intérieur. La technologie et la capacité d'Hunter Douglas à répondre à cette problématique a été extrêmement déterminante dans le choix du produit. »

Matériau mis à l'honneur : Le bois
Pour ces deux projets, Hunter Douglas a livré des solutions de plafond et de revêtement mural en bois. Pour les architectes du Groupe ADP, ce matériau représente en effet des avantages indéniables.
En matière d'esthétique tout d'abord. Le bois est réputé pour la cha¬leur qu'il dégage. « Il s'agit d'un matériau très enveloppant qui fait sens dans un intérieur », affirme Marc Angély, « de plus, historique-ment le Terminal 2E travaille énormément avec le bois ; nous avons un fil conducteur avec l'utilisation du noyer, une essence un peu si¬gnature du Groupe ADP, aussi employé dans le Hall M. »

En matière de propriétés mécaniques ensuite. L'architecte Responsable d'agence souligne notamment la résis¬tance du matériau : « Nous savions que le plafond allait être soumis à plusieurs opérations d'entretien, ce qui signifiait donc des démontages et remontages réguliers. Or, le bois est un matériau plus résistant que l'aluminium, il n'y a donc pas de risque de déformation. »

L'enjeu environnemental a également joué un rôle dans le choix des solutions. Karine Droit-Mijoule explique : « C'est le gros défi lancé par la RE2020. Nous prenons tout cela très au sérieux depuis plu-sieurs années déjà, mais il est certain que l'enjeu environnemental est de plus en plus important. » Marc Angély confirme : « Le Groupe ADP a pour ambition un objectif 2050 à 0 émissions carbone. Les normes environnementales, dans le traitement du placage, des colles, etc., tout cela entre en compte. Il faut donc que nos fournisseurs proposent des solutions adaptées. »

Hunter Douglas Architectural : des services et une offre de qualité
Pour les deux architectes, l'accompagnement de l'entreprise sur ces projets était extrêmement im-portant. Un prérequis pour permettre de développer rapidement des solutions optimales : « La col-laboration étroite avec Hunter Douglas nous a permis de visualiser non seulement les aspects es-thétiques, mais aussi les aspects techniques », explique Karine Droit-Mijoule, « et ce, via des proto-types et échantillons. Ceci nous a permis de très vite valider notre choix. » Marc Angély confirme : « La collaboration a été extrêmement fructueuse car Hunter Douglas nous a permis d'aller au bout des ambitions en termes de qualité. On a eu la possibilité de choisir ce qui nous convenait. » Le fabricant a en effet organisé une visite aux Pays-Bas, pour permettre au designer de faire son choix parmi différents lots, puis d'en réserver le nombre nécessaire.

Pour Karine Droit-Mijoule et Marc Angély, l'entreprise a pu démontrer son savoir-faire sur ces pro¬jets. L'architecte d'intérieur explique : « L'offre de produits nous a permis de trouver des solutions et de réaliser des aménagements et ambiances intérieurs de très grande qualité. » Pour la façade no-tamment, Hunter Douglas a su développer un produit permettant de balayer les craintes du desi¬gner : « Étant quasi invisible, la nano-perforation ne remet absolument pas en cause la vérité du bois, de la veine. Tout cela m'a beaucoup satisfait. » C'est justement la qualité des produits mis en place dans le Hall K qui a orienté le choix de Karine Droit-Mijoule : « Le retour positif du projet avec Hunter Douglas développé dans ce Hall a permis de s'orienter vers la même gamme de produit, même si les concepts étaient différents. » La capacité du fabricant à proposer des solutions capables de remédier à des problématiques techniques est également fortement appréciée. « Il y a une réelle expertise technique qui mérite d'être saluée », conclut Marc Angély.
Nom de la division: Hunter Douglas Produits Architecturaux France
Web: www.hunterdouglas.fr
Adresse: 3 Avenue des Marronniers Bonneuil Cedex F-94380 France
Numéro de téléphone: +33 1 43399100
Fax: +33 1 4339 1451
Nous contacter: Nous contacter
Nom de la division: Espace Voiles
Web: www.espacevoiles.com
Adresse: 4 Impasse Marius Berliet ZA La Bilias Deniaud Vigneux De Bretagne 44360 France
Numéro de téléphone: 02 28 01 08 80
Fax: 02 28 01 08 81
Merci. Nous prendrons rapidement contact avec vous.
Votre demande n'a pas pu être enregistrée, veuillez réessayer.
Please accept the Privacy Agreement.
Name, email, company, phone, location and at least one product selection are required.