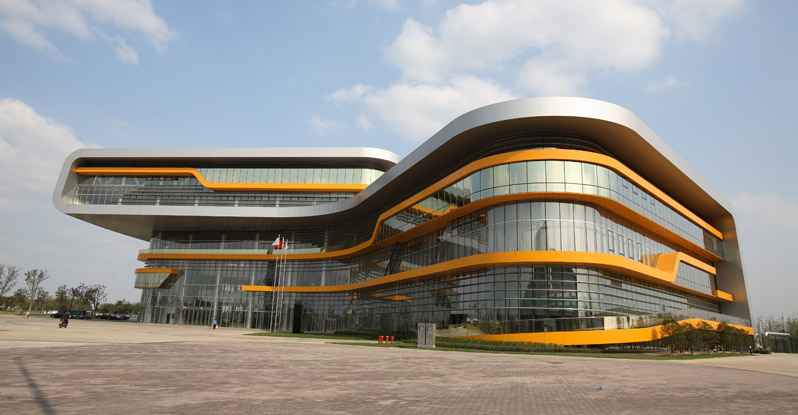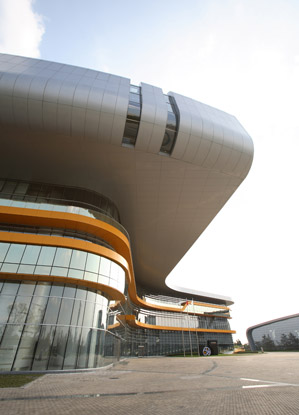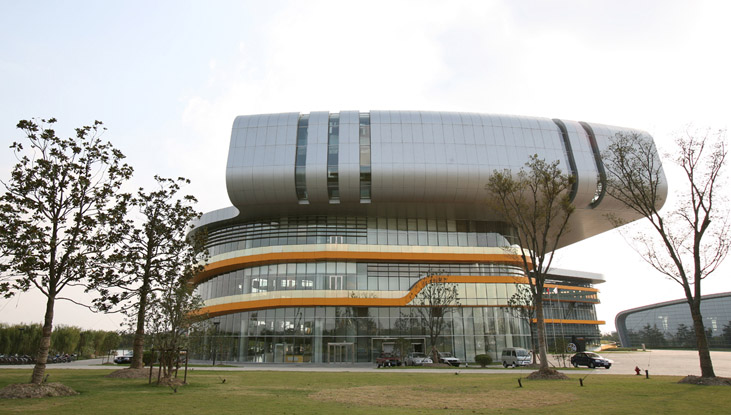 Shanghai Automobile Museum
Location:
Shanghai, China
Architect/Specifier:
IFB Dr. Braschel AG
According to Germany's IFB Dr. Braschel AG Architects, "Buildings are not fixed objects. They are alive." The firm's design of Shanghai's Automobile Museum demonstrates this idea perfectly, with "massive flowing curves" that "symbolize the fast moving track of automobiles."

At a height of about 32 meters and covering an area of 11,700 square meters, the museum comfortably houses a series of halls that display classic cars, show the history of the automobile, and host interactive exhibits. The museum fits perfectly with its surroundings, sitting adjacent to the Shanghai International F1 Circuit, China's first racing complex for Formula 1 cars.

Appropriately, the architects selected sleek, lightweight QuadroClad façade panels from Hunter Douglas for the building's exterior. Constructed from strong, lightweight honeycomb composite, these customizable, oversize panels create less load than traditional panels. Brushed silver fits the contours atop the building, while dynamic yellow punctuates the windowed walls ...like the stripes on the racecars speeding across the track nearby.
Nom de la division: Hunter Douglas Produits Architecturaux France
Web: www.hunterdouglas.fr
Adresse: 3 Avenue des Marronniers Bonneuil Cedex F-94380 France
Numéro de téléphone: +33 1 43399100
Fax: +33 1 4339 1451
Nous contacter: Nous contacter
Nom de la division: Espace Voiles
Web: www.espacevoiles.com
Adresse: 4 Impasse Marius Berliet ZA La Bilias Deniaud Vigneux De Bretagne 44360 France
Numéro de téléphone: 02 28 01 08 80
Fax: 02 28 01 08 81
Merci. Nous prendrons rapidement contact avec vous.
Votre demande n'a pas pu être enregistrée, veuillez réessayer.
Please accept the Privacy Agreement.
Name, email, company, phone, location and at least one product selection are required.