QC300 QuadroClad® Honeycomb
Divisienaam: Hunter Douglas Architectural Plafondsystemen
Website: www.hunterdouglas.nl
Adres: Piekstraat 2 Rotterdam 3071 EL Nederland
Telefoon: +31 10 496 2222
Fax: +31 10 484 8684
Contact: Contact
Divisienaam: Hunter Douglas Façades
Adres: Industriepark 17 9351 PA Leek Nederland
Telefoon: +31(0)594 55 33 33
Fax: +31 10 484 79 10
Contact: Contact
Hartelijk dank voor uw informatie. Wij nemen zo spoedig mogelijk contact met u op.
Bij het opslaan van uw aanvraag is een probleem opgetreden. Probeer het opnieuw.
Onder de nieuwe AVG-verordening ga je akkoord met het privacybeleid van onze website door dit vakje aan te kruisen
Name, email, company, phone, location and at least one product selection are required.
QC300 | QUADROCLAD® HONEYCOMB
Het QuadroClad® gevelbekledingssysteem is een uniek bekledingssysteem met open voegen, dat gebaseerd is op geventileerde geveltechnologie. Het systeem is opgebouwd uit twee aluminium panelen verlijmd met een aluminium honingraat. De QuadroClad® panelen en componenten combineren een prachtig uiterlijk met uitstekende functionaliteit en zullen ook in de zwaarste omgevingen goed presteren. De panelen zijn onafhankelijk getest op corrosiebestendigheid, brandwerendheid en windvastheid.
Algemene informatie
Waarom kiezen voor QC300?

QuadroClad® QC300 is ons COMPLETE systeem. Zoals de naam al aangeeft, is dit onze meest complete gevelbekledingsoplossing. Het is een ideale gevelafwerking voor grotere hoge gebouwen, zoals woontorens en wolkenkrabbers die blootstaan aan extreme weersomstandigheden. QC300 wordt gekenmerkt door vrij hangende panelen met ventilatieruimte, met open voegen die dienen om de windbelastingen op het oppervlak te verlagen. Bij hoogbouw is per definitie een ander niveau van technische specificaties vereist en Hunter Douglas Architectural heeft een unieke, gepatenteerde installatiemethode ontwikkeld (inclusief wandsteunen, montageprofielen en bevestigingsplaten) om aan de vereisten voor dergelijke gebouwen te voldoen.
Eigenschappen


Hoogbouw – modulaire panelen.
Compleet pakket, bespaart tijd in de bouwketen.
Eenvoudige montage dankzij onze gepatenteerde achterconstructie.
Geschikt voor extreme technische vereisten (windbelasting)
Individueel verwijderbaar.
Toepassing


Gevelbekleding en buitenschil
Zelfdragende daken
Koepelvormige gebouwen
Binnenwanden, plafonds en balkons
Luifels
Renovatie van bestaande bouw
Materiaal, afwerkingen en oppervlakken

Gebouwen worden gekenmerkt door vorm en ontwerp. Ze zijn vaak het product van de inspirerende visie van de architect. Bij Hunter Douglas stellen we ons tot doel om ontwerpers te helpen deze visie te verwezenlijken, door ze de beschikking te geven over een palet kleuren, materialen en oppervlakteafwerkingen die hun creativiteit zullen stimuleren.

Ontworpen om architecten optimale ontwerpvrijheid te bieden. QuadroClad® gevelbekledingspanelen zijn geschikt voor een uitgebreide reeks toepassingen.



Make a choice
Beste producttoepassing
QC50 Standard
QC100 Easy
QC200 Ultimate
QC300 Complete
QC500 Infinity
Luifels
Koepelvormige gebouwen
Renovatie
Zelfdragende daken
Diagonale montage
Interieur


QC300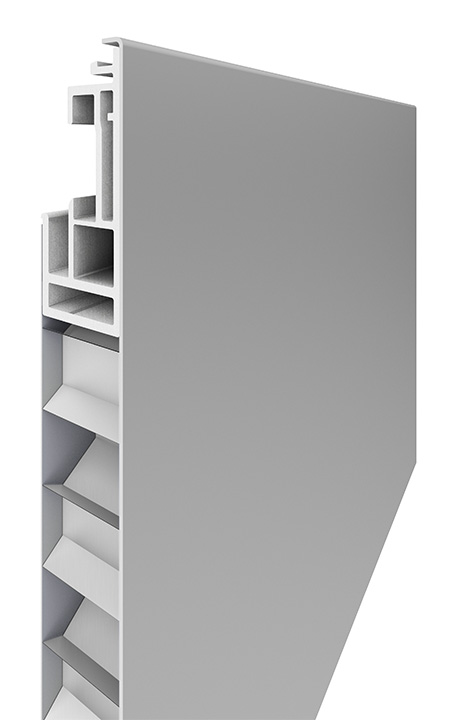 Meer productdetails

Meer gedetailleerde informatie is te vinden in de downloadsectie hieronder.


Gezondheid en welzijn
Het assortiment plafondproducten van Hunter Douglas Architectural draagt bij aan duurzame gebouwen door middel van esthetische oplossingen die het comfort verbeteren en energie besparen. Het bevorderen van de gezondheid en het welzijn van de gebruikers is waarschijnlijk de belangrijkste functie van een gebouw. Onze zonweringoplossingen bevorderen het gebruik van gezond daglicht zonder vervelende verblinding of gebrek aan thermisch comfort. Onze akoestische plafonds spelen een centrale rol bij het realiseren van akoestisch comfort.
Verantwoorde materialen
Ecologisch verantwoorde materialen zijn essentieel voor een duurzaam gebouw. Onze strategie is erop gericht om materialen te selecteren die op zichzelf al goede ecologische eigenschappen hebben. Veel van onze producten zijn gemaakt van aluminum dat in onze eigen smelterij wordt geproduceerd. Wij hebben onze processen geoptimaliseerd om tot 99% gerecycled materiaal te gebruiken om de juiste legering voor onze producten te produceren. Ons hout is FSC-gecertificeerd en wij omarmen het cradle-to-cradleprincipe in onze productontwikkeling.
Energiebesparing
Verlaging van het energieverbruik van het volledige pand is cruciaal om opwarming van de aarde tegen te gaan. De meeste moderne kantoorpanden verbruiken meer energie voor koelen dan voor verwarmen. Een effectief beheer van de zonne-energie die door het transparante deel van de gevel heen dringt, is een belangrijke strategie bij het voorkomen van oververhitting in zowel oude and nieuwe gebouwen. Onze hoogwaardige zonweringoplossingen bieden aanzienlijke energiebesparingen, terwijl ze tevens gezondheid en welzijn bevorderen.
Maatschappelijk verantwoord ondernemen
'Keen on Green' is een belangrijk bedrijfsbreed initiatief om ons energieverbruik, waterverbruik en onze totale CO2-voetafdruk te verlagen. We omarmen het ISO 14001-model voor actief beheer van onze 'Keen on Green'-doelstellingen. Hunter Douglas en zijn medewerkers leveren een actieve bijdrage aan de gemeenschappen waarin we wonen en werken, evenals gemeenschappen op een meer wereldwijde schaal. Zakendoen draait om mensen. We zijn trots op ons wereldwijde netwerk van ervaren, intelligente, gepassioneerde en creatieve mensen die er bewust voor hebben gekozen om bij Hunter Douglas te werken.