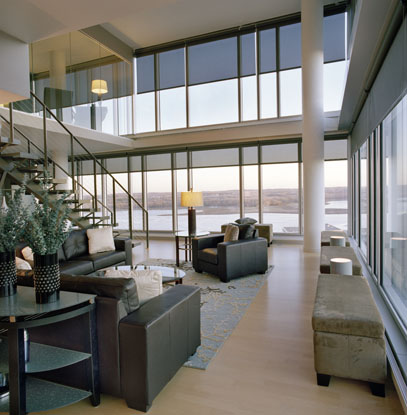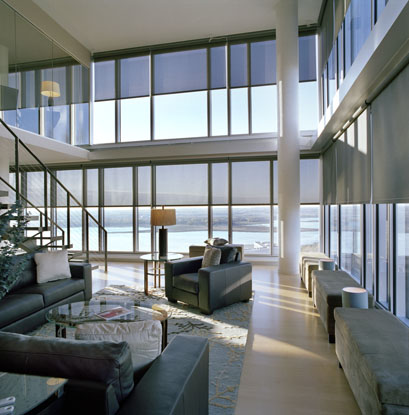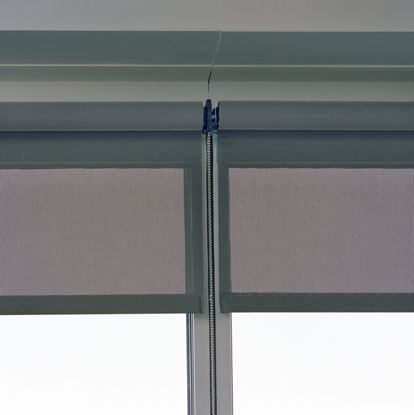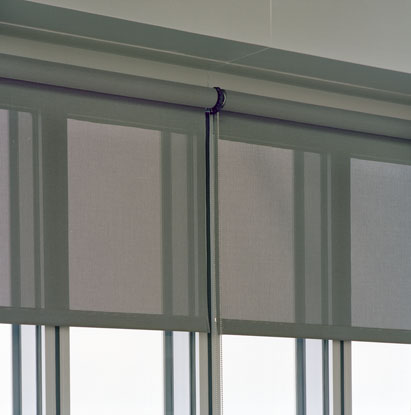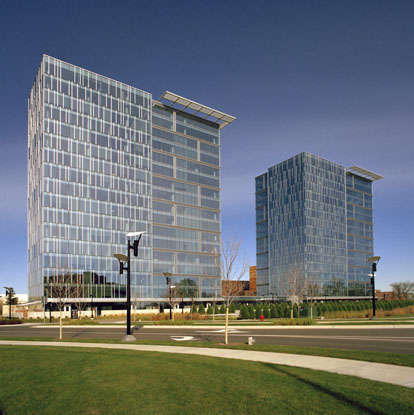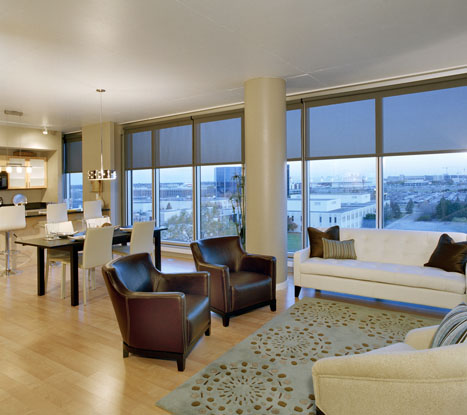 Reflections at Bloomington Central
Location:
Bloomington, MN, United States
Architect/Specifier:
Elness Swenson Graham Architects with architectsAlliance
There's no longer an inherent contradiction between "sustainable" and "glass box" - not with 21st-century technology and a holistic approach to sustainability that encompasses much more than the building's own environmental envelope.

Reflections at Bloomington Central Station, completed in 2006, comprises a pair of 17-story glass residential towers linked by a low-rise entrance lobby. If sleek, transparent towers unencrusted with balconies or ornament seems like an unusual approach to high-rise condo design, so is the result: LEED certification, the first high-rise condo project in Minnesota to win the environmental honor. Elness Swenson Graham Architects of Minneapolis designed the project, in collaboration with architects Alliance of Toronto.

One vital key to Reflections' remarkable energy efficiency is its triple-glazed, inoperable floor-to-ceiling windows, which invite natural light into 97 percent of the interior spaces. This far exceeds LEED's 75 percent daylighting minimum. Hunter Douglas Roller Shades FR - motorized in the penthouse loft windows, manual elsewhere - deliver privacy and solar control.

And it was these windows that essentially generated the project's form. The towers rise just south of eight-lane Interstate 494 and Minneapolis-St. Paul International Airport, which was planning expansion with a fourth runway at the same time McGough Development was planning its 54-acre mixed-use project next door. "So here we were proposing new housing, while the airport was out there buying existing houses that they were going to tear down and remove," says Mark Fabel, McGough's project manager. "The airport authority agreed to support our project if we didn't have balconies and operable windows."

And what then? McGough admits, "We stepped back and said, how do we create residences where people don't feel like they're enclosed in an office building? The answer was floor-to-ceiling windows that provide a real sense of connection to the outdoors." Fortunately, the project h
Divisienaam: Hunter Douglas Architectural Plafondsystemen
Website: www.hunterdouglas.nl
Adres: Piekstraat 2 Rotterdam 3071 EL Nederland
Telefoon: +31 10 496 2222
Fax: +31 10 484 8684
Contact: Contact
Hartelijk dank voor uw informatie. Wij nemen zo spoedig mogelijk contact met u op.
Bij het opslaan van uw aanvraag is een probleem opgetreden. Probeer het opnieuw.
Onder de nieuwe AVG-verordening ga je akkoord met het privacybeleid van onze website door dit vakje aan te kruisen
Name, email, company, phone, location and at least one product selection are required.