Pareaulux 30BD Sufit chłodzący
Nazwa oddziału: Hunter Douglas Polska Sp. z o.o.
Dziękujemy za informacje. Wkrótce się z Tobą skontaktujemy.
Wystąpił problem przy próbie zapisu Twojej prośby, spróbuj ponownie.
Please accept the Privacy Agreement.
Imię, email, firma, telefon; konieczne jest wybranie lokalizacji i przynajmniej jednego produktu
Pareaulux 30BD Sufit chłodzący
PareauLux-30BD to modularny sufit z aluminiowych paneli listwowych dających dużą swobodę w projektowaniu. Sufit dostepny jest w wielu kolorach w tym również wykończeniach drewnopodobnych oraz pozwala na kształtowanie układu sufitów radialnych czy łukowych.
Informacje ogólne
Dlaczego PareauLux 30BD sufit chłodzący?

Sufit PareauLux 30BD jest efektem współpracy dwóch wiodących producentów sufitów (chłodzących). Hunter Douglas w zakresie przełomowych rozwiązań materiałowych i designu oraz Inteco z innowacyjnymi rozwiązaniami chłodzenia sufitowego o niezwykle dużej wydajności. Z tym produktem można być pewnym komfortu w najszerszym tego słowa rozumieniu.
Właściwości


80% wyższa wydajność chłodzenia w porównaniu z systemami standardowym
Nieograniczona swoboda w projektowaniu
Najwyższej jakości komponenty i rozwiązanie
Zrównoważone rozwiązanie
Komfort akustyczny
Bezpieczeństwo pożarowe
Niskie koszty eksploatacji
Długotrwałe użytkowanie
Pozytywny wpływ na ekologiczną certyfikację budynków
Zawsze komfortowa, równomiernie rozłożona temperatura
Zastosowanie

Sufit chłodzący PareauLux 30BD ma wszechstronne zastosowanie, a szczególnie w biurach, centrach handlowych, rekreacyjnych, przestrzeniach publicznych, restauracjach, służbie zdrowaia, edukacji jak również w budownictwie mieszkaniowym.

Zapraszamy do kontaktu w przypadku konkretnych zapytań.
Design & Inspiracja
Sufity chłodzące mogś być dostosowane do modulacji budynku podczas gdy sufitowa instalacja chłodząca jest w sposób niewidoczny zintegrowana z sufitem i innymi instalacjami, jak oświetlenie, wentylacja czy czujniki. Sufit jest szczególnie charakterystyczną częścią projektu architektonicznego wnętrza.

Przy stosowaniu sufitów chłodzących ilość dostarczanego powietrza wynika z potrzeby ilości świeżego powietrza, a nie wymaganej wydajności chłodzenia. Z tego powodu cyrkulacja powietrza w pomieszczeniu jest istotnie mniejsza niż przy stosowaniu tradycyjnych systemów chłodzących, co zmniejsza ryzyko nadmiernego powiewu powietrza. Temeratura może być ustawiana dla poszczególnych pokoi lub wydzielonych stref.

Panele aluminiowe 30BD dostępne są w likunastu kolorach standardowych w tym również wykończeniach metalicznych i drewnopodobnych, możliwych do wiekszości zastosowań. Zapraszamy do kontaktu w sprawie zastosowań specjalnych czy wykończeń niestandardowych.
Charakterystyka materiału
Sufit PareauLux 30BD składa się z trwałych aluminiowych listew formowanych rolkowo, wykończonych powłoką lakierniczą wysokiej jakości, co zapewnia długotrwałe, bezproblemowe użytkowanie.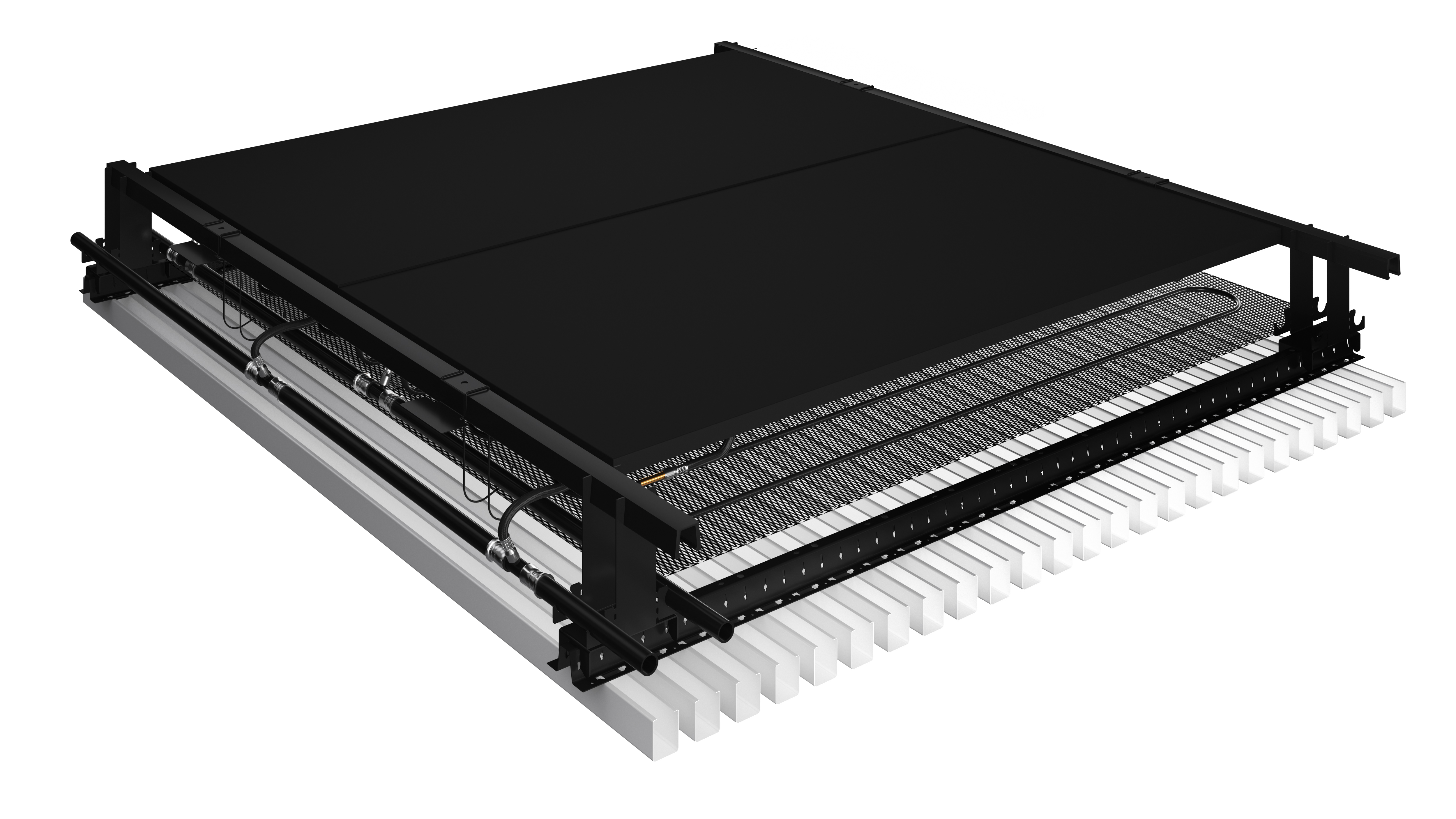 More prouduct features

More detailed information can be found under downloads, including information about: Maximum spans, dimensions and weight and material requirements per m² ,
Informacje akustyczne
Komfort akustyczny w przestrzeniu biurowej, szkole czy budynku publicznym poprawia nasze samopoczucie, podczas gdy złe warunki akustyczne negatywnie wpływają na nasze zdrowie, zdolnośc komunikacji, bezpieczeństwo, wydajność pracy i efektywność nauki. Stosowanie wysoko wydajnych akustycznie sufitów Hunter Douglas jest najlepszym sposobem zapewnienia właściwych parametrów akustycznych, komfortu i estetycznego wyglądu. Stosując sufity HeartFelt® można uzyskań współczynnik absorpcji akustycznej (αw) pomiędzy 0,45 (dla modułu 100), a 0,70 (dla modułu 50). Dla osiągnięcia jeszcze wyższych wartości absorpcji akustycznej (αw 0,95) należy zastosować matę z wełny mineralnej zamknietej w foli PE, powyżej sufitu chłodzącego.
Więcej informacji o akustyce
Więcej informacji można uzyskać w poniższych linkach. downloads


Zdrowie i dobre samopoczucie
Linia sufitów Hunter Douglas Architectural spełnia wymogi ekologicznego budownictwa poprzez estetyczne rozwiązania, które poprawiają komfort i pozwalają oszczędzać energię. Najważniejszą funkcją budynku jest niewątpliwie zapewnienie komfortu i dobrego samopoczucia osobom w nim przebywających. Nasze osłony przeciwsłoneczne utrzymują zdrowy poziom nasłonecznienia, eliminując negatywne skutki rażącego światła i dyskomfort termiczny. Nasze sufity akustyczne spełniają kluczową rolę w zapewnianiu komfortu akustycznego.
Ekologiczne materiały
Stosowanie ekologicznych materiałów to podstawowy warunek powstania zdrowego budynku. Nasza strategia zakłada wybór materiałów, posiadających dobre właściwości ekologiczne. Wiele produktów wykonujemy z aluminium wytapianego w naszych własnych piecach. Zoptymalizowaliśmy proces tak, by 99% materiału wykorzystywanego w naszych stopach nadawało się do odzysku. Nasze drewno posiada certyfikat FSC, i dodatkowo jest kwalifikowane Cradle to Cradle co potwierdza, że jest kontrolowane na wszystkich etapach rozwoju.
Oszczędność energii
Ograniczenie zużycia energii w budynkach to klucz do powstrzymania zjawiska globalnego ocieplenia. Większość nowoczesnych biurowców zużywa więcej energii na chłodzenie niż na ogrzewanie. Efektywne zarządzanie energią słoneczną, która przenika przez przezroczyste części elewacji, to podstawowy sposób zapobiegania przegrzewaniu się budynków zarówno tych nowych, jak i starych. Nasze wydajne osłony przeciwsłoneczne przynoszą znaczne oszczędności energii, sprzyjając zarazem zdrowiu i dobremu samopoczuciu.
Odpowiedzialność społeczna biznesu
Nasza firma podjęła ważną proekologiczną inicjatywę Keen on Green, której celem jest ograniczenie zużycia energii i wody oraz zmniejszenie ogólnego śladu węglowego. Wdrożyliśmy normy ISO 14001, aby móc aktywnie realizować cele tej inicjatywy. Firma Hunter Douglas i jej pracownicy wspierają społeczności, wśród których żyjemy i pracujemy, oraz szeroko pojęte społeczności globalne. Biznes to ludzie. Szczycimy się naszą siecią doświadczonych, inteligentnych, zaangażowanych i kreatywnych pracowników, którzy świadomie wybrali firmę Hunter Douglas jako swojego pracodawcę.