Nazwa oddziału: Hunter Douglas Polska Sp. z o.o.
Dziękujemy za informacje. Wkrótce się z Tobą skontaktujemy.
Wystąpił problem przy próbie zapisu Twojej prośby, spróbuj ponownie.
Please accept the Privacy Agreement.
Imię, email, firma, telefon; konieczne jest wybranie lokalizacji i przynajmniej jednego produktu
XLts
Panele sufitowe Hunter Douglas Luxalon® XLts opierają się na technologii kompozytowej wywodzącej się z przemysłu lotniczego. Efektem zastosowania tej nowoczesnej technologii są niezwykle płaskie panele sufitowe. Lakierowane blachy aluminiowe są walcowane i łączone z aluminiową wkładką w postaci plastra miodu i aluminiowym profilem brzegowym.
Informacje ogólne
Dlaczego XLnt?

System sufitowy Hunter Douglas Luxalon® XLtsłączy w sobie najnowszą technologię z efektywnymi technikami produkcji, oraz niezwykle płaskimi i bardzo dużymi panelami sufitowymi o wysokiej jakości. Gładki i jednolity efekt uzyskany dzięki systemowi Luxalon® XLts daje projektantowi do dyspozycji system, który może spełnić nawet najbardziej wymagające kryteria.
Charakterystyka


Niezwykle płaskie i lekkie panele
System Hook-on z uchylnym panelem
Po obwodzie profil o szerokości 12,5 mm na wszystkich czterech bokach
Różne szerokości, od 600 do 1250 mm
Zmienna długość panelu- od 1000 do 2500 mm
Płaska powierzchnia, rozmiar panelu i niewielka ilość połączeń dają w rezultacie czystą i gładką formę .
Zastosowanie

Sufity Luxalon® XLts nadają się do obiektów, w których wymagane są płaskie, monolityczne powierzchnie. w tym służących do celów biznesowych, transportowych (porty lotnicze, metro, dworce autobusowe i kolejowe), handlowych, rekreacyjno-rozrywkowych, edukacyjnym i mieszkaniowych, a także do budynków użyteczności publicznej, hoteli i szpitali.

Skontaktuj się z nami, aby przedstawić swoje wymagania.
Wzornictwo i inspiracje
Systemy sufitowe Luxalon® XLnt sprawdzają się idealnie w wysokiej jakości projektach sufitów, w których podstawowym kryterium jest gładka i jednolita powierzchnia. Sufity Luxalon® XLts są wykorzystywane przez czołowych architektów w prestiżowych projektach na całym świecie.

Linia płaskich metalowych sufitów Hunter Douglas XLts jest dostępna w szerokiej gamie kolorów, które sprawdzą się w większości zastosowań. Więcej informacji na temat typów sufitów oraz specjalnych wykończeń i palet kolorystycznych, które są dostępne dla różnych projektów, można uzyskać w naszym dziale sprzedaży.
Charakterystyka materiału

Sufity Luxalon® XLts stosuje się zazwyczaj w pomieszczeniach, w których chce się uzyskać bardziej płaski i monolityczny wygląd. Duże panele w rozmiarze 1250 x 2500 mm tworzą gładką, nieprzerywaną płaszczyznę. Sufit na wąskie (12,5 mm) łączniki wokół każdego panelu. Panele montuje się na systemie hook-on z funkcją uchylną w obie strony. Każdy panel można otworzyć lub zdjąć w celu uzyskania dostępu do przyłączy i instalacji w przestrzeni technicznej.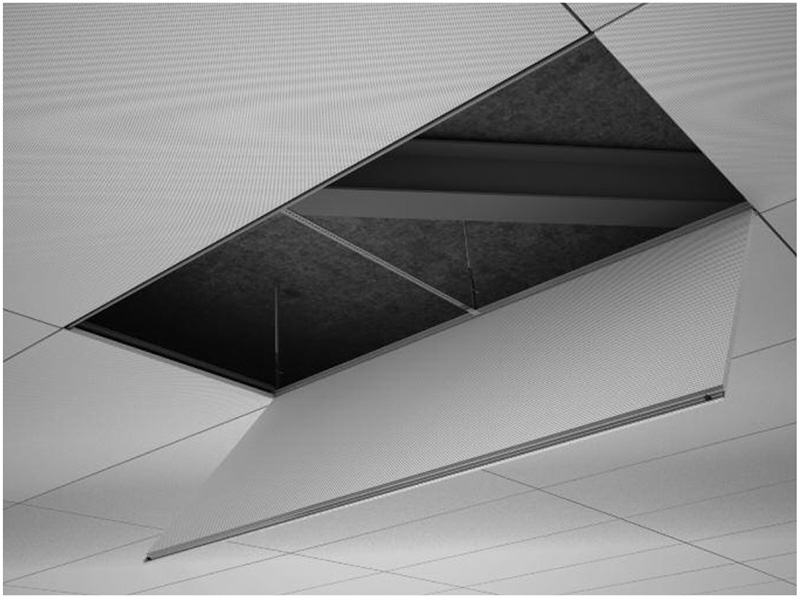 Dodatkowe informacje o produkcie
Więcej szczegółowych informacji można znaleźć poniżej w części
Pliki do pobrania
.
Właściwości akustyczne



Komfort akustyczny w biurze, szkole czy budynku użyteczności publicznej wpływa na nasze samopoczucie, a niski poziom komfortu akustycznego może negatywnie oddziaływać na zdrowie, komunikację, bezpieczeństwo, wydajność pracy i naukę. Dzięki swoim znakomitym parametrom sufity akustyczne Hunter Douglas stanowią optymalne rozwiązanie pod względem akustyki, komfortu i estetyki. System sufitowy Luxalon® XLnt pozwala osiągnąć wskaźnik pochłaniania dźwięku (αw) na poziomie 0,75 w zależności od konfiguracji sufitu i paneli.





Inne właściwości akustyczne
Więcej informacji na temat właściwości akustycznych można znaleźć poniżej w części
Pliki do pobrania
.
Zdrowie i dobre samopoczucie
Linia sufitów Hunter Douglas Architectural spełnia wymogi ekologicznego budownictwa poprzez estetyczne rozwiązania, które poprawiają komfort i pozwalają oszczędzać energię. Najważniejszą funkcją budynku jest niewątpliwie zapewnienie komfortu i dobrego samopoczucia osobom w nim przebywających. Nasze osłony przeciwsłoneczne utrzymują zdrowy poziom nasłonecznienia, eliminując negatywne skutki rażącego światła i dyskomfort termiczny. Nasze sufity akustyczne spełniają kluczową rolę w zapewnianiu komfortu akustycznego.
Ekologiczne materiały
Stosowanie ekologicznych materiałów to podstawowy warunek powstania zdrowego budynku. Nasza strategia zakłada wybór materiałów, posiadających dobre właściwości ekologiczne. Wiele produktów wykonujemy z aluminium wytapianego w naszych własnych piecach. Zoptymalizowaliśmy proces tak, by 99% materiału wykorzystywanego w naszych stopach nadawało się do odzysku. Nasze drewno posiada certyfikat FSC, i dodatkowo jest kwalifikowane Cradle to Cradle co potwierdza, że jest kontrolowane na wszystkich etapach rozwoju.
Oszczędność energii
Ograniczenie zużycia energii w budynkach to klucz do powstrzymania zjawiska globalnego ocieplenia. Większość nowoczesnych biurowców zużywa więcej energii na chłodzenie niż na ogrzewanie. Efektywne zarządzanie energią słoneczną, która przenika przez przezroczyste części elewacji, to podstawowy sposób zapobiegania przegrzewaniu się budynków zarówno tych nowych, jak i starych. Nasze wydajne osłony przeciwsłoneczne przynoszą znaczne oszczędności energii, sprzyjając zarazem zdrowiu i dobremu samopoczuciu.
Odpowiedzialność społeczna biznesu
Nasza firma podjęła ważną proekologiczną inicjatywę Keen on Green, której celem jest ograniczenie zużycia energii i wody oraz zmniejszenie ogólnego śladu węglowego. Wdrożyliśmy normy ISO 14001, aby móc aktywnie realizować cele tej inicjatywy. Firma Hunter Douglas i jej pracownicy wspierają społeczności, wśród których żyjemy i pracujemy, oraz szeroko pojęte społeczności globalne. Biznes to ludzie. Szczycimy się naszą siecią doświadczonych, inteligentnych, zaangażowanych i kreatywnych pracowników, którzy świadomie wybrali firmę Hunter Douglas jako swojego pracodawcę.