Nazwa oddziału: Hunter Douglas Polska Sp. z o.o.
Dziękujemy za informacje. Wkrótce się z Tobą skontaktujemy.
Wystąpił problem przy próbie zapisu Twojej prośby, spróbuj ponownie.
Please accept the Privacy Agreement.
Imię, email, firma, telefon; konieczne jest wybranie lokalizacji i przynajmniej jednego produktu
HeartFelt® Multipanel
Perfekcyjne pochłanianie dźwięku w połączeniu z wyjątkową estetyką i wrażeniami: HeartFelt® Multipanel to stylowy sufit modułowy, od którego nie można oderwać wzroku. Filc z natury posiada znakomite właściwości akustyczne. To powoduje, że sufit modułowy HeartFelt® znajduje zastosowanie w różnego rodzaju pomieszczeniach, które wymagają dobrego pochłaniania dźwięku.
Informacje ogólne
Dlaczego warto wybrać panele HeartFelt® Multipanel?

Panele sufitowe HeartFelt® Multipanel emanują ciepłem i we właściwy filcowi sposób pochłaniają dźwięk. HeartFelt® Multipanel daje niebywałą wolność w projektowaniu. Pozwala na pełną swobodę łączenia różnych szerokości i tworzenie zrównoważonego, modułowego systemu sufitowego, który jest przyjemny dla oka.
Charakterystyka


Znakomite właściwości akustyczne
Pięć przyjemnych odcieni szarości
Panele o wymiarach 30×60, 80×35, 130×35 i 180×35 mm
Panele w 100% nadają się do recyklingu lub ponownego użycia
Łatwe w utrzymaniu: odporne na kurz i zabrudzenia
Posiadają certyfikat Cradle to Cradle Certified™ Bronze (Cradle to Cradle Certified™ to certyfikat przyznawany przez organizację Cradle to Cradle Products Innovation Institute)
Zastosowanie

System HeartFelt® Multipanel nadaje się do zastosowania w wielu miejscach, np. w obiektach biurowych, sklepach, obiektach rekreacyjnych, obiektach użyteczności publicznej, hotelach i gastronomii, obiektach służby zdrowia i szkolnictwie.

Najlepiej skontaktować się z nami i określić swoje potrzeby.
Wzornictwo i inspiracje
System sufitowy HeartFelt® powstał z inspiracji filcem – intrygującym materiałem wykorzystywanym do produkcji odzieży, mebli i artykułów świata mody. Umożliwia architektom, dekoratorom wnętrz i doradcom technicznym wybór wysokiej jakości wzorów z naszej oferty produktów. To sufit, od którego nie da się oderwać wzroku: Coraz częściej wykorzystuje się różnorodne formy, materiały i kolory, co sprawia, że sufity mają jeszcze ciekawszy wygląd. HeartFelt® Multipanel w pełni odpowiada na tego rodzaju zapotrzebowanie.






Colours

Sufit HeartFelt® Multipanel dostępny jest w pięciu odcieniach szarości. O głębi uzyskanego odcienia decyduje stosunek białych i czarnych włókien w materiale podstawowym.


WHITE 7593
LIGHT GREY 7596
MIDDLE GREY 7597
DARK GREY 7598
BLACK 7594
Jeśli potrzebujesz innego koloru, skontaktuj się z nami.

* Mogą wystąpić niewielkie różnice w kolorze w stosunku do rzeczywistych wzorników.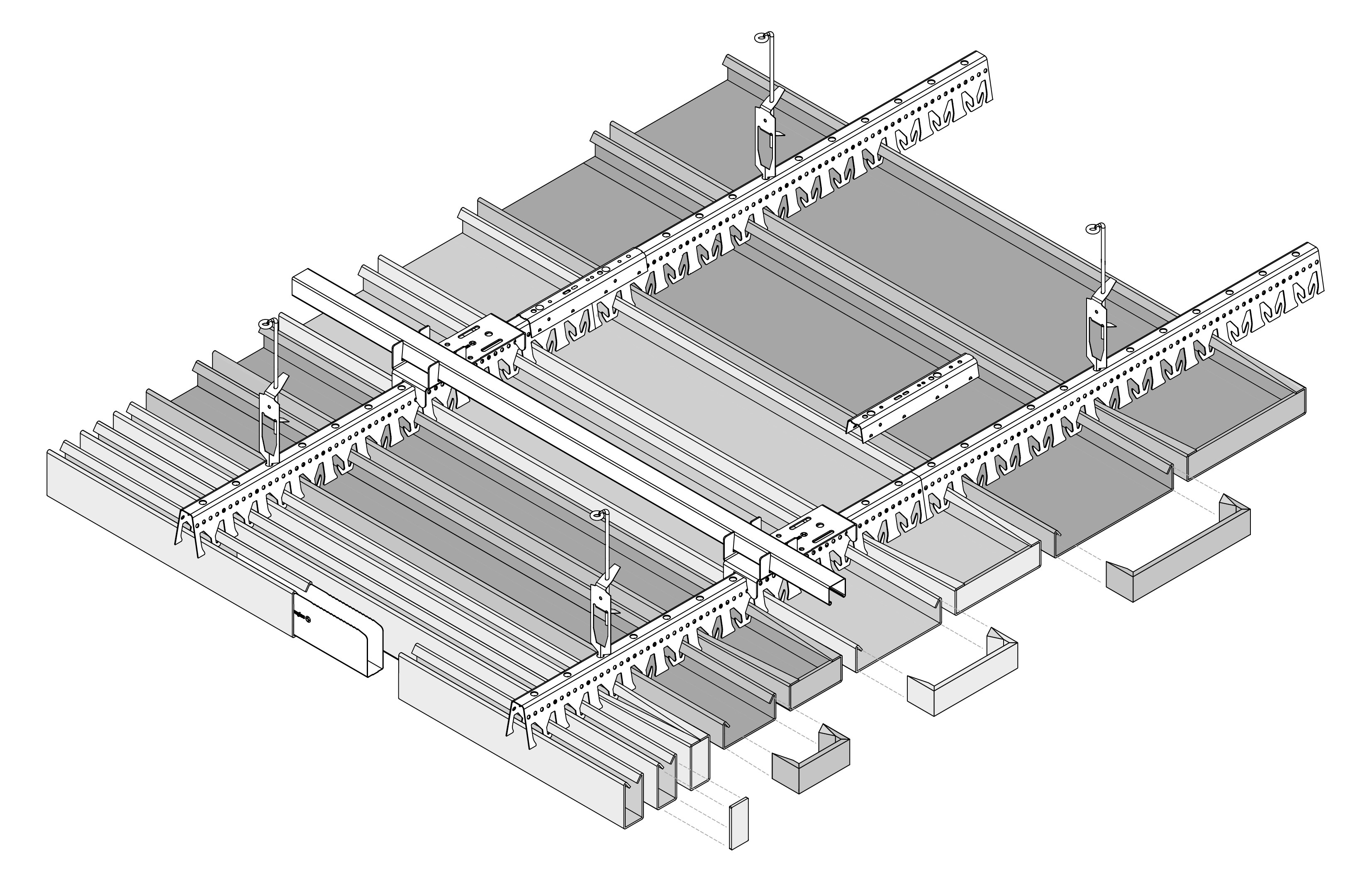 Cechy materiału

System HeartFelt® Multipanel powstaje z włókniny – formowanych termicznie włókien poliestrowych PES, z otwartymi fugami pomiędzy panelami. Wymiary paneli: 30×60, 80×35, 130×35 i 180×35 mm o maksymalnej długości 4000–6000 mm. Dostępne są moduły: 50–200 mm zależne od wielkości panelu.



Pozostałe informacje o produkcie

Więcej informacji znajduje się w zakładce "Pliki do pobrania", m.in.: maksymalne rozpiętości, wymiary i masy oraz zużycie materiału na m².


Akustyka

Komfort akustyczny w biurze, szkole lub budynku użyteczności publicznej ma duże znaczenie dla naszego samopoczucia. Zła akustyka może mieć konsekwencje dla zdrowia, komunikacji, bezpieczeństwa, wydajności i możliwości uczenia się. Wysokiej jakości produkty sufitowe firmy Hunter Douglas to najlepsze rozwiązanie dla uzyskania rewelacyjnej akustyki, komfortu i estetyki. Współczynnik pochłaniania dźwięku (αw) sufitu HeartFelt® Multipanel wynosi ok. 0,70.




Więcej na temat akustyki

Więcej informacji można znaleźć poniżej w dziale "Pliki do pobrania"