Nazwa oddziału: Hunter Douglas Polska Sp. z o.o.
Dziękujemy za informacje. Wkrótce się z Tobą skontaktujemy.
Wystąpił problem przy próbie zapisu Twojej prośby, spróbuj ponownie.
Please accept the Privacy Agreement.
Imię, email, firma, telefon; konieczne jest wybranie lokalizacji i przynajmniej jednego produktu
System sufitowy HeartFelt® Origami
HeartFelt® Origami stanowi rozszerzenie istniej?cej gamy filcowych systemów sufitowych HeartFelt®: jest to system, którego kszta?t i usztywnienie oparto na sztuce sk?adania papieru – origami.
Informacje ogólne
Dlaczego HeartFelt® Origami?

HeartFelt® Origami oferuje nie tylko wyjątkowe doznania estetyczne, ale cechuje się również znakomitymi właściwościami akustycznymi. Połączenie materiału i kształtu złożonych paneli origami nadaje każdemu pomieszczeniu wyjątkowy wygląd. Wpływa ponadto na zwiększoną sztywność i bardzo dobre walory akustyczne paneli filcowych.
Właściwości


Doskonała akustyka
Pięć odcieni szarości emanujących ciepłem
Projekt oparty na technice składania papieru – origami
W 100% nadaje się do recyklingu lub ponownego wykorzystania
Certyfikat Cradle to Cradle Certified™ Bronze (Cradle to Cradle Certified™ to znak certyfikacyjny licencjonowany przez organizację Cradle to Cradle Products Innovation Institute)
Łatwa konserwacja: odporność na brud i kurz
Zastosowanie

System HeartFelt®Origami nadaje się do zastosowania w wielu miejscach, np. biurach, sklepach, obiektach rekreacyjnych, w pomieszczeniach użyteczności publicznej, hotelach i gastronomii, służbie zdrowia, szkolnictwie i mieszkalnictwie.
Wzornictwo i inspiracje
HeartFelt® Origami to bardzo praktyczna metoda usztywniania materiału bez potrzeby dodawania innych materiałów lub produktów. Dzięki temu HeartFelt® Origami może odegrać istotną rolę w dążeniu do zrównoważonego budownictwa o obiegu zamkniętym. Jednocześnie ostateczny kształt uzyskany z połączenia pól trójkątów wpływa pozytywnie na właściwości dźwiękochłonne.

Odcienie szaro?ci

HeartFelt® Origami dost?pny jest w pi?ciu odcieniach szaro?ci. O uzyskanym odcieniu szaro?ci decyduje stosunek bia?ych i czarnych w?ókien w podstawowym materiale.




WHITE 7593
LIGHT GREY 7596
MIDDLE GREY 7597
DARK GREY 7598
BLACK 7594

* Mog? wyst?pi? niewielkie ró?nice w kolorze w stosunku do rzeczywistych wzorników.


W?a?ciwo?ci materia?u

HeartFelt® Origami to nieliniowy system sufitowy tworzony z nietkanych, formowanych termicznie w?ókien poliestrowych PES. Dost?pnych jest pi?? ró?nych rozmiarów, co pozwala na swobod? wyboru kszta?tu lub po??czenia kszta?tów najlepiej pasuj?cych do pomieszczenia.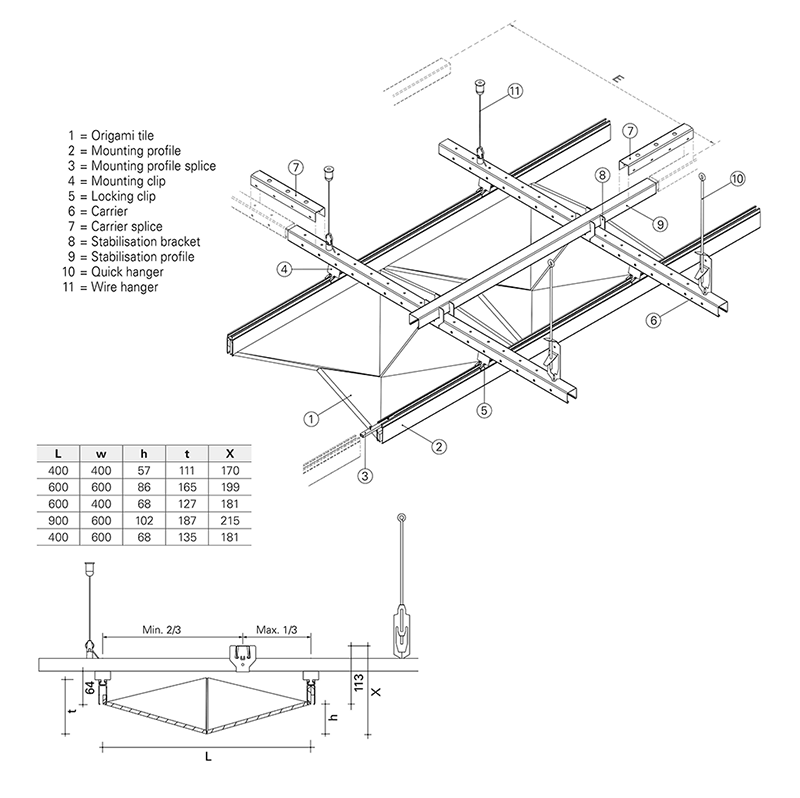 Pozosta?e dane produktu

Wi?cej informacji w dziale "Do pobrania", m.in.: maksymalne rozpi?to?ci, wymiary i ci??ar oraz zapotrzebowanie materia?u na m².


Akustyka

Komfort akustyczny w przestrzeni biurowej, szkole czy budynku użyteczności publicznej przyczynia się do naszego dobrego samopoczucia, ponieważ słaba akustyka może mieć wpływ na zdrowie, komunikację, bezpieczeństwo, produktywność i naukę. Wysokowydajne sufity akustyczne Hunter Douglas to najlepsze rozwiązanie zapewniające wyjątkową wydajność akustyczną, komfort i estetyczny wygląd. Wartości absorpcji (αw) sufitu HeartFelt® mieszczą się między 0,75 a 0,80.



Więcej na ten temat

Bardziej szczegółowe informacje są dostępne w sekcji pobierania


Zdrowie i dobre samopoczucie
Linia sufitów Hunter Douglas Architectural spełnia wymogi ekologicznego budownictwa poprzez estetyczne rozwiązania, które poprawiają komfort i pozwalają oszczędzać energię. Najważniejszą funkcją budynku jest niewątpliwie zapewnienie komfortu i dobrego samopoczucia osobom w nim przebywających. Nasze osłony przeciwsłoneczne utrzymują zdrowy poziom nasłonecznienia, eliminując negatywne skutki rażącego światła i dyskomfort termiczny. Nasze sufity akustyczne spełniają kluczową rolę w zapewnianiu komfortu akustycznego.
Ekologiczne materia?y
Stosowanie ekologicznych materiałów to podstawowy warunek powstania zdrowego budynku. Nasza strategia zakłada wybór materiałów, posiadających dobre właściwości ekologiczne. Wiele produktów wykonujemy z aluminium wytapianego w naszych własnych piecach. Zoptymalizowaliśmy proces tak, by 99% materiału wykorzystywanego w naszych stopach nadawało się do odzysku. Nasze drewno posiada certyfikat FSC, i dodatkowo jest kwalifikowane Cradle to Cradle co potwierdza, że jest kontrolowane na wszystkich etapach rozwoju.
Oszcz?dno?? energii
Ograniczenie zużycia energii w budynkach to klucz do powstrzymania zjawiska globalnego ocieplenia. Większość nowoczesnych biurowców zużywa więcej energii na chłodzenie niż na ogrzewanie. Efektywne zarządzanie energią słoneczną, która przenika przez przezroczyste części elewacji, to podstawowy sposób zapobiegania przegrzewaniu się budynków zarówno tych nowych, jak i starych. Nasze wydajne osłony przeciwsłoneczne przynoszą znaczne oszczędności energii, sprzyjając zarazem zdrowiu i dobremu samopoczuciu.
Odpowiedzialno?? spo?eczna biznesu
Nasza firma podjęła ważną proekologiczną inicjatywę Keen on Green, której celem jest ograniczenie zużycia energii i wody oraz zmniejszenie ogólnego śladu węglowego. Wdrożyliśmy normy ISO 14001, aby móc aktywnie realizować cele tej inicjatywy. Firma Hunter Douglas i jej pracownicy wspierają społeczności, wśród których żyjemy i pracujemy, oraz szeroko pojęte społeczności globalne. Biznes to ludzie. Szczycimy się naszą siecią doświadczonych, inteligentnych, zaangażowanych i kreatywnych pracowników, którzy świadomie wybrali firmę Hunter Douglas jako swojego pracodawcę.