QC50 QuadroClad® Honeycomb
Nazwa oddziału: Hunter Douglas Polska Sp. z o.o.
Dziękujemy za informacje. Wkrótce się z Tobą skontaktujemy.
Wystąpił problem przy próbie zapisu Twojej prośby, spróbuj ponownie.
Please accept the Privacy Agreement.
Imię, email, firma, telefon; konieczne jest wybranie lokalizacji i przynajmniej jednego produktu
QC50 | QUADROCLAD®
System elewacyjny QuadroClad® to niepowtarzalna okładzina z otwartymi złączami oparta na technologii elewacji wentylowanej. Lekkie powłoki są osadzone na rdzeniu aluminiowym o strukturze plastra miodu, który zapewnia panelom niezwykłą wytrzymałość i pozwala uzyskać bardzo płaską powierzchnię. Panele QuadroClad® zostały zaprojektowane tak, aby uzyskać niezwykły wygląd i znakomitą funkcjonalność, ich elementy spisują się bez zarzutu nawet w najbardziej wymagających warunkach i zostały przetestowane przez niezależnych ekspertów pod kątem odporności na korozję, ognioodporności i wytrzymałości na działanie wiatru.
Informacje ogólne
Dlaczego QC50?

Panel QuadroClad® QC50, nasz BASIC panel, to wysokiej jakości produkt, który można zamontować na niemal każdej powierzchni budynku. Może być stosowany wewnątrz i na zewnątrz, montowany pionowo lub poziomo. QC50 jest dostępny w wielu naturalnych materiałach, jest lekki i łatwy w montażu. QC50 to coś więcej niż tylko blacha o strukturze plastrów miodu, to wytrzymała, "szyta" na miarę kaseta wykonana z dwóch złożonych warstw aluminium z wklejonym do środka rdzeniem o strukturze plastra miodu. Taki proces produkcyjny pozwala nam zaoferować panele niemal każdej grubości.
Charakterystyka


Różna grubość paneli
Możliwość zastosowania wielu naturalnych materiałów
Do zastosowań zewnętrznych i do wnętrz (ściany, sufity)
Wysokiej jakości panel zaprojektowany do montażu w pionie lub w poziomie
Łatwy do zamocowania i odpowiedni do montażu na lekkiej konstrukcji nośnej.
Zastosowanie


Elewacje i okładziny zewnętrzne
Dachy samonośne
Budynki o kształcie kopułowym
Ściany wewnętrzne, sufity i balkony
Sufity zewnętrzne
Remonty istniejących budynków
Materiał, wykończenia i powierzchnie


O charakterze budynków decyduje ich forma i projekt. Są często wynikiem wizji architekta. Misją firmy Hunter Douglas jest pomaganie projektantom w urzeczywistnieniu tej wizji przez dostarczenie palety kolorów, materiałów i wykończeń powierzchni, które zainspirują ich wyobraźnię

Zaprojektowany po to, by dać architektowi rozwiązanie na każdą ewentualność. Panele elewacyjne QuadroClad® mogą znaleźć zastosowanie w wielu różnych projektach.



Wybierz
Optymalne zastosowanie
QC50 Standard
QC100 Easy
QC200 Ultimate
QC300 Complete
QC500 Infinity
Sufity zewnętrzne
Budynki kopułowe
Remonty
Dachy samonośne
Ustawienie ukośne
Wnętrza


QC50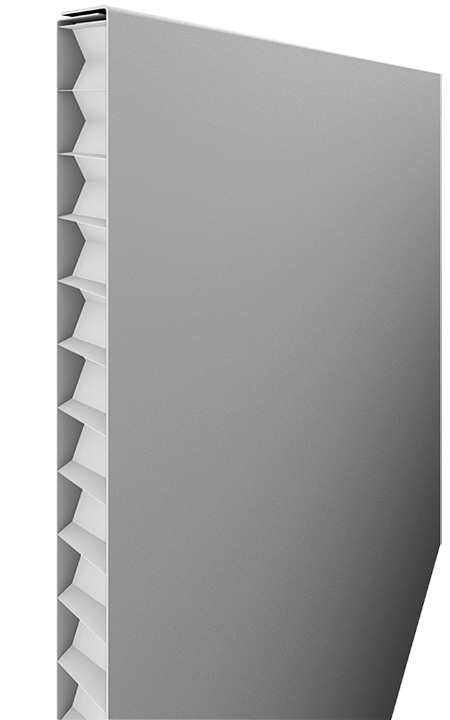 Dodatkowe informacje o produkcie

Więcej szczegółowych informacji można znaleźć poniżej w części Pliki do pobrania.


Zdrowie i dobre samopoczucie
Hunter Douglas spełnia wymogi ekologicznego budownictwa poprzez estetyczne rozwiązania, które poprawiają komfort i pozwalają oszczędzać energię. Najważniejszą funkcją budynku jest niewątpliwie zapewnienie komfortu i dobrego samopoczucia osobom w nim przebywających. Nasze osłony przeciwsłoneczne utrzymują zdrowy poziom nasłonecznienia, eliminując negatywne skutki rażącego światła i dyskomfort termiczny. Nasze sufity akustyczne spełniają kluczową rolę w zapewnianiu komfortu akustycznego.
Ekologiczne materiały
Stosowanie ekologicznych materiałów to podstawowy warunek powstania zdrowego budynku. Nasza strategia zakłada wybór materiałów, posiadających dobre właściwości ekologiczne. Wiele produktów wykonujemy z aluminium wytapianego w naszych własnych piecach. Zoptymalizowaliśmy proces tak, by 99% materiału wykorzystywanego w naszych stopach nadawało się do odzysku. Nasze drewno posiada certyfikat FSC, i dodatkowo jest kwalifikowane Cradle to Cradle co potwierdza, że jest kontrolowane na wszystkich etapach rozwoju.
Oszczędność energii
Ograniczenie zużycia energii w budynkach to klucz do powstrzymania zjawiska globalnego ocieplenia. Większość nowoczesnych biurowców zużywa więcej energii na chłodzenie niż na ogrzewanie. Efektywne zarządzanie energią słoneczną, która przenika przez przezroczyste części elewacji, to podstawowy sposób zapobiegania przegrzewaniu się budynków zarówno tych nowych, jak i starych. Nasze wydajne osłony przeciwsłoneczne przynoszą znaczne oszczędności energii, sprzyjając zarazem zdrowiu i dobremu samopoczuciu.
Odpowiedzialność społeczna biznesu
Nasza firma podjęła ważną proekologiczną inicjatywę Keen on Green, której celem jest ograniczenie zużycia energii i wody oraz zmniejszenie ogólnego śladu węglowego. Wdrożyliśmy normy ISO 14001, aby móc aktywnie realizować cele tej inicjatywy. Firma Hunter Douglas i jej pracownicy wspierają społeczności, wśród których żyjemy i pracujemy, oraz szeroko pojęte społeczności globalne. Biznes to ludzie. Szczycimy się naszą siecią doświadczonych, inteligentnych, zaangażowanych i kreatywnych pracowników, którzy świadomie wybrali firmę Hunter Douglas jako swojego pracodawcę.