HeartFelt® Baffle Ceiling System
Name der Abteilung: Hunter Douglas Switzerland
Herzlichen Dank für Ihre Angaben. Wir werden uns in Kürze bei Ihnen melden.
Es gab ein Problem bei der Speicherung Ihrer Anfrage. Bitte versuchen Sie es erneut.
Please accept the Privacy Agreement.
1. Name, E-Mail-Adresse, Firma, Telefonnummer, Anschrift und mindestens eine Produktauswahl wird benötigt.
HeartFelt®-Lamellendeckensystem
Nach der erfolgreichen Markteinführung der preisgekrönten HeartFelt®-Decken haben Hunter Douglas dieses innovative Produkt weiterentwickelt und das vielseitige Filzlamellen-Deckensystem konzipiert.
Allgemeine Informationen
Warum das HeartFelt®-Lamellendeckensystem?

Lamellendecken sind ideal für die Senkung der Lärmbelastung und Reduktion von hallenden Geräuschen in den meisten Gebäuden. Sie dienen zur Verbesserung der Akustik in Konzertsälen, Theatern, Konferenzräumen und anderen Bereichen, in denen gute Klangeigenschaften wichtig sind. Das Filzmaterial verwandelt jede Decke in ein optisches und akustisches Gestaltungselement. Wie die bewährten Decken und Wände bestehen die HeartFelt®-Lamellendecken aus thermogeformten PES-Vliesfasern und entsprechen FR-Grad B-S1, d0. Die einzelnen Paneele haben eine Breite von 40 bis 80 mm und sind in Höhen von 100 bis 500 mm erhältlich; die maximale Länge beträgt 2000 mm.
Eigenschaften


Hervorragende akustische Eigenschaften
In fünf Grautönen von Weiß bis Schwarz erhältlich
Einfache Montage, geringes Beschädigungsrisiko
100 % recycelbar bzw. problemlos wiederverwendbar
Cradle to Cradle Certified™ Bronze (Cradle to Cradle Certified™ is a certification mark licensed by the Cradle to Cradle Products Innovation Institute).
Pflegeleicht, da schmutz- und staubabweisend
Anwendung

Das HeartFelt®-Lamellendeckensystem eignet sich für fast jede Art von Gebäuden und Räumlichkeiten: Firmengebäude, Einzelhandel, Freizeiteinrichtungen, öffentliche Räumlichkeiten, Hotels und Gaststätten, Gesundheitswesen, Bildungseinrichtungen oder Wohngebäude.

Bitte setzen Sie sich mit uns in Verbindung, um Ihre individuellen Anforderungen zu besprechen.
Design und Inspiration
Filz ist ein faszinierendes Material, das für Kleidung, Möbel und Mode verwendet wird. Das HeartFelt®-Deckensystem bietet Architekten, Planern und Gestaltern vielseitige Gestaltungsmöglichkeiten mit hochwertigen Produkten.
HeartFelt®-Lamellen sind ein innovatives, technisch ausgereiftes System, um die gewünschte Atmosphäre zu schaffen und die akustischen Eigenschaften präzise zu steuern.


Farben

HeartFelt®-Lamellen sind in fünf Grautönen erhältlich. Der genaue Farbton der Paneele richtet sich nach dem Verhältnis der weißen und schwarzen Fasern im Ausgangsmaterial.
Grautöne

WHITE 7593
LIGHT GREY 7596
MIDDLE GREY 7597
DARK GREY 7598
BLACK 7594
Farbkarte herunterladen
Materialeigenschaften

HeartFelt®-Paneele bestehen aus thermogeformten PES-Vliesfasern. Die Paneele haben eine Breite von 40 bis 80 mm, eine Höhe von 100 bis 500 mm und eine Länge von maximal 2000 mm.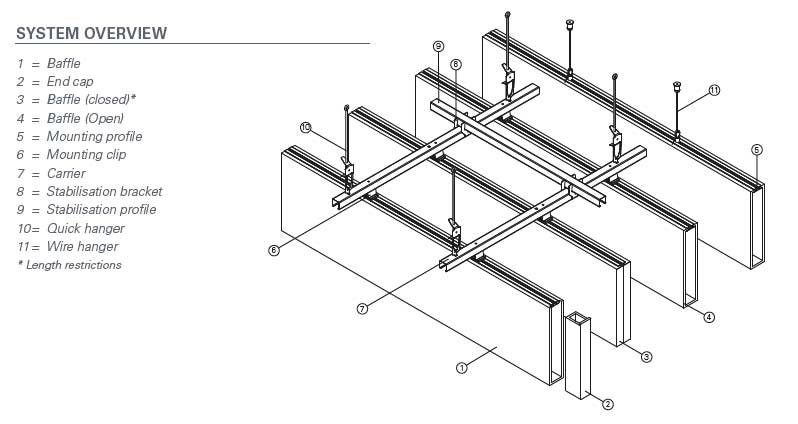 Weitere Angaben zum Produkt

Weitere detaillierte Informationen beispielsweise zu Maximallängen, Abmessungen und Gewichten, Materialbedarf pro m² etc. finden Sie unter downloads, unten.


Über die Akustik

Akustische Behaglichkeit in Büroräumen, Schulen oder öffentlichen Gebäuden trägt zu unserem Wohlbefinden bei. Eine schlechte Akustik kann negative Auswirkungen auf Gesundheit, Kommunikation, Sicherheit, Produktivität und Lernverhalten haben. Hochleistungsfähige Akustikdecken von Hunter Douglas sind die beste Lösung für eine hervorragende akustische Performance, Komfort und eine ästhetisch ansprechende Umgebung. Mit dem HeartFelt®-Lamellendeckensystem können Absorptionswerte (αw) zwischen 0,45 und 0,70 erreicht werden.




Weitere Informationen über die Akustik

Weitere Informationen über die Akustik finden Sie unter downloads, unten.


Gesundheit und Wohlbefinden
Das Decken-Portfolio von Hunter Douglas Architectural leistet einen Beitrag zur nachhaltigen Bauweise: hochästhetische Lösungen, die Energie sparen und Ihren Komfort optimieren. Die wohl wichtigste Funktion eines jeden Gebäudes ist es, die Gesundheit und das Wohlbefinden seiner Bewohner zu fördern. Unsere Beschattungslösungen lassen gesundes Tageslicht herein, verhindern jedoch Blendeffekte und Temperaturspitzen. Unsere Akustik-Decken sind ein Kernelement bei der Schaffung einer komfortablen Geräuschumgebung.
Nachhaltige Materialien
Umweltgerechte Materialien sind der Schlüssel zu einer nachhaltigen Bauweise. Unser Grundsatz ist es, von Beginn an nur Materialien mit umweltfreundlichen Eigenschaften zu verwenden. Viele unserer Produkte bestehen aus Aluminium, das in unseren hauseigenen Schmelzöfen hergestellt wurde. Wir haben unsere Prozesse so weit optimiert, dass wir bis zu 99 % recycelte Inhaltsstoffe verwenden und genau die passende Legierung für unsere Produkte herstellen können. Unser Holz ist FSC-zertifiziert, und bei unserer Produktentwicklung befolgen wir das "Cradle to Cradle"-Prinzip ("von der Wiege zur Wiege").
Energieeinsparungen
Um die globale Erwärmung wirksam zu bekämpfen, muss der Energieverbrauch im Gebäudebereich nachhaltig gesenkt werden. Die meisten modernen Bürogebäude verbrauchen mehr Energie für die Kühlung bzw. Klimatisierung als für das Heizen. Eine höchst erfolgreiche Strategie zur Vermeidung übermäßig hoher Temperaturen in Alt- und Neubauten: Sonnenenergie, die durch transparente Fassadenkomponenten eines Gebäudes in dessen Innenbereich gelangt, wird effizient weitergeleitet. Unsere überlegenen Beschattungslösungen ermöglichen deutliche Energieeinsparungen und fördern gleichzeitig Gesundheit und Wohlbefinden.
Soziale Verantwortung
"Keen on Green" ist unsere unternehmensweite Initiative zur Verringerung des Energie- und Wasserverbrauches sowie zur Verbesserung unserer allgemeinen Kohlendioxyd-Bilanz. Wir befolgen die ISO-14001-Grundsätze, um unsere unsere "Keen on Green"-Zielsetzungen aktiv umzusetzen. Hunter Douglas und seine Beschäftigten leisten einen aktiven Beitrag zur Unterstützung der Gemeinden, in denen wir leben und arbeiten – doch wir engagieren uns auch auf globaler Ebene. Ein Unternehmen besteht aus Menschen. Wir sind stolz auf unser weltweites Netzwerk an erfahrenen, intelligenten, passionierten und kreativen Mitarbeitern, die Hunter Douglas bewusst als ihren Arbeitgeber ausgewählt haben.
| Name | Download |
| --- | --- |
| Health and hygiene properties HeartFelt Ceilings & Walls | PDF |
| HeartFelt Baffles System Data | DOCX |
| Material Safety Data Sheet HeartFelt Ceiling & Wall System | PDF |
| Sound absorption performance HeartFelt Baffle Ceiling | PDF |
| Technical leaflet HeartFelt Baffles | PDF |
| Technical specifications Heartfelt Baffle ceiling | DOC |
| Name | Download |
| --- | --- |
| C2C Bronze certificate | PDF |
| C2C Bronze certificate | PDF |
| C2C Material Health certificate | PDF |
| C2C Material Health certificate | PDF |
| Indoor Air Comfort Gold/ VOC emission | PDF |
| Indoor Air Comfort Gold/ VOC emission | PDF |
| Oekotex Standard 100 certificate | PDF |
| Oekotex Standard 100 certificate | PDF |
| REACH declaration | DOCX |
| REACH declaration | DOCX |
| SundaHus certificate | PDF |
| SundaHus certificate | PDF |
| VOC class A+ declaration | PDF |
| VOC class A+ declaration | PDF |