Name der Abteilung: Hunter Douglas Switzerland
Herzlichen Dank für Ihre Angaben. Wir werden uns in Kürze bei Ihnen melden.
Es gab ein Problem bei der Speicherung Ihrer Anfrage. Bitte versuchen Sie es erneut.
Please accept the Privacy Agreement.
1. Name, E-Mail-Adresse, Firma, Telefonnummer, Anschrift und mindestens eine Produktauswahl wird benötigt.
HeartFelt® Origami Curve-Deckensystem
HeartFelt® Origami: ein Deckensystem, dessen Form und Verstärkung auf Origami-Falttechniken basieren. Die Origami-Curve-Filzpaneele nehmen bei der Montage durch Faltlinien und Einschnitte ihre endgültige Form und ihr Muster an.
Allgemeine Informationen
Warum HeartFelt® Origami?

HeartFelt® Origami bietet nicht nur ein einzigartiges ästhetisches Erscheinungsbild, sondern auch eine hervorragende akustische Leistung. Das Deckensystem HeartFelt Origami Curve verleiht Innenräumen einen weichen und raffinierten Touch. Diese eleganten Paneele tragen nicht nur zu einer warmen und einladenden Atmosphäre bei, sondern zeichnen sich auch durch eine hervorragende natürliche Schallabsorption aus, die auf die typischen Eigenschaften von Filz zurückzuführen ist.
Eigenschaften


Hervorragende akustische Leistung
Fünf verschiedene warme Grautöne für eine angenehme Atmosphäre
Basierend auf der Origami-Falttechnik
100 % recyclingfähig oder leicht wiederverwendbar
Cradle to Cradle Certified™ in Bronze (Cradle to Cradle Certified™ ist ein vom Cradle to Cradle Products Innovation Institute lizenziertes Zertifizierungszeichen).
Pflegeleicht: schmutz- und staubabweisend
Anwendung

HeartFelt®Origami eignet sich für viele Bereiche, zum Beispiel: Unternehmen, Geschäftslokale, Freizeiträumlichkeiten, öffentliche Räume, Gastgewerbe, Gesundheitswesen, Bildungseinrichtungen und Wohnräume.
Kontaktieren Sie uns und teilen Sie uns Ihre spezifischen Anforderungen mit.
Design und Inspiration
HeartFelt® Origami ist eine sehr praktische Methode, um das Material steif zu machen, ohne dass weiteres Material oder andere Produkte hinzugefügt werden müssen. Dadurch kann HeartFelt® Origami eine wichtige Rolle beim Wunsch und Streben nach nachhaltigen und dem Prinzip der Kreislaufwirtschaft entsprechenden Baumethoden spielen. Gleichzeitig bietet die endgültige Form eines spielerischen Dreiecksfelds eine starke schallabsorbierende Leistung

Grautöne

HeartFelt® Origami ist in fünf Grautönen erhältlich. Der exakte Farbton der Paneelen wird vom Verhältnis weißer und schwarzer Fasern im Grundmaterial bestimmt.




WHITE 7593
LIGHT GREY 7596
MIDDLE GREY 7597
DARK GREY 7598
BLACK 7594

* Es kann leichte Abweichungen von den tatsächlichen Farben geben.


Materialeigenschaften

HeartFelt® Origami ist ein nichtlineares Deckensystem aus thermogeformten PES-Vliesfasern. Origami Curve ist in zwei Varianten erhältlich, beide mit einer Kassettengröße von 600 x 600 mm. S-Curve ist symmetrisch gekrümmt, während A-Curve asymmetrisch gekrümmt ist. Das Aufhängungssystem ist für alle Origami-Formen identisch und bietet Ihnen die Möglichkeit, die verschiedenen Varianten einfach zu kombinieren.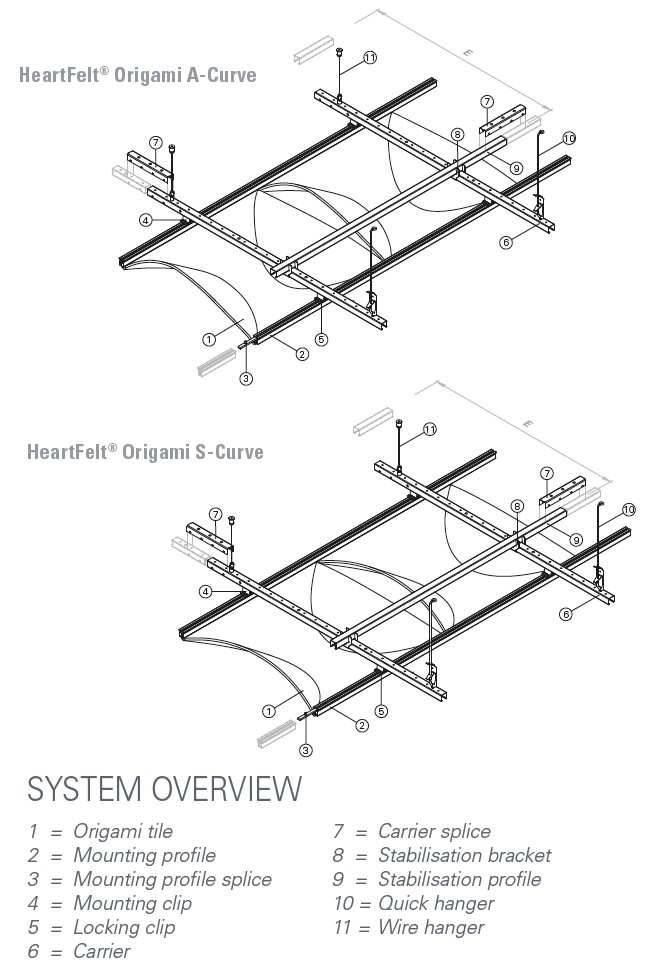 Weitere Produktdaten

Detaillierte Informationen finden Sie im Downloadbereich, darunter Angaben zu: Maximal-Spannweiten, Abmessungen und Gewicht sowie Materialbedarf pro m².

Akustische Informationen

Eine angenehme Akustik ist in Büroräumen, Schulen und öffentlichen Gebäuden wichtig für unser Wohlbefinden. Eine schlechte Akustik kann sich auf die Gesundheit, Kommunikation, Sicherheit, Produktivität und die Lernleistungen auswirken. Die hochwertigen akustischen Deckenprodukte von Hunter Douglas sind die beste Lösung für hervorragende akustische Leistung, Komfort und Ästhetik. Die Absorptionswerte (αw) der HeartFelt®-Decke liegen zwischen 0,75 und 0,80.



Weitere Informationen zur Akustik

Umfassendere Informationen finden Sie weiter unten unter Downloads.


Gesundheit und Wohlbefinden
Das Decken-Portfolio von Hunter Douglas Architectural leistet einen Beitrag zur nachhaltigen Bauweise: hochästhetische Lösungen, die Energie sparen und Ihren Komfort optimieren. Die wohl wichtigste Funktion eines jeden Gebäudes ist es, die Gesundheit und das Wohlbefinden seiner Bewohner zu fördern. Unsere Beschattungslösungen lassen gesundes Tageslicht herein, verhindern jedoch Blendeffekte und Temperaturspitzen. Unsere Akustik-Decken sind ein Kernelement bei der Schaffung einer komfortablen Geräuschumgebung.
Nachhaltige Materialien
Umweltgerechte Materialien sind der Schlüssel zu einer nachhaltigen Bauweise. Unser Grundsatz ist es, von Beginn an nur Materialien mit umweltfreundlichen Eigenschaften zu verwenden. Viele unserer Produkte bestehen aus Aluminium, das in unseren hauseigenen Schmelzöfen hergestellt wurde. Wir haben unsere Prozesse so weit optimiert, dass wir bis zu 99 % recycelte Inhaltsstoffe verwenden und genau die passende Legierung für unsere Produkte herstellen können. Unser Holz ist FSC-zertifiziert, und bei unserer Produktentwicklung befolgen wir das "Cradle to Cradle"-Prinzip ("von der Wiege zur Wiege").
Energieeinsparungen
Um die globale Erwärmung wirksam zu bekämpfen, muss der Energieverbrauch im Gebäudebereich nachhaltig gesenkt werden. Die meisten modernen Bürogebäude verbrauchen mehr Energie für die Kühlung bzw. Klimatisierung als für das Heizen. Eine höchst erfolgreiche Strategie zur Vermeidung übermäßig hoher Temperaturen in Alt- und Neubauten: Sonnenenergie, die durch transparente Fassadenkomponenten eines Gebäudes in dessen Innenbereich gelangt, wird effizient weitergeleitet. Unsere überlegenen Beschattungslösungen ermöglichen deutliche Energieeinsparungen und fördern gleichzeitig Gesundheit und Wohlbefinden.
Soziale Verantwortung
"Keen on Green" ist unternehmensweite Initiative zur Verringerung des Energie- und Wasserverbrauches sowie zur Verbesserung unserer allgemeinen Kohlendioxyd-Bilanz. Wir befolgen die ISO-14001-Grundsätze, um unsere unsere "Keen on Green"-Zielsetzungen aktiv umzusetzen. Hunter Douglas und seine Beschäftigten leisten einen aktiven Beitrag zur Unterstützung der Gemeinden, in denen wir leben und arbeiten – doch wir engagieren uns auch auf globaler Ebene. Ein Unternehmen besteht aus Menschen. Wir sind stolz auf unser weltweites Netzwerk an erfahrenen, intelligenten, passionierten und kreativen Mitarbeitern, die Hunter Douglas bewusst als ihren Arbeitgeber ausgewählt haben.