Name der Abteilung: Hunter Douglas Architektur-Systeme
Internet: www.hd-as.de
Adresse: Erich-Ollenhauer-Str. 7 Düsseldorf D-40595 Deutschland
Telefonnummer: (+49) 0800 - 88 000 03
Fax: (+49) 0211 - 97 086 20
Kontakt: Kontakt
Name der Abteilung: Herr Marco Moryson
Objektberater Nord- und Ostdeutchland
Internet: www.hd-as.de
Adresse: Deutschland
Telefonnummer: 0172 - 81 51 802
Fax: 0211 - 970 86 20
Kontakt: Kontakt
Name der Abteilung: Herr Jörg Wöllner
Objektberater Süddeutschland
Internet: www.hd-as.de
Adresse: Deutschland
Telefonnummer: 0172-2905229.
Fax: +49 (0)211 9708620
Kontakt: Kontakt
Herzlichen Dank für Ihre Angaben. Wir werden uns in Kürze bei Ihnen melden.
Es gab ein Problem bei der Speicherung Ihrer Anfrage. Bitte versuchen Sie es erneut.
Please accept the Privacy Agreement.
1. Name, E-Mail-Adresse, Firma, Telefonnummer, Anschrift und mindestens eine Produktauswahl wird benötigt.
COMBI-LINE – TRÄGERSYSTEM FÜR KREATIVE DECKENDESIGNS
Das neue innovative System Combi-Line ist ein revolutionäres, neues Deckenkonzept, das Architekten erlaubt, drei unterschiedliche Paneelarten in einem Design zu vereinen. Paneele aus Holz, Metall sowie textile HeartFelt®-Paneele können nun alle in unterschiedlichen Modulationen in einer Decke integriert werden.
Allgemeine Informationen
What is Combi-Line

Combi-Line features a unique carrier rail system that is fitted with a variety of clips that are designed to support a combination of linear metal, wood and HeartFelt® fabric panels. This enables three different ceiling panel styles to be fitted onto a single carrier in any order and in any modulation.
Eigenschaften


Combi-Line ermöglicht eine Mischung aus Hunter-Douglas-Paneelen aus Metall, Holz und HeartFelt®.
Einfacher Zugang zum Zwischendeckenbereich für Wartungsarbeiten, da die Paneele einzeln demontiert werden können.
Designer haben die Möglichkeit, ein einzigartiges Muster mit mehr als einer Deckenpaneelart zu kreieren.
Combi-Line ist mit den linearen Paneelen HeartFelt 30HL60, Metall 30 BD/BXD und Furnierholz 30WL60 verfügbar.
Anwendung

Combi-Line eignet sich für den Einsatz in allen denkbaren Gebäuden und Nutzräumen: Firmengebäude, Beförderungsgebäude (Flughäfen, Bahnhöfe für U-Bahn, Bus oder Eisenbahn), Einzelhandel, Freizeiteinrichtungen, öffentliche Räumlichkeiten, Hotels und Gaststätten, Gesundheitswesen, Wohnflächen oder Bildungseinrichtungen.
Bitte setzen Sie sich mit uns in Verbindung, um Ihre Anforderungen mit uns zu besprechen.
Design und Inspiration
Die Combi-Line wurde ursprünglich 2015 als Trägersystem speziell für ein Großprojekt entworfen, bei dem das Forschungs- und Entwicklungsteam von Hunter Douglas Architectural gemeinsam mit den Projektplanern ein Trägersystem mit Klammern ausarbeitete. Auf diese Weise konnten die Deckenpaneele mit beliebigen Mustern und breiten Abständen installiert werden, um den Zwischendeckenbereich freizulegen. Dabei erkannten die Teams von Hunter Douglas das große Potenzial dieses Trägersystems und beschlossen, es weiterzuentwickeln – und unser neues Trägersystem Combi-Line war geboren.
Farben und Oberflächenausführungen
Vier Farbkombinationen, die vier ganz unterschiedlichen Stilrichtungen entsprechen, vermitteln jeweils eine ganz individuelle Atmosphäre. Die vergleichsweise große Farb- und Materialauswahl hat einen guten Grund. Schließlich wollen wir Architekten inspirieren und Raum für Kreativität lassen. Jede Stilgruppe umfasst eine Auswahl von Materialien, die eine besondere Stimmung hervorrufen und sich für ganz individuelle Anwendungszwecke anbieten. Die grenzenlosen Möglichkeiten unserer Combi-Line eröffnen Ihnen bei der Planung Ihrer Decke noch nie da gewesene gestalterische Freiheiten.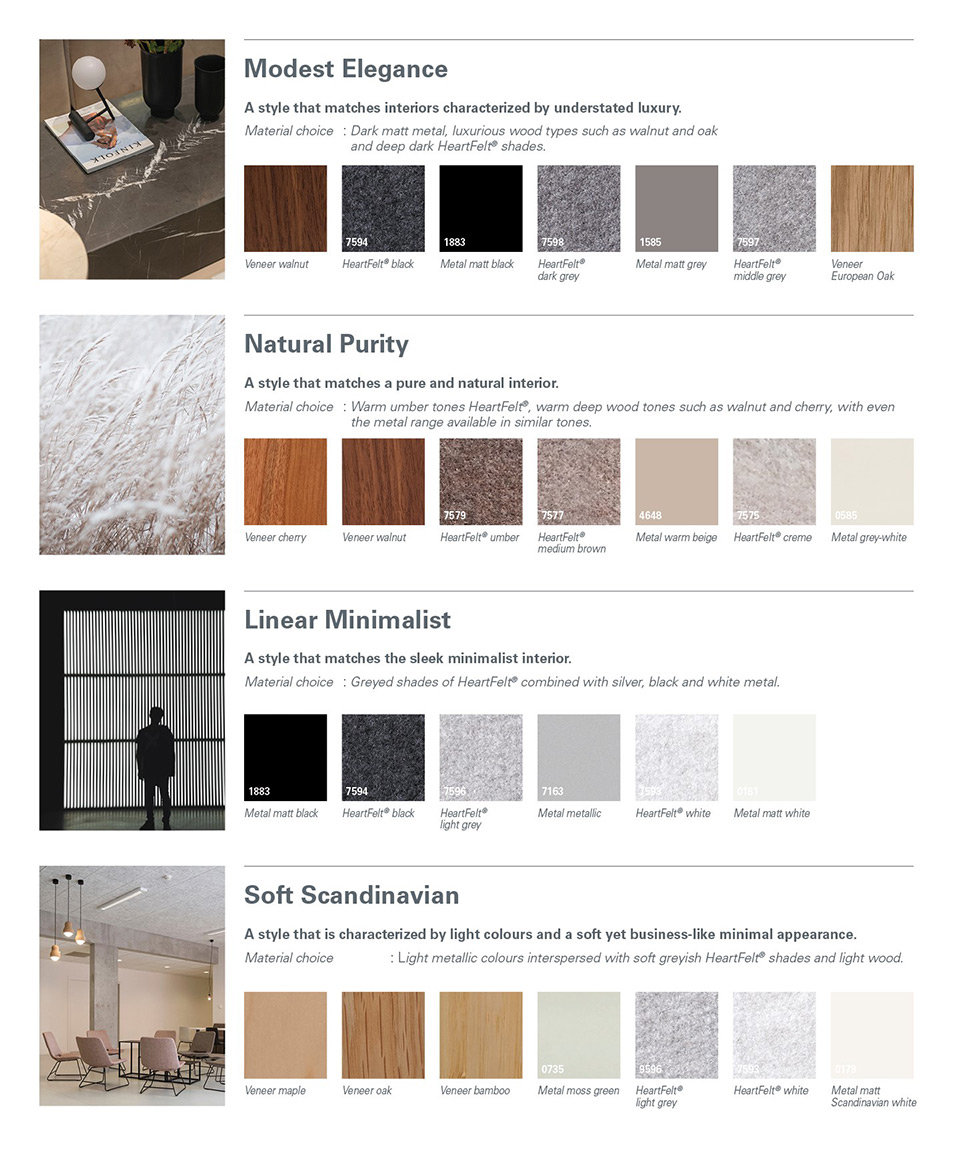 Materialeigenschaften

Das neue Combi-Line-Trägersystem umfasst ein Schienensystem mit Klammern, an denen sowohl Metall- und Holzgitter- als auch HeartFelt-Paneele gleichzeitig angebracht werden können. Dies bietet Architekten zahlreiche Gestaltungsmöglichkeiten, z. B. beliebige Muster mit linearen Unterbrechungen und offenen Flächen im Gitter, kombiniert mit ständerfreier Modulation. Damit haben Designer die Möglichkeit, Deckenpaneele aus unterschiedlichsten Materialien beliebig zu kombinieren. Combi-Line ist mit den linearen Paneelen HeartFelt 30HL60, Metall 30 BD/BXD und Furnierholz 30WL60 verfügbar.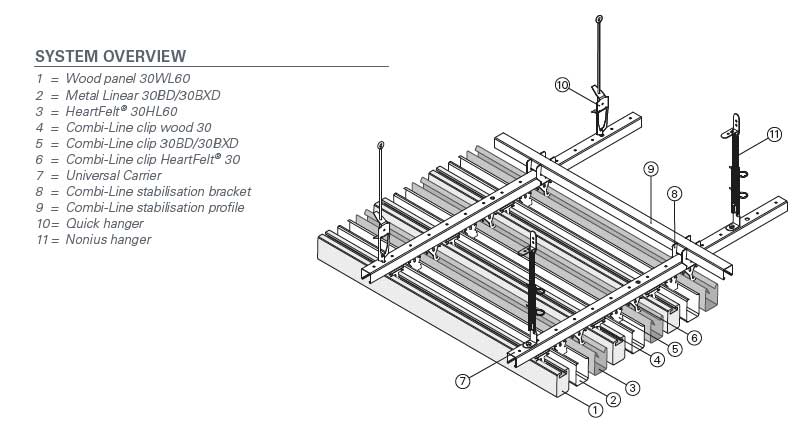 ---
Zusätzliche Produktdetails
Weitere detaillierte Informationen beispielsweise zu Maximallängen, Abmessungen und Gewichten, Materialbedarf pro m² etc. finden Sie unten im Downloadbereich.
Akustik
Die Akustik in Büroräumen, Schulen oder öffentlichen Gebäuden trägt erheblich zum Wohlbefinden bei. Eine schlechte Akustik kann negative Auswirkungen auf Gesundheit, Kommunikation, Sicherheit, Produktivität und Lernverhalten haben. Hochleistungsfähige Akustikdecken von Hunter Douglas sind die beste Lösung für eine hervorragende akustische Performance, Komfort und eine ästhetisch ansprechende Umgebung. Je nach Decken- und Paneelkonfiguration können mit dem Combi-Line-Deckensystem Absorptionswerte (αw) bis zu 0,70 erreicht werden.
---
Zusätzliche Informationen zur Akustik
Weitere Informationen zur Akustik finden Sie unten im Downloadbereich.