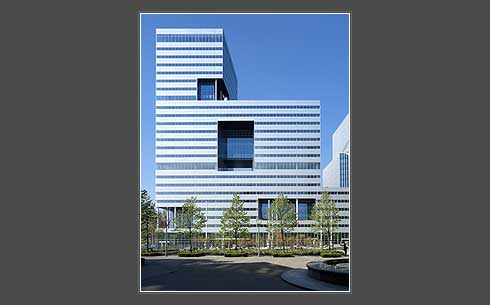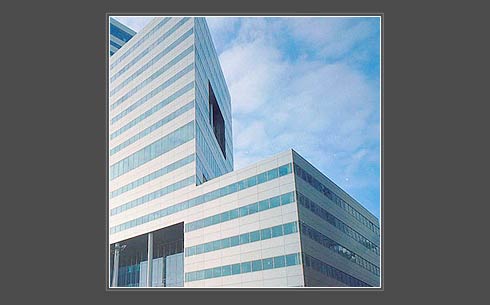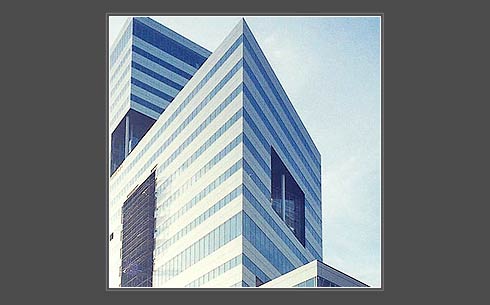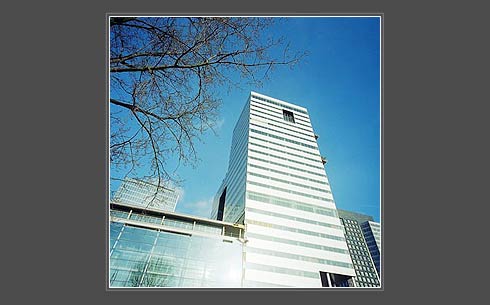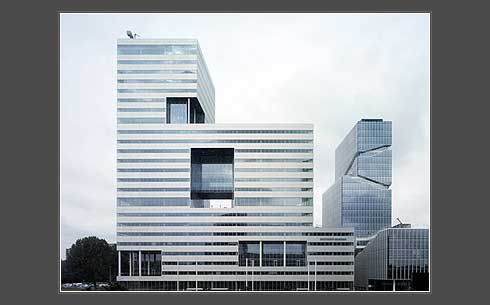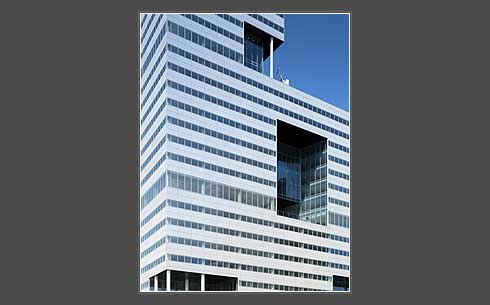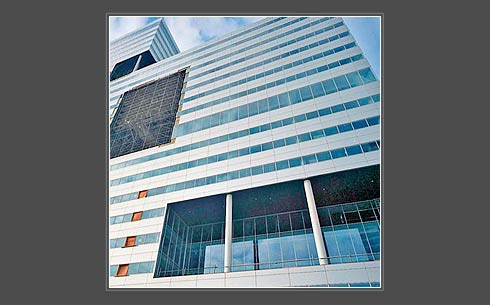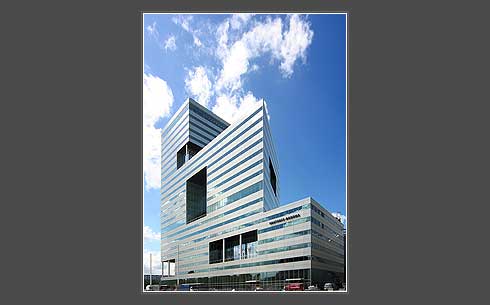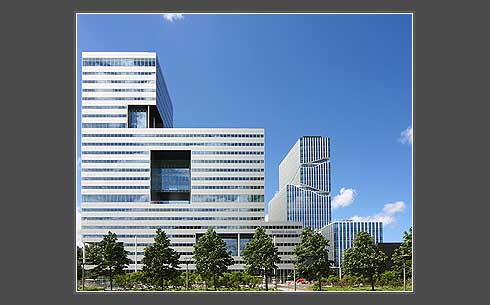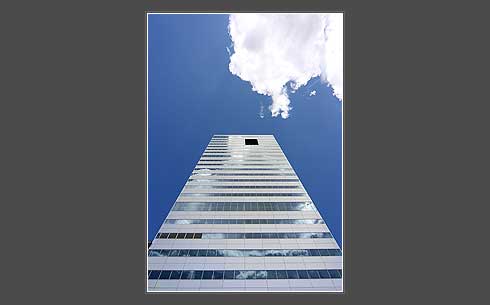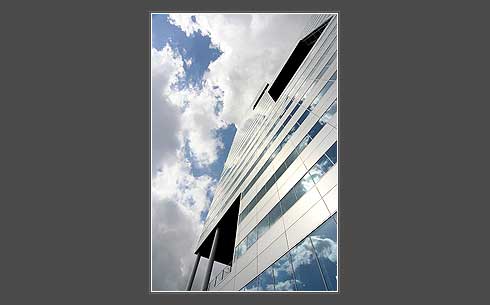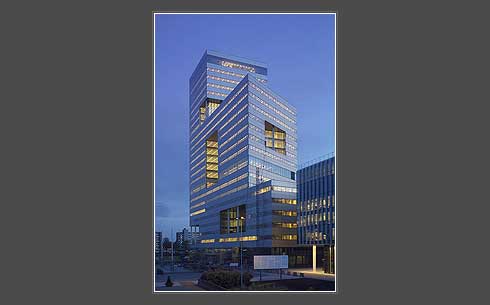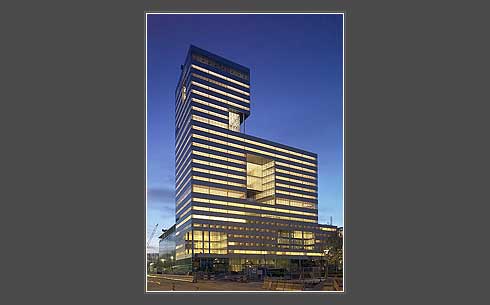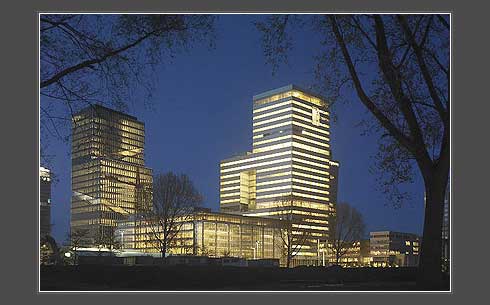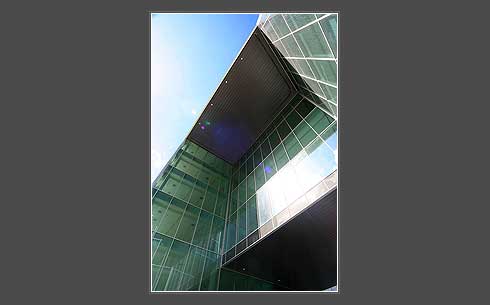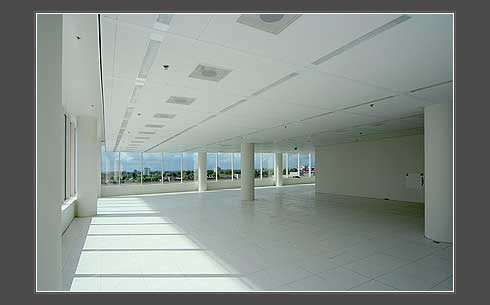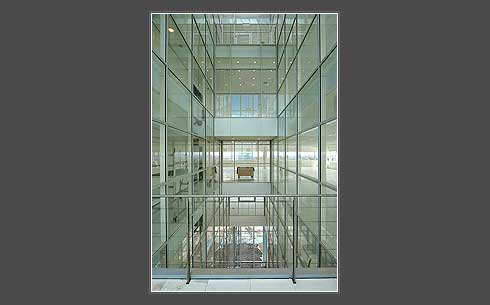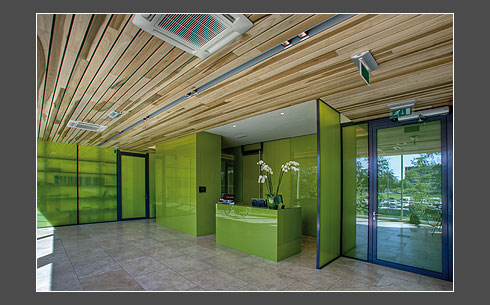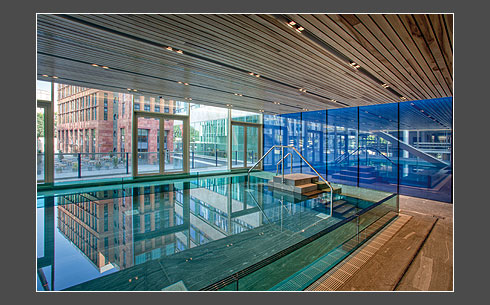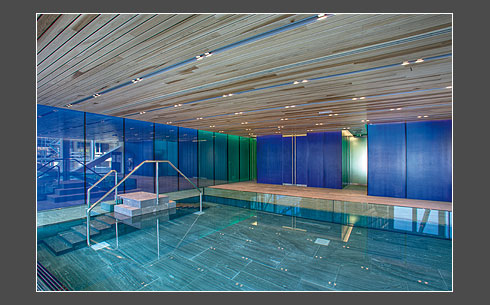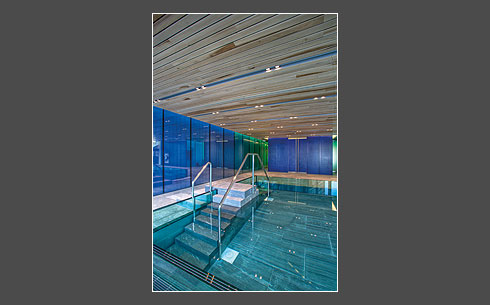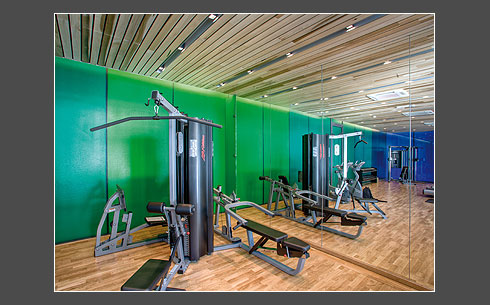 Mahler 4
Location:
Amsterdam, Nederland
Architect/Specifier:
Toyo Ito & Associates, Tokyo
Architects Toyo Ito and Associates used building regulations and client requirements to shape a novel new design for a high rise outside Amsterdam.

Requirements in the master plan of the Mahler 4 development dictated a setback of three different heights with a depth of 31.5 meters. By filling this volume completely, the architects could have created a floor area nearly 10,000 square meters larger than their clients actually required.

Rather than merely shrinking the envelope of the 100-meter-high building as needed, however, the Toyo Ito team defined an exterior design of three stacked blocks that fully utilized the available envelope. They then subtracted as needed by incorporating "void spaces" into the structure.

Some of these void spaces (holes) pass vertically through the building, creating daylight wells that penetrate deep into the interiors. Other holes punch horizontally through the building, adding a dramatic interruption of the exterior shape. Each void was individually designed with its own complement of plants and water features that enhance the visual interest.

To emphasize the breaks created by the voids, the architects designed a rhythmic striped pattern across the entire façade, comprising layers of glazing spaced with layers of QuadroClad panels by Hunter Douglas. Lightweight and ultra-flat, the honeycomb structure of the QuadroClad panels offered the durability and design flexibility builders needed to complete the structure.

The result is an engaging office tower that adds true diversity to the urban landscape, a principle Toyo Ito himself values highly. DesignBoom recently asked the architect what he worries about the most. He replied: "The thing that worries me the most is that everyone wears the same things, eats the same things, lives in the same environments. This is what worries me the most."
Division Name: Hunter Douglas Architectural United Kingdom
Address: Suite 2 - Newton House - Northampton Science Park Kings Park Road - Moulton Park Industrial Estate Northampton NN3 6LG United Kingdom
Phone Number: +44 (0)1604 648229
Fax: +44 1604 212863
Contact Us: Contact Us
Division Name: Guthrie Douglas Window Covering
Address: Heathcote Industrial Estate 12 Heathcote Way Warwick United Kingdom
Phone Number: +44(0)1926 310850
Fax:
Contact Us: Contact Us
Division Name: NBK United Kingdom
Web: nbkterracotta.com/
Address: Cattermole Buildings Codnor Derbyshire DE5 9QA United Kingdom
Phone Number: +44 (0) 1773 512 363
Fax:
Contact Us: Contact Us
Thank you for your information. We will be in touch with you shortly.
There was an issue saving your request, please try again.
Please accept the Privacy Agreement.
Name, email, company, phone, location and at least one product selection are required.