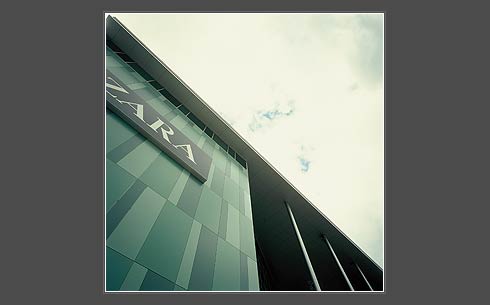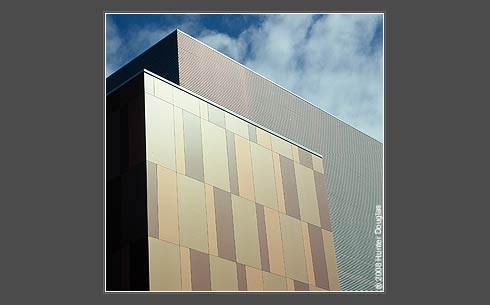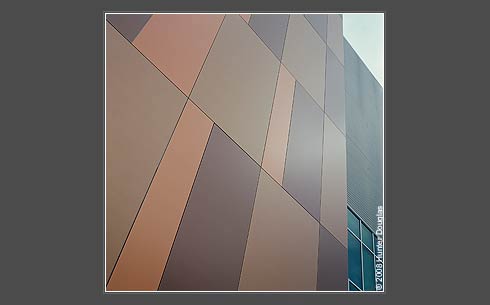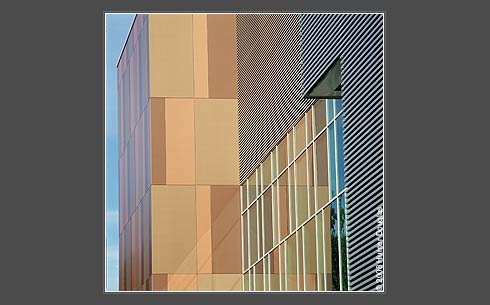 Avenue Mall
Location:
Zagreb, Hrvatska
Architect/Specifier:
Laguarda.Low Architects - Dallas, TX
A long-overlooked capital city when it came to architecture and real estate investment, Novi Zagreb - literally, New Zagreb - has been urbanizing at a tremendous rate in the last few years. The area, just south of the Sava river, until recently was best known for its big blocks of Socialist housing, built from 1945 to as recently as the late 1980s. Today, however, even though it still doesn't hold quite the prestige that downtown Zagreb does, New Zagreb offers good roads and abundant parklands that are attracting developers and corporations to its east and west districts.

An example of the social and economic growth now sweeping through the capital of Croatia is the Avenue Mall, with its colorful mosaic facade of Hunter-Douglas QuadroClad metal panels. The vibrant, contemporary complex houses 130 shops, a nine-screen multiplex movie theater with 1,800 seats, and a vast food court with more than 500 seats. Above, nine floors totaling 8,500 square meters of Class A office space ensure a built-in stream of customers to the retail spaces below.

Two symbolic aspects of the development are important to understanding its architectural solution. First, it was meant to defer to New Zagreb's scale and original urban designs, which were envisaged and executed by Veceslav Holjevac, the city's mayor from 1952 until 1963. (In fact, the developers planned to hold the building's ribbon-cutting on Holjevac's birthday.) Second, as the first major mall across the Sava river, its design had to visibly entice shoppers from the ritzier precincts of downtown.

Seizing on these two ideas, the real estate developer Globe Trade Centre Croatia engaged the Dallas, Texas-based architecture firm, Laguarda.Low Architects, to use their retail savvy and a bit of Croatian history to lure shoppers across the Sava. "The initial idea was to try not to create a massive building," commented architect Tim Shippey, explaining that the building's complex massing resulted from "breaking up the structure" of the mall into several
Division Name: Hunter Douglas Architectural United Kingdom
Address: Suite 2 - Newton House - Northampton Science Park Kings Park Road - Moulton Park Industrial Estate Northampton NN3 6LG United Kingdom
Phone Number: +44 (0)1604 648229
Fax: +44 1604 212863
Contact Us: Contact Us
Division Name: Guthrie Douglas Window Covering
Address: Heathcote Industrial Estate 12 Heathcote Way Warwick United Kingdom
Phone Number: +44(0)1926 310850
Contact Us: Contact Us
Division Name: NBK United Kingdom
Web: nbkterracotta.com/
Address: Cattermole Buildings Codnor Derbyshire DE5 9QA United Kingdom
Phone Number: +44 (0) 1773 512 363
Contact Us: Contact Us
Thank you for your information. We will be in touch with you shortly.
There was an issue saving your request, please try again.
Please accept the Privacy Agreement.
Name, email, company, phone, location and at least one product selection are required.