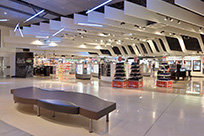 A calm, yet engaging experience
HunterDouglas® ceilings are the ideal solution for spaces that are occupied by many travellers at once. There are endless design options for metal, wood and textile ceilings thanks to a wide range of systems, colours and finishes.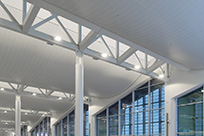 Acoustics and aesthetics in one
For travellers, airports and train stations are more than just a place for getting from A to B. The actual experience of being in such a building is becoming increasingly important. In response to this, Hunter Douglas has developed ceiling solutions that combine acoustics and aesthetics to ensure that all guests have a pleasant stay.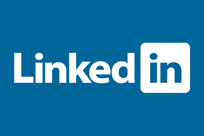 Keep track of Hunter Douglas Architectural
Follow us on LinkedIn to be able to keep in track of our product and company news. You'll find information about our innovations, events, video's and latest updates as well as inspiring pictures. You just have to click the "Follow us" button to stay connected to our activity.