Division Name: Hunter Douglas C.I.S.
Web: www.hunterdouglas.ru
Address: Nizhnyaya Syromyatnicheskaya St 11/1 2nd floor, room 12 Moscow 105120 Pоссийская Федерация
Phone Number: +7 495 132 7332
Fax: +7 495 132 7342
Contact Us: Contact Us
Thank you for your information. We will be in touch with you shortly.
There was an issue saving your request, please try again.
Please accept the Privacy Agreement.
Name, email, company, phone, location and at least one product selection are required.
VIEW THROUGH FABRICS
Numerous studies have shown that people value contact with the outdoors. Recent studies on the influence of daylight in offices show that this may well be the single most important factor influencing wellbeing and productivity. View through or transparency of a shading solution is therefore important.
View through fabrics
View Through


Obviously, the best view of the outdoors is achieved without any shading. With the right optical characteristics, shading fabrics can be remarkably transparent. The best perceived transparency is achieved by fabrics that are dark on the inside, have a high openness and consist of opaque or metallised yarns.
Optical characteristics


For a screen to appear transparent, the openness needs to be sufficiently high. At the same time, the fabric itself must not appear too bright. The reduced brightness of the exterior scene effectively competes with the brightness of the screen itself. If the screen itself is too bright, it will wash out the view of exterior scene.
EN 14501


In the European norm EN 14501 the ability to view through a shading is classified on a scale of 0 to 4, where 0 indicates very little effect and 4 indicates a very good effect. EN 14501 relates the capacity of a solar protection device to allow a view of the outdoors to its direct and diffuse transmittance.
Best fabrics for a view of the outdoors
Panama Pro 10% dark 117117 pearl pearl, 118108 black grey, 118118 black black, 118117 black-pearl
Panama Pro 5 117117 Pearl-Pearl, 118118 black-black, 118117 black-pearl, 118633 black-cocoa
Greenscreen Eco 5, 8: 1887
Star 7 dusk, gold
A closer look at transparency

For a shading to appear transparent, it needs openness and it must not be too bright itself. The brightness of the screen itself is determined by both the amount of light reflected by the screen on the inside and the amount of outside light diffused by the yarns. For the best view through, both factors need to be low. This is best achieved by dark fabrics that can be (but need not be) metallised on the outside.






The European norm EN 14501 provides a practical framework that relates direct and diffuse transmittance of screen fabrics to their ability to control glare. Direct refers to light that passes the blind unaltered. Diffuse refers to light that is scattered in all directions by the yarns of the fabric.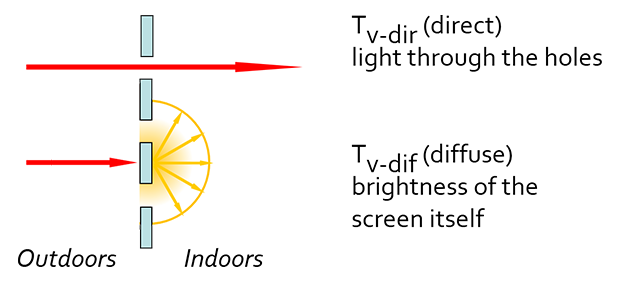 According to EN 14501, the best transparency is achieved by fabrics having an openness higher than 10% and a diffuse transmittance less than 4%. These are fabrics consisting of dark yarns.





In most practical situations a balance between view through and glare control is required. Glare control is normally more important. Therefore, fabrics having an openness between 2% and 5% and a diffuse transmittance less than 2 to 4%, will provide both good glare control and an adequate view of the outdoors. The more regular the weave, the more transparent the blind appears.