Nom de la division: Hunter Douglas Produits Architecturaux France
Web: www.hunterdouglas.fr
Adresse: 3 Avenue des Marronniers Bonneuil Cedex F-94380 France
Numéro de téléphone: +33 1 43399100
Fax: +33 1 4339 1451
Nous contacter: Nous contacter
Nom de la division: Espace Voiles
Web: www.espacevoiles.com
Adresse: 4 Impasse Marius Berliet ZA La Bilias Deniaud Vigneux De Bretagne 44360 France
Numéro de téléphone: 02 28 01 08 80
Fax: 02 28 01 08 81
Merci. Nous prendrons rapidement contact avec vous.
Votre demande n'a pas pu être enregistrée, veuillez réessayer.
Please accept the Privacy Agreement.
Name, email, company, phone, location and at least one product selection are required.
Metal Ceiling Tiles
Classic design combined with infinite possibilities. Simple and cost-effective commercial metal ceiling systems. Lay-In/Lay-On metal ceilings tiles offer classic ceiling solutions, featuring different sizes and edge options, and compatibility with standard features. This is a simple and economical way to add metal ceilings to a project.
General Information
Why Tiles


The key feature of this system is the ease of installation. The benefit of these metal ceiling tiles is no tools or fasteners
required and easy access to plenum space.
Characteristics


Lay-In & Lay-on Tiles are designed to be installed in conventional T-Grid systems
Tiles are standard available in steel (0.5mm), other materials are available on request
Ideal for situations where regular access is required
Easy cleaning and maintenance of the tiles
Optimal acoustic control by using perforated panels with an acoustical inlay bonded to the inside of the panels
Full adaptability of the system allowing easy repositioning of tiles, services and lighting
Application

TMetal ceiling tiles are suitable for all building sectors: C orporate, Transport (airports, metro-, bus -, train stations), Retail, Leisure, Public space, Hospitality, Healthcare or Education.

Please contact us to dicuss your requirements.
Design & Inspiration
Tile ceilings feature a square design of the panels. When one needs a robust ceiling this is the perfect choice. Different
depths of the recesses can create subtle patterns that provide the perfect look for your project.

Hunter Douglas offers a wide choice of colours and finishes. Some colours and finishes carry a premium price over manufacturer's
standard colours. Custom colour matching is a vailable upon request. Please consult Hunter Douglas for minimum quantities and lead times on specific orders.
Material characteristics

Tile ceilings are available with different recesses, from flush to 16mm depth, offering the option to play with the ceiling plane or to create a smooth appearance. Adaptor panels shall be locked onto the edge trim profile.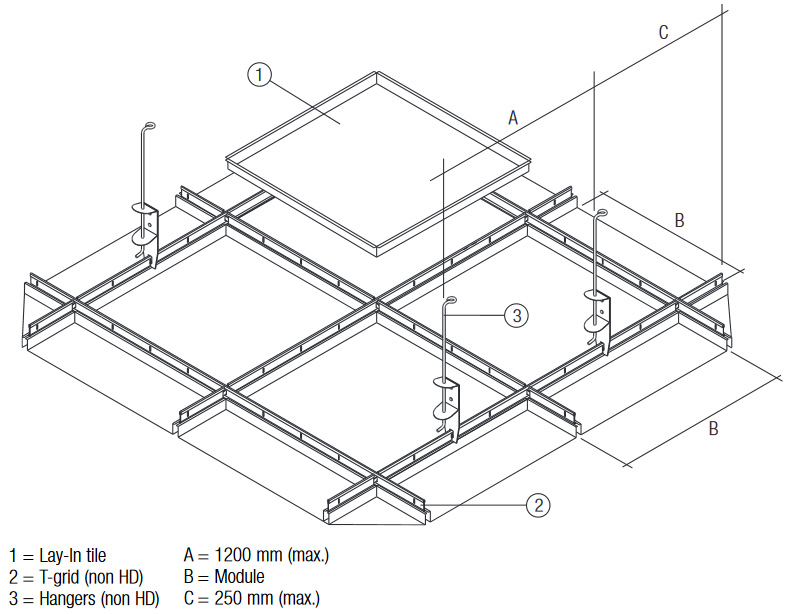 CONSTRUCTION DETAILS
*Depth of reveal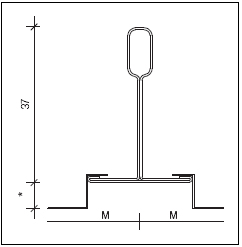 Lay-in Tiles 15/8; 15mm Grid
8 mm Reveal
Module
in mm
Gauge
Steel
Alu
600 x 600
0.5-0.6
0.5-0.6-0.7
625 x 625
0.5-0.6
0.5-0.6-0.7


Lay-in Tiles 24/0; 24 mm Grid
0 mm Reveal
Module
in mm
Gauge
Steel
Alu
600 x 600
0.5-0.6
0.5-0.6-0.7


Lay-in Tiles 24/8; 24 mm Grid
8 mm Reveal
Module
in mm
Gauge
Steel
Alu
600 x 600
0.5-0.6
0.5-0.6-0.7


Lay-in Tiles 24/16; 24 mm Grid
16 mm Reveal
Module
in mm
Gauge
Steel
Alu
600 x 600
0.5-0.6
0.5-0.6-0.7


Lay-on Tiles 12/24; 15 mm or 24 mm Grid
Module
in mm
Gauge
Steel
Alu
600 x 600
0.5-0.6
0.5-0.6-0.7


MATERIAL REQUIREMENT PER M2
| | | | |
| --- | --- | --- | --- |
| Components | Unit | 600 x 600 | 625 x 625 |
| Tiles | pcs | 2.78 | 2.56 |
| Grid Profile | m | 3.34 | 3.20 |
| Suspension | pcs | 0.69 | 0.64 |


EDGE PROFILES

| | | |
| --- | --- | --- |
| Wall L-profile alu (29.2 x 19.4) | Wall L-profile Fe/alu (45 x 18.5) | Wall W-profile Fe/alu (45 x 21 x 21 18.5) |

FIRE BEHAVIOUR

All Tile Ceiling systems have earned a high reaction to fire classification according to EN 13501-1, in official fire tests at Efectis, Bleiswijk - an independent Dutch fire research institute
Performance acoustique

Le confort acoustique dans un espace de bureau, votre école ou bâtiment public contribue à notre bien-être confort acoustique. Un confort acoustique pauvre peut affecter la santé, la communication,la sécurité, la productivité et l'apprentissage. Les plafonds acoustiqueshaute performance Hunter Douglas sont la meilleure solution pour fournir un confort acoustique optimal et un aspect esthétique. Avec ce système , une valeur d'absorption (αw) de 0,75 peut être obtenue, selon le plafond et la configuration des bacs


Plus d'informations sur l'acoustique
Vous trouverez plus d'informations acoustiques dans la section des téléchargements ci-dessous.
| Description | ID | Téléchargements |
| --- | --- | --- |
| Metal Interior Ceiling Tiles Clip-in 2D | C-i-TileClipin-2D | DWG PDF |
| Metal Interior Ceiling Tiles Lay-on T15 2D | C-i-TileLayonT15-2D | DWG PDF |
| Metal Interior Ceiling Tiles Lay-in T15/8 2D | C-i-TileLayinT15-8-2D | DWG PDF |
| Metal Interior Ceiling Tiles Lay-in T24/0 2D | C-i-TileLayinT24-0-2D | DWG PDF |
| Metal Interior Ceiling Tiles Lay-in T24/16 2D | C-i-TileLayinT24-16-2D | DWG PDF |
| Metal Interior Ceiling Tiles Lay-in T24/8 2D | C-i-TileLayinT24-8-2D | DWG PDF |
| Metal Interior Ceiling Tiles Lay-on T24 2D | C-i-TileLayonT24-2D | DWG PDF |
Health and wellbeing
Hunter Douglas contributes to sustainable buildings through aesthetic solutions that enhance comfort and save energy. Promoting health and wellbeing of their occupants is arguably the most important function of buildings. Buildings are not constructed just to be energy efficient. Our shading solutions promote the use of healthy daylight without the hindrances of glare and thermal discomfort. Our acoustic ceilings are a key element in the provision of acoustic comfort.
Sound materials
Environmentally sound materials are key to sustainable buildings. Our strategy is to pick materials that have good environmental properties to start with. Many of our products are made of aluminum produced in our own smelters. We've optimized our processes to use up to 99% of recycled content to produce the right alloy for our products. Our wood is FSC certified and we embrace the Cradle to Cradle principle in our product development.
Energy savings
Reducing the energy use of the total building stock is key to the prevention of global warming. Most modern office buildings use more energy for cooling than heating. Effectively managing the solar energy that passes through the transparent part of the façade is a key strategy in the prevention of overheating in both old and new buildings. Our high performance shading solutions bring substantial energy savings, while at the same time promoting health and wellbeing.
Corporate Social Responsibility
Keen on Green is an important company-wide initiative to reduce energy consumption, water usage and our overall carbon-footprint. We embrace the ISO 14001 framework to actively manage our Keen on Green objectives. Hunter Douglas and its employees actively support the communities in which we live and work, as well as those on a more global scale. Business is people. We pride ourselves on our worldwide network of experienced, intelligent, passionate and creative people that have consciously chosen Hunter Douglas as their employer.