Pareaulux Grille Bois Climatique
Nom de la division: Hunter Douglas Produits Architecturaux France
Web: www.hunterdouglas.fr
Adresse: 3 Avenue des Marronniers Bonneuil Cedex F-94380 France
Numéro de téléphone: +33 1 43399100
Fax: +33 1 4339 1451
Nous contacter: Nous contacter
Nom de la division: Espace Voiles
Web: www.espacevoiles.com
Adresse: 4 Impasse Marius Berliet ZA La Bilias Deniaud Vigneux De Bretagne 44360 France
Numéro de téléphone: 02 28 01 08 80
Fax: 02 28 01 08 81
Merci. Nous prendrons rapidement contact avec vous.
Votre demande n'a pas pu être enregistrée, veuillez réessayer.
Please accept the Privacy Agreement.
Name, email, company, phone, location and at least one product selection are required.
PAREAULUX plafond Grille bois climatisé
La flexibilité de la gamme de produits garantit une liberté de conception totale. Les grilles sont constituées de lattes MDF (ESW) recouvertes d'un placage naturel, un décor en mélaminé ou une couleur RAL sur les trois côtés visibles. En raison de la stabilité de la forme de l'ESW, il y a beaucoup de liberté dans les dimensions de largeur et d'épaisseur des lames.
Information générale
Pourquoi PareauLux grille bois ?
Le plafond PareauLux grille bois est né de la collaboration de deux acteurs majeurs de l'industrie des plafonds (climatiques). Hunter Douglas pour le design distinctif et l'utilisation matérielle des panneaux et Inteco pour le système climatique innovant avec une capacité de refroidissement extrêmement élevée. Avec ce produit, vous êtes assuré d'une expérience de confort dans le sens le plus large du terme.
Propriétés


80 % de capacité en plus par rapport à un plafond climatique standard
Liberté de conception inégalée
Pièces de qualité A et application totale
Solution durable
Confort acoustique
Classement au feu
Faible coût d'exploitation
Longue durée de vie
Influence positive sur la certification de durabilité
Température constante et uniforme
Application


PareauLux bois convient à de nombreux secteurs tels que les bureaux, les centres commerciaux, les loisirs, les espaces publics, la restauration, les soins de santé, l'éducation et les immeubles d'appartements.
Veuillez nous contacter pour vos besoins spécifiques.
Design & Inspiration
Les plafonds climatiques sont adaptés au module du bâtiment, ce qui permet d'intégrer de manière invisible les techniques climatiques dans le plafond et d'intégrer les applications techniques telles que l'éclairage, la ventilation et la détection. Le plafond est une partie distinctive de l'architecture globale.

Avec les plafonds climatiques, l'alimentation en air est déterminée par le besoin d'air frais et non par la capacité de refroidissement requise. La circulation de l'air dans la pièce est donc plus faible qu'avec les systèmes convectifs et le risque de courants d'air est minime. La température peut être réglée par pièce ou zone de contrôle.
American Cherry
American Walnut
American White Oak
American Maple
Anigre
Ash
Bamboo
Beech
Birch
Cedar
European Oak
Hemlock
Koto
Pine
Red Oak
Spruce
Sycamore
Teak
Choisissez parmi plus de 40 types de placage naturel pour créer l'atmosphère idéale. Des tons clairs aux tons foncés, il y a un placage pour chaque design. Les panneaux sont fournis avec un vernis transparent en standard. Si une apparence spéciale est souhaitée, des laques, des teintures ou des finitions de peinture spéciales sont également possibles.


Caractéristiques des matériaux

Les lattes sont assemblées en usine en un élément de grille au moyen d'un tourillon croisé en métal ou en contreplaqué. Naturellement, les systèmes Grille répondent aux exigences les plus strictes en matière de sécurité incendie et d'émissions et sont entièrement recyclables après de nombreuses années d'utilisation.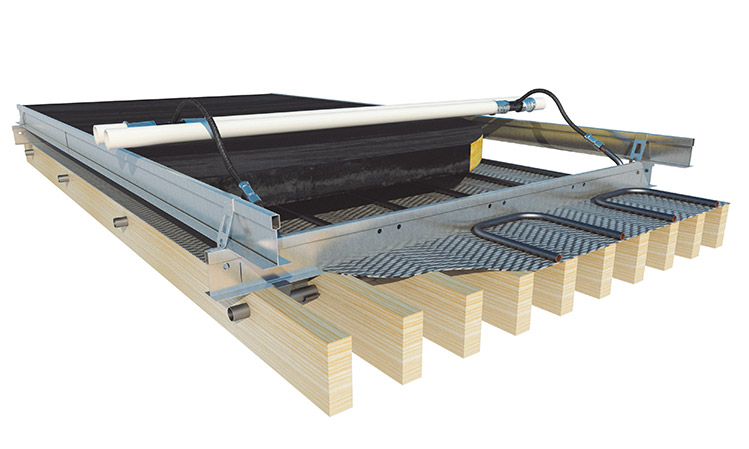 Plus de fonctionnalités

Des informations plus détaillées peuvent être téléchargées ainsi que des informations concernant les portées maximales, les poids et dimensions ainsi que la quantité requise de matériel par m².
Informations acoustiques
Le confort acoustique dans un espace de bureau, une école ou un bâtiment public contribue à notre bien-être, car un mauvais confort acoustique peut affecter la santé, la communication, la sécurité, la productivité et l'apprentissage. L'utilisation des produits de plafond acoustique haute performance Hunter Douglas est la meilleure solution pour offrir des performances acoustiques exceptionnelles, un confort et une solution esthétique agréable.
Sur le plafond grille placage bois PareauLux, un matelas en laine minérale peut être rajouté afin d'améliorer le confort acoustique d'une pièce.
Plus d'informations sur l'acoustique

Plus d'informations peuvent être trouvées sous téléchargements


Santé et bien-être
Hunter Douglas contribue aux bâtiments durables grâce à des solutions esthétiques qui améliorent le confort et économisent de l'énergie. La promotion de la santé et du bien-être de leurs occupants est sans doute la fonction la plus importante des bâtiments. Les bâtiments ne sont pas construits uniquement pour être économes en énergie. Nos solutions d'ombrage favorisent l'utilisation d'une lumière du jour saine sans les obstacles de l'éblouissement et de l'inconfort thermique. Nos plafonds acoustiques sont un élément clé dans la fourniture d'un confort acoustique.
Matériaux
Des matériaux respectueux de l'environnement sont essentiels à des bâtiments durables. Notre stratégie consiste à choisir des matériaux qui ont de bonnes propriétés environnementales pour commencer. Beaucoup de nos produits sont fabriqués à partir d'aluminium produit dans nos propres fonderies. Nous avons optimisé nos processus pour utiliser jusqu'à 99% de contenu recyclé afin de produire le bon alliage pour nos produits. Notre bois est certifié FSC et nous adoptons le principe Cradle to Cradle dans le développement de nos produits.
Économies d'énergie
La réduction de la consommation d'énergie de l'ensemble du parc immobilier est essentielle à la prévention du réchauffement climatique. La plupart des immeubles de bureaux modernes utilisent plus d'énergie pour le refroidissement que pour le chauffage. Gérer efficacement l'énergie solaire qui traverse la partie transparente de la façade est une stratégie clé dans la prévention de la surchauffe dans les bâtiments anciens et nouveaux. Nos solutions d'ombrage haute performance permettent de réaliser des économies d'énergie substantielles, tout en favorisant la santé et le bien-être.
Responsabilité sociale des entreprises
Keen on Green est une initiative importante à l'échelle de l'entreprise visant à réduire la consommation d'énergie, la consommation d'eau et notre empreinte carbone globale. Nous adoptons le cadre ISO 14001 pour gérer activement nos objectifs Keen on Green. Hunter Douglas et ses employés soutiennent activement les communautés dans lesquelles nous vivons et travaillons, ainsi que celles à une échelle plus globale. Les affaires, ce sont les gens. Nous sommes fiers de notre réseau mondial de personnes expérimentées, intelligentes, passionnées et créatives qui ont consciemment choisi Hunter Douglas comme employeur.