COMBI-LINE I DESIGN CRÉATIF
Nom de la division: Hunter Douglas Produits Architecturaux France
Web: www.hunterdouglas.fr
Adresse: 3 Avenue des Marronniers Bonneuil Cedex F-94380 France
Numéro de téléphone: +33 1 43399100
Fax: +33 1 4339 1451
Nous contacter: Nous contacter
Nom de la division: Espace Voiles
Web: www.espacevoiles.com
Adresse: 4 Impasse Marius Berliet ZA La Bilias Deniaud Vigneux De Bretagne 44360 France
Numéro de téléphone: 02 28 01 08 80
Fax: 02 28 01 08 81
Merci. Nous prendrons rapidement contact avec vous.
Votre demande n'a pas pu être enregistrée, veuillez réessayer.
Please accept the Privacy Agreement.
Name, email, company, phone, location and at least one product selection are required.
COMBI LINE I SYSTÈME DE POSE CRÉATIF POUR PLAFONDS
Le système innovant Combi-Line est un nouveau concept de plafond révolutionnaire permettant aux architectes de combiner trois types de panneaux dans un seul design. Il est maintenant possible de les moduler pour allier bois, feutre HeartFelt® et métal dans un seul design de plafond.
Informations Générales
Qu'est-ce que le système Combi-Line ?

Combi-Line est un système de rails de pose plafond équipé de clips compatibles avec les diverses lames en métal, en bois ou en feutre HeartFelt®. Les trois styles de panneaux se combinent sur le même support en tous sens et pour toutes modulations.
Caractéristiques
Combi-Line vous permet de composer votre design à partir de la gamme de panneaux en métal, bois et feutre HeartFelt® de Hunter Douglas.
Le plénum est facile d'accès pour les besoins d'entretien, et chaque panneau peut être démonté indépendamment des autres.
Les architectes ont toute liberté de concevoir un plafond sur un motif unique employant différents types de lames.
Le système Combi-Line est compatible avec les lames HeartFelt® 30HL60, les lames en métal 30 BD/BXD et les panneaux linéaires en bois de placage 30WL60.
Application

Le système Combi-Line s'adapte à tous les secteurs du bâtiment : entreprises, transports (aéroports, stations de métro ou de bus, gares ferroviaires), commerces, loisirs, espaces publics, hôtellerie, résidences ou établissements de santé ou éducatifs.
N'hésitez pas à nous contacter pour discuter de vos besoins.
Design et inspiration
Le système de pose Combi-Line a d'abord été créé sur mesure dans le cadre d'une installation majeure en 2015. L'équipe R&D de Hunter Douglas Architectural a travaillé avec les designers du projet à l'élaboration d'un système de pose équipé de clips qui leur permettrait d'installer les lames du plafond dans des arrangements aléatoires désirés, laissant entre elles de vastes espaces ouverts sur le plénum. Une fois achevé, le projet a révélé le potentiel de ce système de pose, et l'équipe de Hunter Douglas a décidé de continuer à le développer. C'est ainsi qu'est né notre nouveau système de pose Combi-Line.
Il existe quatre combinaisons de couleurs correspondant à quatre styles complètement différents, chacun avec ses propres couleurs et ambiances.
Les choix de couleurs et de matériaux sont relativement larges, à juste titre. Nous aimons inspirer les architectes et leur laisser suffisamment de place pour exprimer leur créativité. Chaque groupe de styles se compose d'une sélection de matériaux, créant une planche d'inspiration en matière d'atmosphères et indiquant un espace correspondant où l'application du produit serait possible.
Laissez-vous inspirer par les possibilités infinies du système de pose Combi-Line et élaborez votre plafond comme vous l'avez toujours voulu.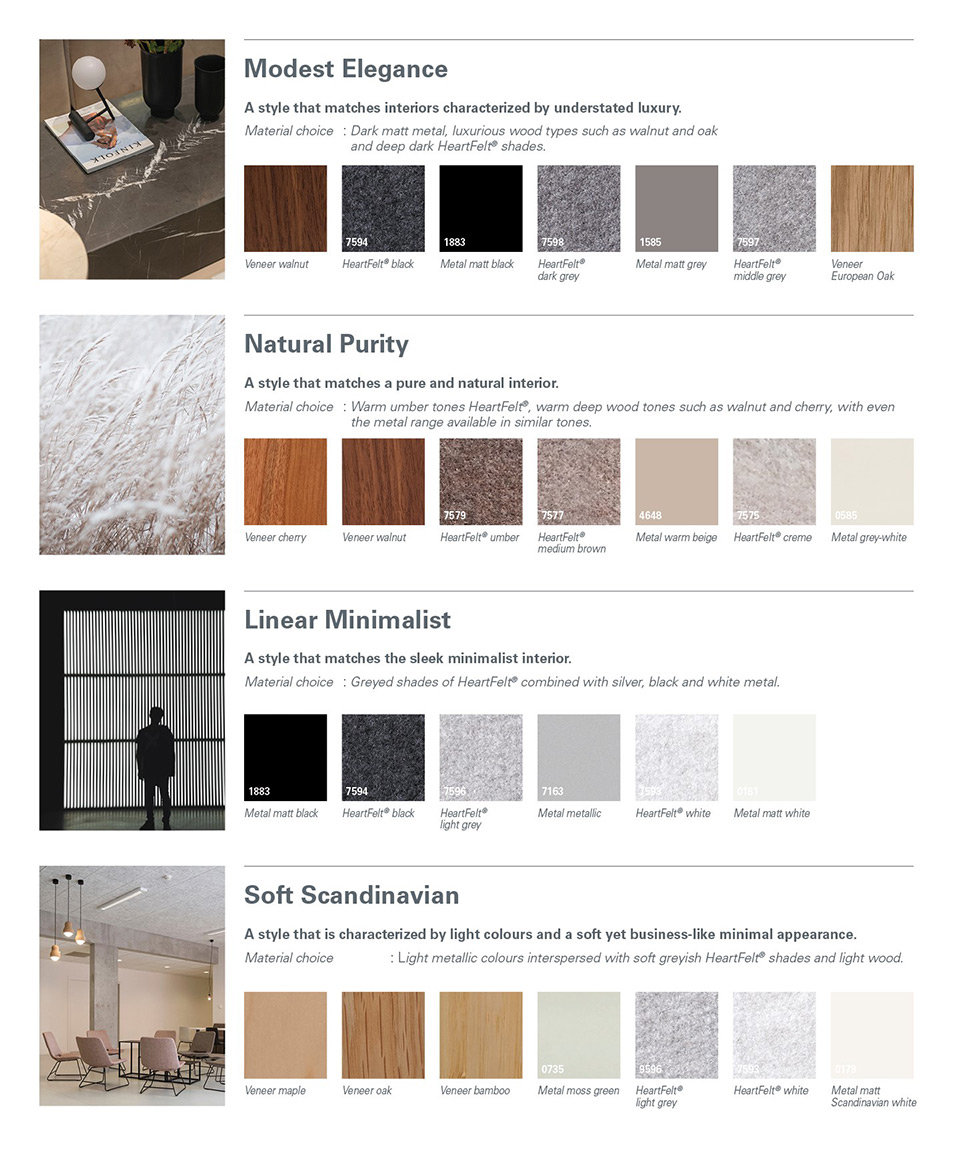 Caractéristiques des matériaux

Le nouveau système de pose plafond Combi-Line comprend un rail équipé de clips qui s'adaptent à des lames en métal, en bois à claire-voie ou en feutre HeartFelt qui se combinent sur le même support. Cela offre aux architectes une multitude de possibilités de conception. Les possibilités sont infinies : arrangements aléatoires en lignes brisées, ou espaces laissés vides sur la claire-voie combinés à des modulations hors du commun. Les designers peuvent composer leur plafond avec une vaste gamme de panneaux dans différentes finitions. Combi-Line est disponible avec des lames en feutre HeartFelt 30HL60, en métal 30 BD/BXD et linéaires en bois plaqué 30WL60.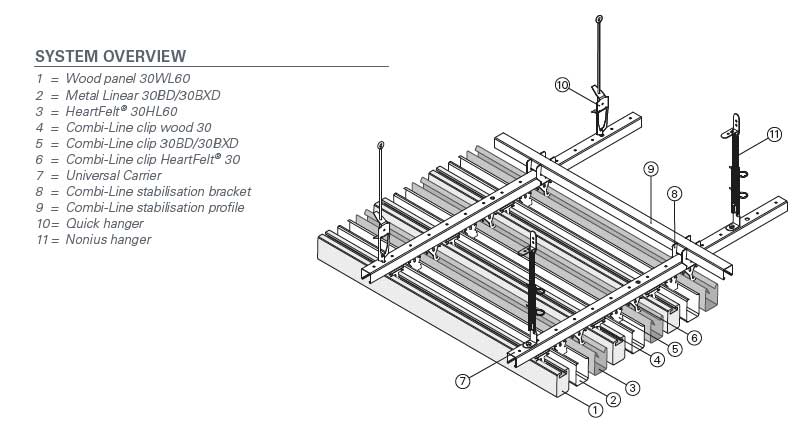 ---
Plus d'informations sur les produits
Vous trouverez des informations plus détaillées dans la section « Téléchargements » ci-dessous, notamment : les dimensions maximales, le poids maximal, la quantité de matériaux requis par m².
Acoustique
La performance acoustique dans un bureau, un établissement scolaire ou un lieu public contribue à notre bien-être. Des performances acoustiques médiocres ont des conséquences néfastes sur la santé, la communication, la sécurité, la productivité et les capacités d'apprentissage.
Les plafonds acoustiques haute performance de Hunter Douglas sont la solution idéale pour créer un environnement alliant performance acoustique exceptionnelle, confort et attrait esthétique. Le système de plafond Combi-Line permet d'obtenir une valeur d'absorption (αw) maximale de 0,70 en fonction du plafond et de l'agencement des lames.
---
Plus d'informations sur l'acoustique
Vous trouverez des informations plus détaillées sur l'acoustique dans la section « Téléchargements » ci-dessous.