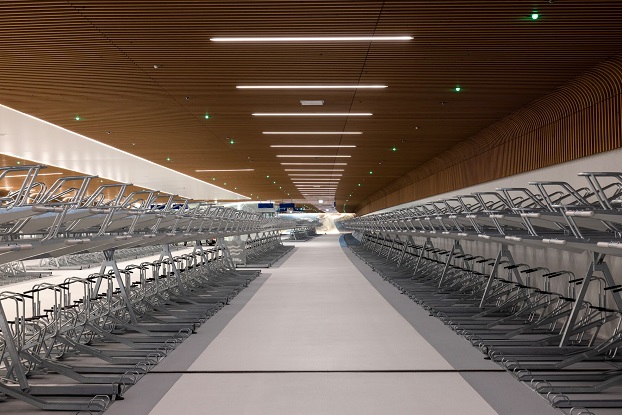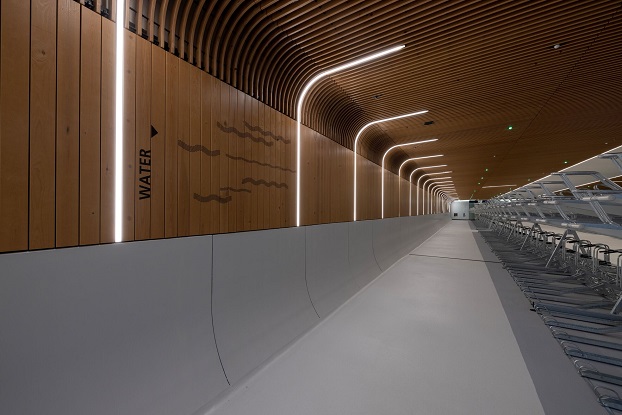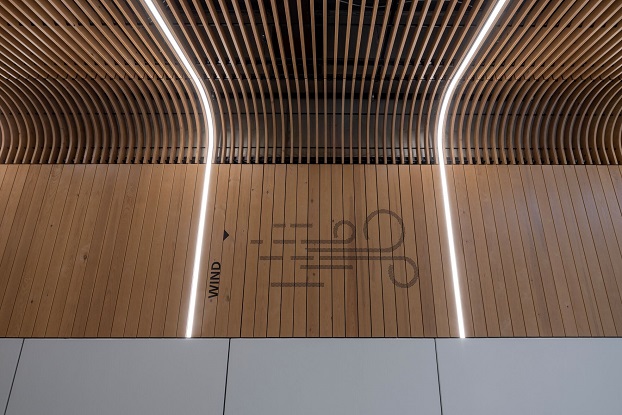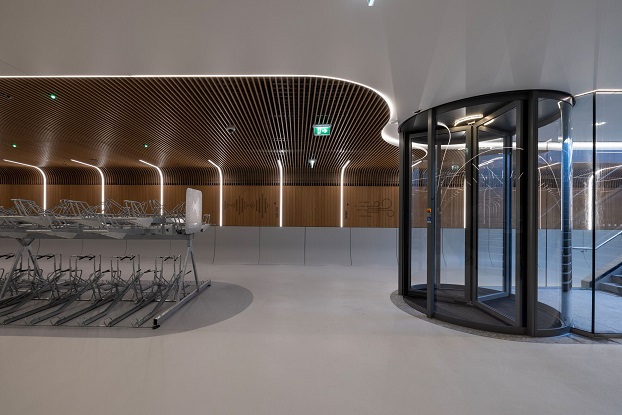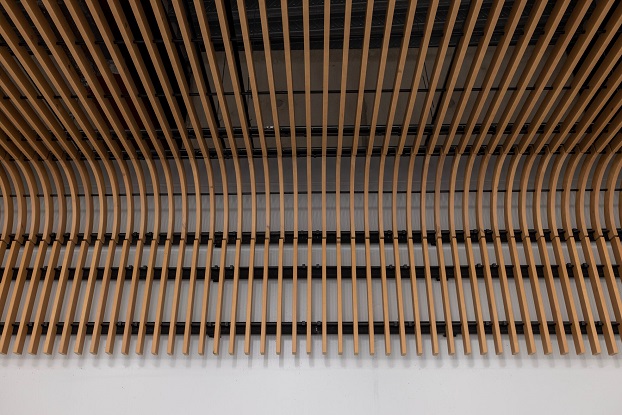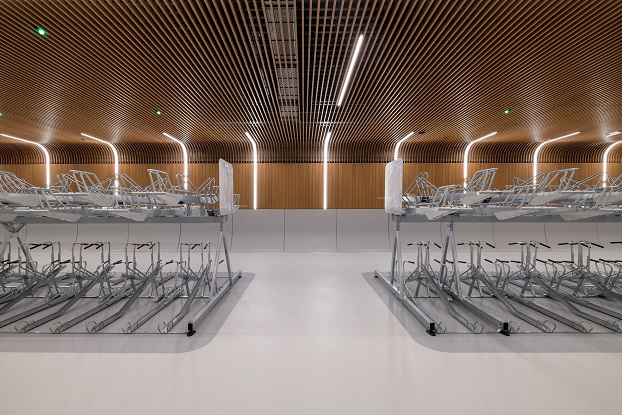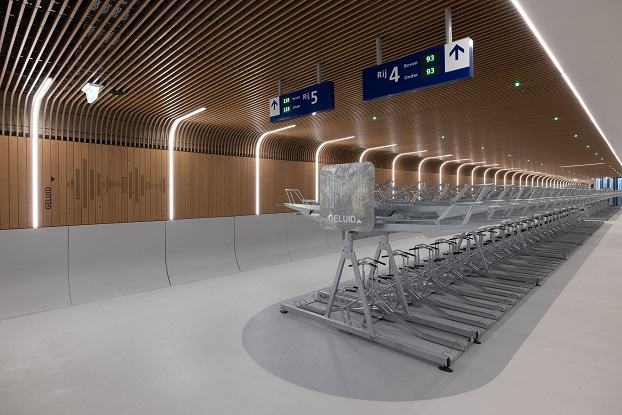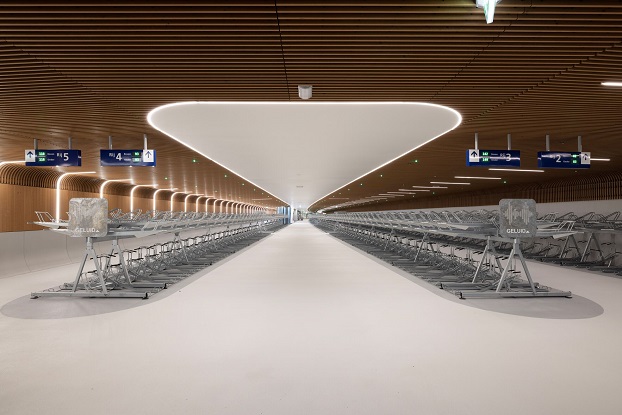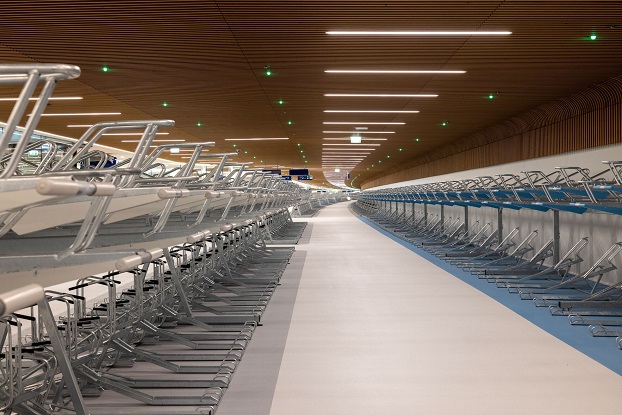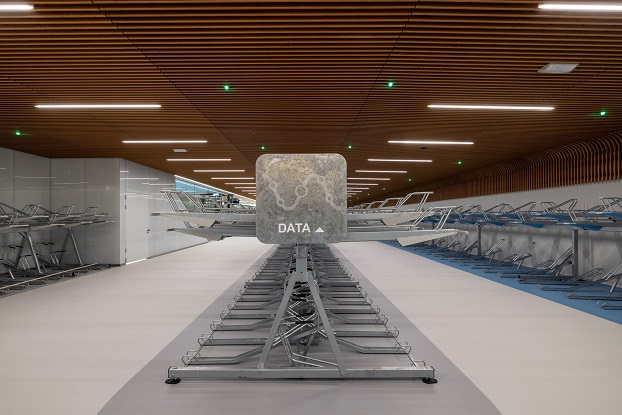 IJboulevard Amsterdam
Location:
Amsterdam, Nederland
Architect/Specifier:
VenhoevenCS
Essence de bois: Pin d'Europe
Dimensions: Grille Pro-line 6 - 55 - 20 - 53 et Linéaire Pro-line 15 x 92 mm joint 5 mm
Finition: En couleur

Les Pays-Bas sont connus pour leur culture du vélo, « l'eau » et leurs nombreuses voies navigables. Dans ce projet unique, tous ces éléments sont réunis. Sur le côté IJ de la gare d'Amsterdam CS, le site d'infrastructure le plus fréquenté d'Amsterdam, le Bike Parking IJboulevard a récemment été construit sous l'eau. Un espace pour plus de 4000 vélos. Un projet architectural et de construction extraordinaire, typique des Pays-Bas.

Transport par l'eau
VenhoevenCS a été chargé par Van Hattum et Blankevoort de dessiner le projet architectural de l'IJboulevard. Un projet qui a captivé l'imagination avant même son achèvement. Ainsi, les bacs en béton préfabriqué - fabriqués dans les docks de l'Ouest - ont été placés sur un ponton d'enfoncement, transportés sur 15 kilomètres à travers l'IJ, puis placés sur 72 pieux de fondation sur le côté nord d'Amsterdam CS. Mais d'autres éléments et matériaux de construction, tels que les systèmes de bois massif pour les plafonds et les cloisons, ont également été livrés par l'eau. C'est pourquoi ce projet unique est le lauréat du prix Schreuders 2022.

Application des plafonds et des cloisons en bois
En coopération avec le poseur des plafonds, Verwol, Hunter Douglas a pu fournir 3700 mètres carrés de système de plafond à grilles Pro-line en bois massif et 200 mètres carrés de système de cloisons linéaires Pro-line pour le nouveau parking à vélos de l'IJboulevard. Un chef-d'œuvre dans lequel les qualités de collaboration, les prouesses logistiques et l'expertise technique de toutes les parties ont été mises à profit.

En effet, dans ce garage à vélos « souterrain », tout circule, tant horizontalement que verticalement. C'est pourquoi Hunter Douglas et Verwol ont commencé les préparatifs bien avant la livraison, au printemps 2020. Au cours de ce processus, Hunter Douglas a effectué une traduction technique de la conception aux systèmes en bois massif et a élaboré un plan d'installation détaillé. Pendant que Verwol s'occupait des aspects d'ingénierie structurelle de cet énorme projet dans les moindres détails.

Nom de la division: Hunter Douglas Produits Architecturaux France
Web: www.hunterdouglas.fr
Adresse: 3 Avenue des Marronniers Bonneuil Cedex F-94380 France
Numéro de téléphone: +33 1 43399100
Fax: +33 1 4339 1451
Nous contacter: Nous contacter
Nom de la division: Espace Voiles
Web: www.espacevoiles.com
Adresse: 4 Impasse Marius Berliet ZA La Bilias Deniaud Vigneux De Bretagne 44360 France
Numéro de téléphone: 02 28 01 08 80
Fax: 02 28 01 08 81
Merci. Nous prendrons rapidement contact avec vous.
Votre demande n'a pas pu être enregistrée, veuillez réessayer.
Please accept the Privacy Agreement.
Name, email, company, phone, location and at least one product selection are required.