Tavola Baffles mean a creative ceiling design has never been easier
2. November 2020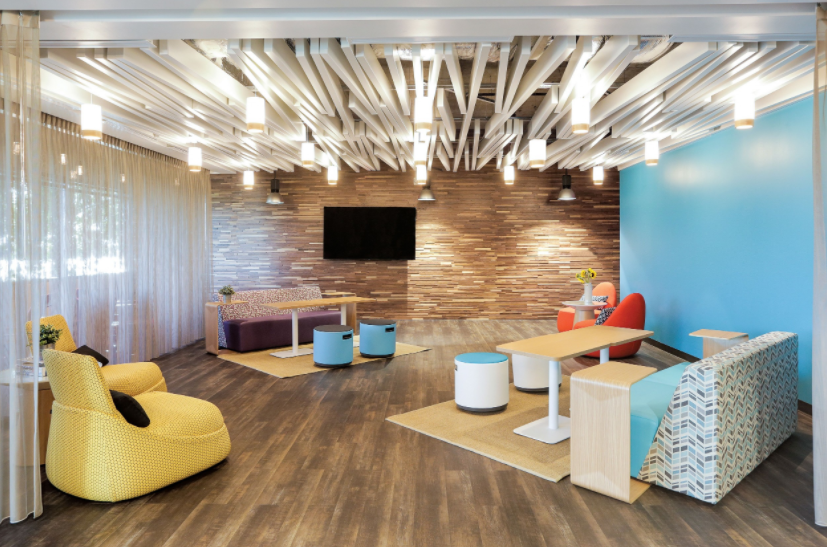 Tavola Baffles mean a creative ceiling design has never been easier.
Hunter Douglas Architectural's Tavola Baffle Series is a gift to architects and designers who want to create a baffle
ceiling that combines superior aesthetics with solid engineering standards.
A lightweight, yet strong range, it is suitable for multiple building sectors, including corporate, transport, retail, leisure,
public space, hospitality, healthcare and education.
The Tavola baffle has versatility at its heart. It comes in three designs – Straight, Levels and Divergent – and has
exceptional acoustic properties for maximum comfort and noise control in interior settings.
David Harris, General Manager of Hunter Douglas Architectural, said: "Tavola baffles are a popular solution and are
specified to help solve design challenges faced by the architects of today.
"Acoustic control, visual concealment of services down the length of a corridor and easy access into the void, together
with the visual warmth of a wood print or paint finish, are all possible with the Tavola. It has become an important part
of our product portfolio due to the size and scope of the options available."
Each of the three designs is available in widths of 20, 30, 40 and 50mm, heights between 50mm-300mm and profiles of
up to 5000mm in length, enabling designers the chance to create an original look for both large or small spaces
The Tavola Straight panels work when a simple and clean linear, open ceiling is required. Suitable for remedial installation
on ceilings where a distinctive design or improvement to the acoustic performance is required, the Straight range helps
to minimise noise pollution and reduce reverberation.
Levels and Divergent can be used to create a more playful or eye-catching design. Tavola Levels create relief and
rhythm because the height and pitch between the baffles can be varied, while Tavola Divergent comprises non-parallel,
diverging baffles for unlimited design freedom.
All of the baffles are easy to install, being clamped to a standard pre-punched carrier. They provide easy access to the
plenum and also enable additional services, such as speakers, sprinklers and lights, to be included.
It's also easy to design a bespoke look, thanks to the wide availability of colours and different materials. Standard
colours, RAL options and customised options, including steel laminated wood, aluminium subliminated wood-look, and
steel-coiled coated wood look, are all possible.
The Tavola range offers British Standard Class '0' and European A2 fire classification and meets stringent environmental
standards. Hunter Douglas Architectural is committed to the Cradle to Cradle principle of product development.