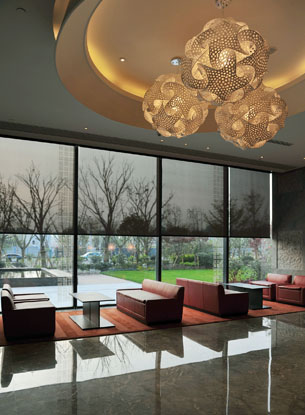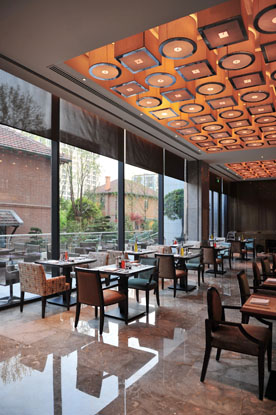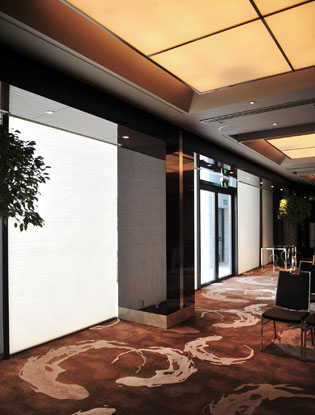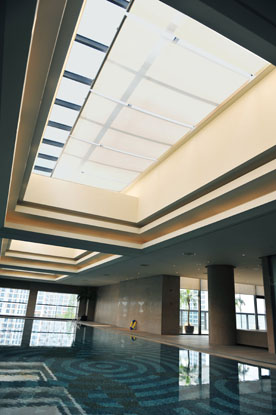 InterContinental Shanghai Expo
Location:
Shanghai, China
Architect/Specifier:
HKG Architecture Design Consulting Co., Ltd.
The InterContinental Shanghai EXPO is the only international brand hotel in the landmark buildings of the Shanghai World Expo site, with a total area of 66,471. The 26-story building is also the highest, offering nearly 450 rooms and a variety of entertainment facilities.

The hotel itself embodies Expo's "Better City, Better Life" theme, promoting the well-being and quality of living for its visitors. The garden houses 9 free-standing 1930's historical villas connecting guests with the past and present and providing a taste of exotic old Shanghai. More than 100 types of plants including roses, cherry blossoms, sweet-scented osmanthus, gingko, lilac, lilies and magnolia create a wonderful, relaxing atmosphere.

A variety of window coverings, by Hunter Douglas, can be found throughout the property, including: Motorized Roller Shades, Exterior Blinds, Motorized Wood Blinds, Motorized Duette® Honeycomb Shades, and Vignette® Roman Shades.
Name der Abteilung: Hunter Douglas Switzerland
Herzlichen Dank für Ihre Angaben. Wir werden uns in Kürze bei Ihnen melden.
Es gab ein Problem bei der Speicherung Ihrer Anfrage. Bitte versuchen Sie es erneut.
Please accept the Privacy Agreement.
1. Name, E-Mail-Adresse, Firma, Telefonnummer, Anschrift und mindestens eine Produktauswahl wird benötigt.