Division Name: Hunter Douglas Croatia
Thank you for your information. We will be in touch with you shortly.
There was an issue saving your request, please try again.
Please accept the Privacy Agreement.
Name, email, company, phone, location and at least one product selection are required.
SOLID WOOD GRILL WALL
Meet our Solid Wood Grill Wall, an environmentally friendly natural wood product and the only building material that is 100% CO2 neutral and totally recyclable. We work exclusively with solid wood that has it´s own natural characteristics such as structure, knots, colour, grain and size tolerance.
General Information
Why a solid wood grill wall?

When you create the perfect design in combination with a grill wall your project is 100% successful and an aesthetic inspiration for architects. Our wall grill is a true natural wall with high performance in acoustical value, easy to install, and a great fire rate. A wood wall grill fits in almost every project in combination with other building materials and is a product that already has proven itself!
Characteristics


High acoustic performance
Treated to be fire retardant according to EN 13501-1.
An all-natural and sustainable wooden ceilings solution with FSC/PEFC certification
Projects are technically supported and developed, providing a perfect fit at site
Environmentally friendly. Wood is the only building material that is 100% CO2 neutral and totally recyclable.
Cradle to Cradle Certified™ Silver (Cradle to Cradle Certified™ is a certification mark licensed by the Cradle to Cradle Products Innovation Institute).
Application

The Solid Wood Grill Wall is suitable for all building sectors: Retail, Leisure, Public spaces, Hospitality, Healthcare, Corporate, Transport (airports, metro-, bus -, train stations), Residential or Education.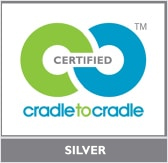 Natural Flexibility
The power of nature
Wood is a natural product, lasts for years and very durable. There is a very limited environmental impact with industrial wood processing and wood itself stores CO2. This helps to deliver environmentally friendly, healthy and responsible products. With a wood wall you bring nature inside.
Wood Wall Species
The wood wall can have a planed, rough-sawn or fine-sawn surface finish. It depends on the right type of finish or request that will be determined with a consultant. Our wood portfolio consists around 20 different species, that all have their own unique natural characteristics.
The wooden panels are finished as standard with high-quality varnish to protect the wood against dust, moisture and dirt. If you have another wood species request, please contact us.
| | | | |
| --- | --- | --- | --- |
| Yellow Poplar | African Ayous | Yellow Pine | European Pine |
| Accoya | Siberian Larch | American White Oak | American Ash |
| European Oak | American Red Oak | Cherry | Oregon Pine |
| Jatoba | Teak | Cambara | Merbau |
| Mahogany | Western Red Cedar | American Walnut | Wenge |

Finishes
There is a wide range of stains and colours to be applied on the solid wall grill, This finish can add a nice touch to the wood. Offourse a transparent varnish is available. Alongside the standard transparent varnish, there is also a wide range of stains and colours available.
System Characteristics
The wood solid wall grills are made-to-measure. A perfect fit at site is thereby guaranteed. This avoids any cutting at site, reducing the installation costs and maintaining the beautiful details of the wooden panels. The Solid Wood Grill Wall system is developed to maximize the efficiency and minimize installation costs. The suspension system consists of clips and rails , which are easily fixed to the carriers. Light fixtures, vents or speakers can be easily fixed into the ceiling.This avoids any cutting at site, retains the beautiful details of the wooden panels and reducing the installation costs. The Solid Wood Grill Wall system is developed in such a way to maximize to minimize installation costs and delivers good efficiency.



Acoustic information
In general a wood grill wall have high acoustic values. Be creative with the gap will and panel width can provide the necessary acoustic performance for different atmospheres.
Reaction to fire
Treated to be fire retardant according to EN 13501-1. Fire retardance is an very important element for a wood application. To be able to comply with fire safety regulations, Hunter Douglas Architecural systems are treated, if necessary, so that they are fire retardant. This is done by means of the pressure method and vacuum, whereby the wood is impregnated with a fire retardant substance.

With these treatments we make sure that the panels and slats, used as a finishing/coating material that meet the European standard EN 13501-1. The treatment process is performed according to KOMO guidelines and is periodically inspected by the SKH so that the required CE marking can be employed.





More information about acoustics
For any test results or questions please make contact with our consultants.