Division Name: Hunter Douglas Serbia, Montenegro
Address: Izletnicki Put 4A Novi Beograd 11070 SRBIJA
Phone Number: +381 (0)11 2608538
Fax: +381 (0)11 2608538
Contact Us: Contact Us
Thank you for your information. We will be in touch with you shortly.
There was an issue saving your request, please try again.
Please accept the Privacy Agreement.
Name, email, company, phone, location and at least one product selection are required.
Baffles Tavola™ Straight
With linear spaced objects in the ceiling, the Tavola™
Baffles Series offers a lightweight metal baffle solution for interior commercial spaces. Metal Baffles ceilings are modern, flexible and easy to install.
General Information
Why Baffles Tavola™ Straight?

Baffle Ceilings are perfect for acoustics and noise control in public areas. From a design point of view, Baffle Ceilings offer a spatial pattern with a linear open ceiling. From a practical point of view, it is easy to install and access the ceiling and additional services such as lighting, PA system, sprinklers etc
Characteristics


Profile lengths up to 5000 mm
Profile heights: 100-150-200 mm
Profile widths: 30, 40 and 50 mm
Standard FE carrier 43 x 60 mm, black
On site waste reduction with factory fabricated dimensional material
Downweight: reduce static load with lightweight steel
Standard from pre-painted steel strip
Easy plenum access
Application

Ceilings with baffles are suitable for most building sectors including corporate, transport (airports, metro, bus & train stations) retail, leisure, public space, hospitality, healthcare or education.

Please contact us to discuss your requirements.
Design & Inspiration
The Tavola™ Straight Baffle system enables a whole range of ceiling designs with variable baffle spacing, widths of 30, 40 and 50 mm, heights of 100, 150 and 200 mm and a range of different paint colours and laminated wood. This gives the architect adesign freedom for a project. Custom (wood) colours on request.

Colours & Finishes

Hunter Douglas offers a wide choice of colours and finishes. Custom colour matching is available upon request. Please contact your local Hunter Douglas sales office for minimum quantities and lead times. Check our website for the most up to date information. Colours are for illustration purposes only.

Material characteristics

Below a picture of the Baffles Tavola™ Straight ceiling system. Maximum spans primary and secondary grid 1200 mm. Maximum cantilevers 300 mm.

There are different perforation patterns possible.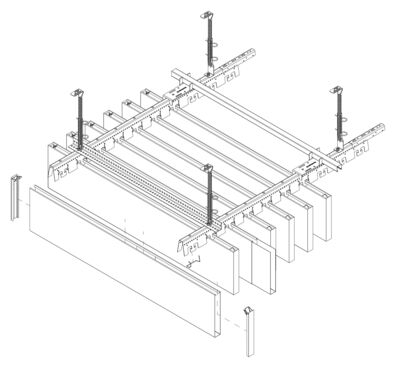 1 = Tavola™ Baffle
2 = End cap
3 = Locking spring
4 = Carrier
5 = Carrier splice
6 = Baffle splice
7 = Stabilisation bracket
8 = Stabilisation profile
9 = Lower nonius hanger, bend
10 = Upper nonius hanger
11 = nonius hanger locking clip




More product details

More detailed information can be found at the download section below.


Tavola Baffles Acoustic information


The acoustic performance in an office space, school or public building contributes to our well being as poor acoustic comfort can affect health, communication, safety, productivity and learning. Hunter Douglas high performance acoustic ceiling products are the best solution to deliver outstanding acoustic performance, comfort and an aesthetic pleasing solution.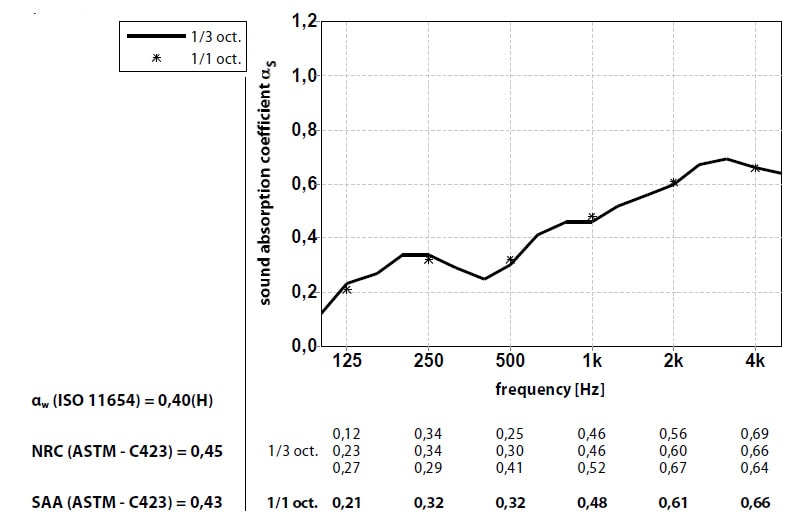 Baffle dimensions 30x200mm, spacing 200mm ctc, suspension height 200mm

*With post painted products the openness will decrease due to paint thickness



More information about acoustics


If you need more information about acoustics please contact us and we will respond as fast as possible.


Health and wellbeing
Hunter Douglas contributes to sustainable buildings through aesthetic solutions that enhance comfort and save energy. Promoting health and wellbeing of their occupants is arguably the most important function of buildings. Buildings are not constructed just to be energy efficient. Our shading solutions promote the use of healthy daylight without the hindrances of glare and thermal discomfort. Our acoustic ceilings are a key element in the provision of acoustic comfort.
Sound materials
Environmentally sound materials are key to sustainable buildings. Our strategy is to pick materials that have good environmental properties to start with. Many of our products are made of aluminum produced in our own smelters. We've optimized our processes to use up to 99% of recycled content to produce the right alloy for our products. Our wood is FSC certified and we embrace the Cradle to Cradle principle in our product development.
Energy savings
Reducing the energy use of the total building stock is key to the prevention of global warming. Most modern office buildings use more energy for cooling than heating. Effectively managing the solar energy that passes through the transparent part of the façade is a key strategy in the prevention of overheating in both old and new buildings. Our high performance shading solutions bring substantial energy savings, while at the same time promoting health and wellbeing.
Corporate Social Responsibility
Keen on Green is an important company-wide initiative to reduce energy consumption, water usage and our overall carbon-footprint. We embrace the ISO 14001 framework to actively manage our Keen on Green objectives. Hunter Douglas and its employees actively support the communities in which we live and work, as well as those on a more global scale. Business is people. We pride ourselves on our worldwide network of experienced, intelligent, passionate and creative people that have consciously chosen Hunter Douglas as their employer.