Nom de la division: Hunter Douglas Architectural Belgium
Merci. Nous prendrons rapidement contact avec vous.
Votre demande n'a pas pu être enregistrée, veuillez réessayer.
Please accept the Privacy Agreement.
Name, email, company, phone, location and at least one product selection are required.
Système de plafond HeartFelt® Origami
HeartFelt® Origami est une extension des systèmes de plafond en feutre de la collection HeartFelt® : un système de plafond dont la forme et la rigidification reposent sur la technique de pliage origami.
Informations Générales
Pourquoi HeartFelt® Origami ?

HeartFelt® Origami offre non seulement une esthétique unique, mais aussi des performances acoustiques élevées. Le matériau s'allie à la forme : les panneaux pliés en origami confèrent un aspect remarquable à chaque pièce. Les panneaux en feutre présentent une rigidité supplémentaire et des propriétés acoustiques très avantageuses.
Propriétés


Excellentes performances acoustiques
Cinq nuances de gris différentes pour une ambiance chaleureuse
Basé sur la technique de pliage origami
100 % recyclable ou facilement réutilisable
Certification Cradle to Cradle Certified™ Bronze (Cradle to Cradle Certified™ est un label durable et responsable émis par le Cradle to Cradle Products Innovation Institute)
Facilité d'entretien : résistant aux salissures et aux poussières
Application

HeartFelt®Origami convient à de nombreux secteurs : les entreprises, les magasins, les loisirs, les espaces publics, l'horeca, les soins de santé, l'enseignement, l'habitat privé.
Pour toutes vos questions techniques et possibilités de produits en qui concerne les normes de stabilité au feu, applicable pour les projects en Belux, contactez-nous.
Design et Inspiration
HeartFelt® Origami est une technique extrêmement pratique qui permet de rigidifier les matériaux sans y ajouter d'autres matières ou produits. HeartFelt® Origami peut ainsi occuper une place prépondérante dans le développement de l'architecture circulaire et durable. Le résultat final, un champ de triangles d'aspect ludique, offre en outre d'excellentes performances d'insonorisation.



Nuances de gris

HeartFelt® Origami est disponible en cinq nuances de gris. La teinte exacte des panneaux est fonction du rapport des fibres blanches et noires dans le matériau de base.




WHITE 7593
LIGHT GREY 7596
MIDDLE GREY 7597
DARK GREY 7598
BLACK 7594

* De légères différences de coloris par rapport aux échantillons réels sont possibles.


Material characteristics

HeartFelt® Origami est un système de plafond composé de fibres en polyester non tissées et thermoformées. Il existe en cinq dimensions différentes, ce qui laisse une grande liberté de choix au niveau de la forme ou de la combinaison de formes qui convient le mieux à un espace spécifique.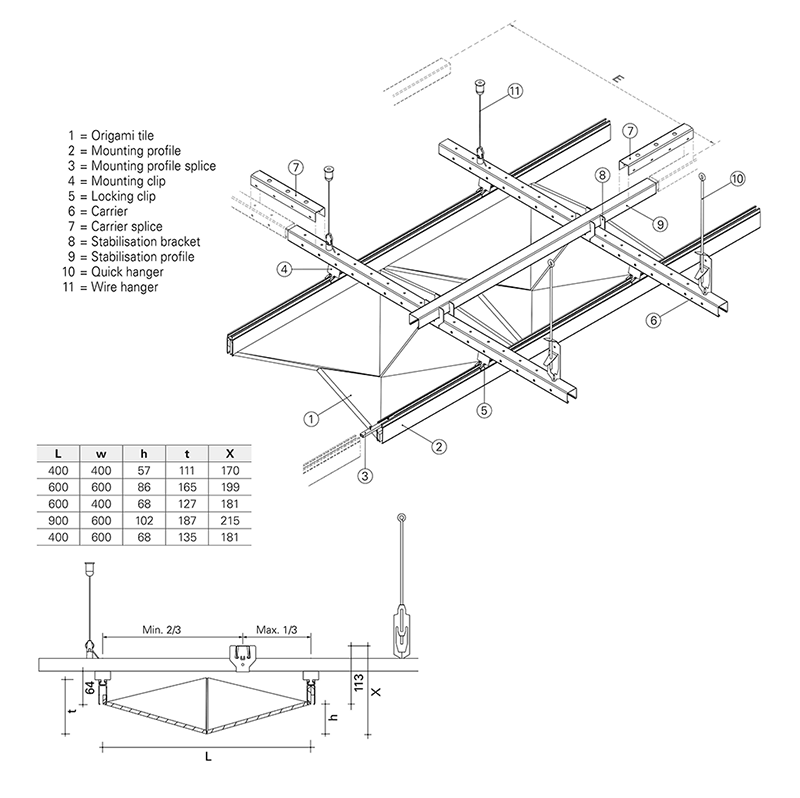 Plus d'informations produit

De plus amples informations sont disponibles dans les documents à télécharger, notamment au sujet des portees maximales, des dimensions, du poids et des exigences du matériau par m².


Informations acoustiques

Le confort acoustique des bureaux, des écoles et des bâtiments publics est important pour notre bien-être, car une mauvaise acoustique peut avoir des conséquences néfastes sur la santé, la communication, la sécurité, la productivité et les performances d'apprentissage. Les plafonds acoustiques de haute qualité de Hunter Douglas offrent la meilleure solution pour d'excellentes performances acoustiques, un confort supérieur et une esthétique exceptionnelle. Les valeurs d'absorption (en αw) du plafond HeartFelt® se situent entre 0,75 et 0,80.



En savoir plus sur les propriétés acoustiques

De plus amples informations sont disponibles dans les documents à télécharger ci-dessous.


Santé et bien-être
La gamme de plafonds Hunter Douglas Architectural contribue à la construction de bâtiments durables au moyen de solutions esthétiques qui améliorent le confort et permettent d'économiser de l'énergie. La fonction principale du bâtiment est sans doute de préserver la santé et le bien-être de ses occupants. Nos protections solaires permettent de profiter de la lumière naturelle sans tous les désagréments liés à l'éblouissement et à l'inconfort thermique. Nos plafonds acoustiques sont un élément fondamental dans l'amélioration du confort acoustique.
Matériaux solides
Les matériaux écologiques sont la clé du succès si l'on désire avoir un bâtiment durable. Notre stratégie est de commencer par utiliser des matériaux qui ont d'excellentes propriétés environnementales. Bon nombre de nos produits sont fabriqués à partir d'aluminium produit dans nos propres fonderies. Nous avons optimisé nos processus afin d'utiliser jusqu'à 99 % de contenu recyclé, dans le but de produire l'alliage adapté à nos produits. Notre bois est certifié FSC et nous adoptons le principe « Cradle to Cradle » dans la fabrication de nos produits.
Économies d'énergie
Diminuer la consommation énergétique de l'ensemble du bâtiment est un élément capital pour la prévention du réchauffement de la planète. La plupart des bureaux modernes consomment plus d'énergie pour la climatisation que pour le chauffage. Une gestion efficace de l'énergie solaire pénétrant par la partie transparente de la façade est une stratégie clé dans la prévention de la surchauffe des anciens et nouveaux bâtiments. Nos protections solaires très performantes permettent de faire d'importantes économies d'énergie, tout en préservant la santé et le bien-être.
Responsabilité sociale des entreprises
Keen on Green est une initiative majeure lancée à l'échelle de l'entreprise qui réduit la consommation énergétique, l'utilisation de l'eau et notre empreinte carbone globale. Nous adoptons le cadre ISO 14001 afin de gérer activement nos objectifs Keen on Green. Hunter Douglas et ses employés soutiennent activement les communautés dans lesquelles nous vivons et travaillons, ainsi que les communautés à une échelle plus globale. Business is people. Nous sommes fiers de notre réseau mondial de talents créatifs, passionnés, intelligents et expérimentés qui ont délibérément choisi Hunter Douglas comme employeur.